The Arts: A Modern Remembrance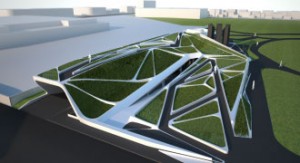 Sitting quietly in its corner of a Los Angeles park, the new home of the Museum of the Holocaust is almost invisible from the street. From the sidewalk, you see only native grasses growing behind low white walls. Eventually, though, you notice a path slicing downward between translucent glass walls, bisecting the submerged building, and you realize that those grasses are, in fact, part of a "green" roof. They're one facet of an architectural statement-designed by Hagy Belzberg and constructed for $15 million-that meshes environmentalism and forward-looking technology with a frank, emotionally moving inquiry into the past.
The October 2010 dedication marked the end of a six-year nomadic existence, says executive director Mark Rothman. An earthquake forced the museum, founded in 1961 by Holocaust survivors, to move out of its earlier quarters.
The museum's mission has remained constant: to tell the history of the Holocaust from 1933 to 1945, its precursor and its aftermath. Now iPod Touch audio guides and other new technology enhance the drama of the photos, music and graphic displays, while the building itself intensifies the story's impact. The interior walls are gray shotcrete (a form of concrete), and visitors proceed from a light-filled atrium lobby along a corridor that slopes downward and grows dimmer under lower and lower ceilings.
The galleries' 9,000 square feet of exhibit space begins with the section "The World That Was" and continue to, literally, the lowest and darkest space, devoted to deportation and extermination.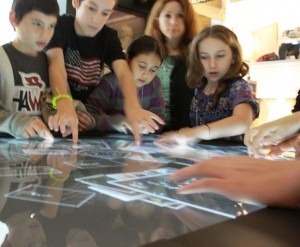 Here interactive "camp stands" provide not only stark statistics and background but also names and photos of victims and survivors. Beyond this room the exhibits rise once more toward the light—to resistance, response, life after liberation and, outside on a small plaza, to the six granite stelae of the Holocaust Memorial erected in 1992.
Complementing the museum's high-tech razzle-dazzle is the human touch: docents and Holocaust survivors who share their experiences. The "phenomenally creative staff had programming ready by the opening," notes Rothman, and they expect 40,000 student visitors a year. To be sure, there are still audio guide explanations to be finished and rotating exhibits to be developed. But one set of objects is on permanent loan. "We're only the second institution in the United States to have objects from Auschwitz-Birkenau," he says. The items are ordinary—shoes, pressed-board suitcases, a potato peeler and a child's cup, among others—but their resonance in tremendous.
"I picture a mother packing a suitcase for her family as a futile gesture toward a future that would never happen," Rothman comments. "What is terrible is that there has to be a museum to tell that story. But what builds my faith in humanity is that this building was put up by people who understood its importance."
Los Angeles Museum of the Holocaust, 100 South The Grove Drive, Los Angeles, California, 323-651-3704,www.lamoth.org.