Brief Review: Mosaics From Israel
Marvelous Menagerie: A Roman Mosaic from Lod, Israel
Some 1,700 years ago, a wealthy Roman had a floor mosaic installed in his large house in Lod (ancient Lydda), Israel. In 1996, the 300-square-foot mosaic was accidentally discovered by workmen building the Jerusalem-Tel Aviv highway.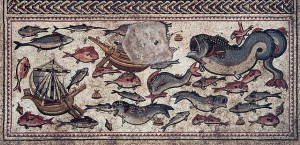 No humans are represented in the large, detailed and extraordinarily preserved mosaic, only two ships and many animals, both real and mythical: fishes of all sizes, birds including doves and a peacock; wild beasts attacking one another; and, in the center, a group of large African mammals, namely an elephant, a giraffe, a pair of lions—and a sea monster.
The exhibition, augmented by Roman coins and glass vessels of the period, is at San Francisco's Legion of Honor (www.legionofhonor.famsf.org; 510-750-3600) until July 24, after which it travels to Chicago's Field Museum and the Columbus Museum of Art in Columbus, Ohio.