Cuba Through a Half-Open Door
The plain concrete building with a faded pink-and-blue exterior along a commercial street in Mantanzas, a small city on the northern coast of Cuba, looked familiar to Judy Capel, a retired banker from New York. She motioned to the driver of her 1940s DeSoto taxi to stop. Catching her breath, she looked up at the Art Deco balcony on the second floor with its peeling balustrade.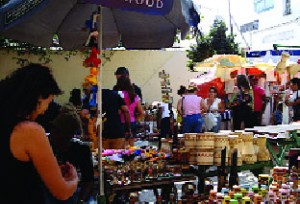 Fifty years before, as a small child, she had squeezed her face through its bars countless times. Her parents had owned a children's clothing and furniture store in the building and the family had lived in an apartment above it. Now, she had finally returned, one of dozens of Cuban-born American Jews as well as hundreds of other Amercan Jews who are visiting in ever-increasing numbers.
Thanks to the relaxation of United States government restrictions since January, it has become easier for groups and even individuals to gain permission to visit, provided they have a valid reason, such as a study project. Further, flights are now departing from a greater number of airports in the United States, making them more plentiful. In the process, the changes are helping breathe life into a Caribbean Jewish community that had almost disappeared.
Some people come to visit the graves of almost forgotten relatives and place small stones of remembrance on the headstones. Still others are joining the rising number of missions arranged by various American Jewish organizations. These group trips have become, in part, popular means of tzedaka—a chance to bring needed clothing and medicine to local Jews struggling to obtain even the basics.
Equally enticing is that visiting American Jews can  enjoy access to Communist Cuba's new climate that permits small private enterprise: strolling musicians play in privately owned restaurants; colorful shops line cobblestoned streets; and outdoor markets offer a cornucopia of crafts and tasty snacks.
In the past decade, these tightly controlled missions brought about 400 to 500 American Jews annually, according to the American Jewish Joint Distribution Committee, which has been coordinating the revival of the Cuban Jewish communities. Lately, the volume has been escalating. "We anticipate a doubling or even a tripling of those numbers," said William Recant, assistant executive vice president at the JDC in New York.
"We have three groups going this year alone," said Sydney A. Perry, CEO of the Federation of Greater New Haven, Connecticut. Previously, visitors had faced potential delays of up to two years, so arrangements could not easily be made. Yet even three are proving insufficient for the number of people who want to come. "We have been overwhelmed," Perry added.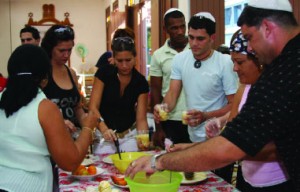 All of which is creating both challenges and opportunities for the roughly 1,000 Cubans who identify as Jews, mostly children and grandchildren of the so-called "lost generation." These were the handful of Jews who stayed behind at the time of the Communist Revolution in 1959 and lost contact with Jewish life. Most of Cuba's 25,000 Jews fled to the United States, following confiscation of their businesses.
It has been 20 years since Cuba officially changed from an atheistic to a secular nation, allowing people once again to belong to religious groups without facing penalties such as denial of university entrance or professional advancement. Even so, it has taken years before many Jews felt secure coming forward, noted Recant, or even learned what it means to lead a Jewish life.
"They wanted us to be a community," said David Tacher Romano, a Jew from the inland town of Santa Clara, referring to the JDC. He recalled those days in an interview with Ruth Behar, a Cuban-born anthropologist, for her 2007 book, An Island Called Home: Returning to Jewish Cuba
 (Rutgers University Press). Initially, he said, Jews in Santa Clara just came together at sundown on Fridays and talked to each another.
Certainly their Jewish identities were never forgotten. Relationships with non-Jewish Cubans have always been close. Consider Capel's encounter in Mantanzas. She approached a gray-haired woman who was savoring an ice cream cone while leaning against the wooden door to the upstairs apartment. Speaking in Spanish, Capel told the woman that she lived there 50 years ago. The woman argued that this was impossible—the house had been owned by a family with two small "Polaquitas," the diminutive version of  Polaca, a term Cubans used for Jews (as many had come from Poland and Eastern Europe). When Capel motioned to her that she had been one of those Polaquitas, the woman's eyes lit up. She beckoned Capel to come upstairs for a visit.
No Jews remain in Mantanzas, but communities have been springing back to life in towns such as Cienfuegos, Santa Clara, Camagüey, Guantanamo and Santiago de Cuba. Even so, with three synagogues, Havana is the country's Jewish heart and soul.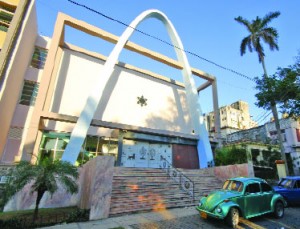 Temple Beth Shalom, also called the Patronato, which functions as a community center, is the primary Ashkenazic synagogue and the one most frequently visited by Americans. The Centro Hebreo Sefaradi and the Patronato are affiliated with the Masorti movement; Adath Israel is Orthodox.
Most Jews came to Cuba early in the 20th century, some fleeing the troubles in Eastern Europe, others from Turkey and the surrounding region as the Ottoman Empire collapsed.
More arrived during the Holocaust, originally viewing the island as a temporary haven on their way to the United States and playfully dubbing it Hotel Cuba. Some found it so pleasant that they stayed.
Most of the revived communities now have thriving Hebrew schools, with teachers trained by Spanish-speaking JDC operatives, many of whom originally went doorto-door seeking out the few remaining Jews after 1991, inviting them to join fellow Jews in coming together openly. Some returnees have since been sent to Argentina and Chile for advanced training as lay leaders, reported Recant. There are still no resident rabbis in Cuba.
The JDC has helped Jewish Cubans celebrate holidays, often in someone's home or a rented room. It supplied prayer books and ritual objects such as menoras and  organized delivery of Passover foods, largely by Canadian Jews (tight restrictions connected to our embargo had mainly kept Americans away). Today, Sabbath services have become a joyous celebration of song and dance, if not serious prayer, for many, providing a sense of kinship.
The Patronato has a youth club, a senior citizen group, library, gym, pool table, computer room, video games and a lively social atmosphere that has encouraged Hebrew school children to bring their parents.
There is a gathering place for Jews in Cienfuegos, too. Rebeca Langus Rodriguez has passionately and energetically embraced her role as the leader of the city's 30-member Jewish community. Still, she admitted it is a struggle.
Her son David, in his late twenties, leads services, even though he can only read Hebrew phonetically. Shelves with prayer books and pictures of Jerusalem line the buff-colored walls, while below in the street the intermittent clop of hooves and the rumble of wagons remind visitors that this is a poor island.
The American donations have been vital, and distributing them in an equitable way among the various towns has been carefully coordinated, said Recant. But the sheer volume of future visitors may throw those arrangements into jeopardy, he warned. The communities do not yet have the needed infrastructure and it could create resentment, particularly as many visiting Americans—their suitcases bulging with gifts—do not set foot beyond Havana.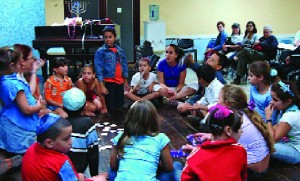 "This could become a real concern for the outlying communities," he cautioned.
Another challenge arises from policy changes inside Cuba. Starting in the mid 1990s, Cuban Jews were permitted to visit or immigrate to Israel. That has turned into a mixed blessing. The most committed among them, likely future leaders, have been makingaliya.
Rodriguez mentioned the same difficulty when asked if her community was likely to grow. "We are constantly losing families to Israel," she noted. "It's a real problem."
"And by then a lot of resources have been used up training them," said Batia Plotch, a former community organizer in New York. Plotch has served as a consultant for some 100 Jewish missions since 1999.
"I would be less than honest if I didn't tell you that some people want to be Jews because it offers them the chance to leave," said Samuel Zagovalov, a 62-year-old former oil refinery technician and leading member of the Centro Hebreo Sefaradi, in an interview with The Wall Street Journal in 2009.
A further challenge has been defining who is a Jew. It is widely known in Cuba that the Jews benefit from the donations constantly being brought in by travelers. Moreover, because of generous donations, centers of Jewish life like the Patronato offer members additional benefits such as free Shabbat meals.
So, do people join just for the handouts? Perhaps at first. "If they go three or four times a week, they get [a] bag of things at the end of the month," Alberto Mechulum Cohen, a 69-year-old retired pediatric neurologist, explained in Behar's book. But he conceded that attendance can eventually become a welcome part of life, as it did for him. Nevertheless, requirements concerning proof of Jewish ancestry have been introduced.
Fortunately, Cuban Jews possess a list of local Jewry compiled by a former community president prior to the revolution. Participants must show that they or a spouse had at least one relative on that list, or produce a document such as a grandparent's ketuba. Today, most Jews represent a mix of race and religion that characterizes Cuban society at large.
The list does not include those who claim Jewish heritage going back to the original Spanish settlers. "We do not see them," insisted Adela Dworin, president of the Patronato, possibly because their Jewish heritage would only show up as family lore or dietary practices, which might not be considered sufficient. Besides, unlike those who came 100 years ago, they are not as a whole anxious to live as Jews, even though they know from family tales that their ancestors were once Jewish. But in time that may change and swell the numbers, as is happening in other Latin American nations.
In the 16th century, dozens of Conversos—forcible converts fleeing the Inquisition—sailed to Cuba, becoming some of its original European settlers. Fidel Castro himself has claimed Jewish heritage, according to his daughter, Alina. Indeed, Castro is a common Sefardic surname, especially among former Conversos, known locally (and throughout Central America) as Sefaraditas.
Both Fidel and his brother, Raul, have visited the Patronato—and they never closed Cuba's only kosher butcher shop, allowing any Jew who remained a member of a congregation during the darkest days following the revolution to fill a meat ration with beef (not pork).
Today, formal conversion to Judaism is expected (but not required) when an incoming member was not born to a Jewish mother. Some 500 such conversions have taken place since the reawakening of religious life in 1991. Dozens of couples have celebrated a Jewish wedding under a huppa, even though they may have been married years before in a civil ceremony, said Recant. Bar mitzva programs began in 2003.
Tour leader Arthur Starr, retired rabbi of the Hebrew Congregation of St. Thomas, Virgin Islands, finds Cuban Jews better dressed, more knowledgeably Jewish and self-assured than in past years.
Still, problems exist. Alan Gross, an American Jew arrested in 2009, was convicted in March of working on a "subversive United States-sponsored project" meant to destabilize the regime, according to an Associated  Press report. Allegedly, he was illegally distributing laptops and satellite phone equipment to dissidents. Gross, 61, worked for an American firm subcontracted to the United States Agency for International Development to promote democracy in Cuba. His family and American officials, however, explain that he provided members of the Jewish community with equipment for unlimited access to the Internet. Gross argued at his trial that he was "used and manipulated" by those who provided the equipment in the United States, denying any knowledge of subversive intent. He was sentenced to 15 years in prison. Jewish organizations, among others (including former president Jimmy Carter), have since lobbied Cuba for his release on humanitarian grounds—both his daughter and mother have cancer and Gross suffers from diabetes.
Nor are some Cuban Jews who live in America pleased to see the Castro regime—which took so much from them—being propped up, even indirectly, by an influx of American Jewish dollars and donations, however well intentioned. "It makes me feel sick," said Roland J. Behar, a former political prisoner living in Miami Beach, Florida.
Regardless, the Jewish presence is likely to increase. Some visitors are already scouting informally for business opportunities, if and when restrictions are lifted on American ownership, said Starr. Meanwhile, over the clatter of plates during breakfast at the hotel, talk turns to buying a retirement or vacation property in or near Havana and the beach resorts…if and when.
Andrée Aelion Brooks can be reached at: andree brooks@hotmail.com; www.andreeaelionbrooks.com.