Guide to the Arts
Exhibits/ Music Festivals/ Film Festivals/Theater

EXHIBITS
United States
ARIZONA
The Sylvia Plotkin Judaica Museum, Phoenix (480-951-0323; www.spjm.org)
Features a composite synagogue sanctuary from Djerba, Tunisia, with ornate floral-motif tiles and wooden Torah casings, and a life-cycle exhibit. Permanent exhibit.
The Evanne Copeland Kofman Biblical Garden, accessible year round, is the museum's newest exhibit, featuring plants mentioned in the Bible—grape, flax, terebinth, papyrus, fig, date, ebony and olive.

CALIFORNIA
Art at the JCC, Jewish Community Center, Santa Barbara (805-957-1115; www.jewishsantabarbara.org)
Portraits of Survival: Life Journeys During the Holocaust and Beyond
Exhibiting an array of portraits, narratives and archival material depicting the journey of Santa Barbara survivors and refugees before, during and after the Holocaust.

Contemporary Jewish Museum, San Francisco (www.thecjm.org)
"Being Jewish": A Bay Area Portrait
This ongoing exhibit is a mural of community photos and objects that reflect the flavor of Jewish life in the Bay Area, past and present.
Los Angeles Museum of the Holocaust, Los Angeles (323-651-3704; www.lamoth.org)
Innovative architecture and technology to provide and in-depth experience of the Holocaust. Permanent exhibit.
J. Paul Getty Museum, Getty Villa, Pacific Palisades (310-440-7300; www.getty.edu)
In Search of Biblical Lands: From Jerusalem to Jordan in 19th Century Photography Displaying the works of numerous photographers, primarily American and European Protestants, who, scouring the Holy Land in expectation of a glorious landscape found themselves documenting the wild, forsaken remnants of antiquity. Through September 12.
Museum of Tolerance: A Simon Wiesenthal Center Museum (310-553-8403; www.museumoftolerance.com)
Holocaust Section
An immersive tour allows visitors to witness history unfold in just 70 minutes. Each visitor receives a passport of a child of the Holocaust and learns of their fate at the conclusion of the tour.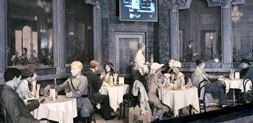 Highlights include an outdoor café scene depicting concerned citizens in 1930s Berlin, as the television screens above relate these customers' fates; a hall of testimony; a passport printout area; and Simon Wiesenthal's office. Ongoing.

Skirball Cultural Center, Los Angeles (310-440-4500; www.skirball.org)
Visions and Values: Jewish Life from Antiquity to America
An evaluation of the history of the Jews to the present with an emphasis on themes such as Journeys, Holidays, Lifecycle, Synagogue, Passage to America, Nation of Immigrants, the Holocaust, Israel and more. Permanent exhibit.
Houdini: Art and Magic
This complementary exhibit to Master of Illusion: Jewish Magicians of the Golden Age  traces the story of the young Jewish boy who joined the circus and his rise to international fame. Through September 4.

COLORADO
Mizel Museum, Denver (303-394-9993; mizelmuseum.org)
4,000 Year Road Trip
Celebrating the Jewish journey through art, artifacts and installations, this recently opened exhibit opened received rave reviews. Permanent exhibit.
FLORIDA
Jewish Museum of Florida, Miami Beach (305-672-5044; www.jewishmuseum.com )
Mosaic: Jewish Life in Florida
Depicts Jewish life in Florida from 1763, when Jews were first allowed to settle there, to the present. Core exhibit.

Isaac Bashevis Singer and His Artists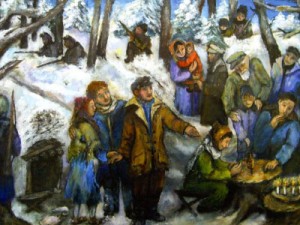 A master of capturing the cultural sensibility of shtetl Jew while conflating the supernatural with reality, Singer's physical journey from Poland to Miami,as well as his literary journey and his collaborations with 17 different artists for 32 different books are highlighted. Through August 28.

GEORGIA
The William Breman Jewish Heritage Museum, Atlanta (678-222-3700;www.thebreman.org)
Absence of Humanity: The Holocaust Years
This exhibit describes the systematic murder of six million European Jews by the Nazis and their collaborators through historical photographs and documents, memorabilia and family pictures, and in the voices of those who survived and made new lives in Atlanta. Permanent exhibit.
Creating Community: The Jews of Atlanta from 1845 to the Present
This display begins with the story of two young peddlers, Jacob Haas and Henry Levi, who settled in Atlanta and opened a dry-goods store, and continues to the present day when more than 100,000 Jews call metro Atlanta home. Permanent exhibit.
The Legacy Project: Coming to America
View video interviews of Atlanta residents who are Holocaust survivors, explore family photograph albums and peruse relevant documents. Interactive maps of Europe provide historical information about the home countries of local survivors and the fate of Jewish populations during World War II. Permanent exhibit.
ILLINOIS
Spertus Museum, Chicago (312-322-1700; www.spertus.edu)
Open Depot Collection Display
This ingenious storage and display area houses and presents more than 1,500 objects. Ongoing.
Illinois Holocaust Museum & Education Center, Skokie (847-967-4800; www.ilholocaustmuseum.org)
Beyond Swastika and Jim Crow: Jewish Refugee Scholars at Black Colleges 
When Jewish academics were forced out of their jobs in the years preceding the Holocaust, those who immigrated to the United States often took jobs at black colleges in the segregated South. This exhibit examines the encounters between two peoples faced with racial intolerance and the connections they forged. Through May 31

INDIANA
Candles Holocaust Museum, Terre Haute (812-234-7881; www.candlesholocaustmuseum.org)
Eva Kor survived Auschwitz as a child and dedicated her life to Holocaust education, primarily through this museum and through educational advocacy.

Mengele's Twins
The horrifying story of the thousands of twins who were experimented upon by Joseph Mengele of whom museum founder Eva Kor is one. Permanent exhibit.

MARYLAND
The Jewish Museum of Maryland, Baltimore (410-732-6400; www.jewishmuseummd.org)
Voice of Lombard Street: A Century of Change in East Baltimore: This long-term exhibit chronicles the area that was once the center of Jewish life in Baltimore in the early 1900s.
The Synagogue Speaks (Downstairs Lloyd Street Synagogue)
This new long-term exhibit celebrates and explores the history of the landmark Lloyd Street Synagogue in Baltimore, built in 1845 and today the third-oldest standing synagogue in the United States.
The Ratner Museum, Bethesda (301-897-1518; www.theratnermuseum.com)
On display are a variety of artistic expressions of the Bible in the form of paintings, drawings and sculpture—ranging from Genesis to the Song of Songs. Permanent exhibit.
MASSACHUSETTS
Boston Center for Jewish Culture, Boston (617-523-2324; www.vilnashul.org)
Reconnect the Tapestry
Between 1850 and 1950, Boston's Jewish community grew and flourished. Boston's Jews created a new American identity that balanced Old World with New, obligation with opportunity. This exhibit helps visitors learn about and reconnect with their Bostonian heritage. Long-running.
National Yiddish Book Center, Amherst (413-256-4900; www.yiddishbookcenter.org)
A Velt Mit Veltelekh: The Worlds of Yiddish Culture
Drawn from the material at the center, a display of Yiddish novels, plays, poetry, newspapers and more that preserve and reinvigorate the vibrant culture nearing extinction. Long-running.

NEW YORK
Bernard Museum of Judaica, New York (212-744-1400; www.emanuelnyc.org)
Sanctuary Revealed: The Restoration of an American Icon
Since its completion in 1929, Temple Emanu-El has been a symbol of American Judaism, as well as an architectural landmark. This exhibit chronicles both the birth of the historic synagogue nearly a century ago as well as the spiritual and physical renewal of its 2006 restoration.
Center For Jewish History, New York
The American Sephardic Federation (212-294-8350; www.americansephardifederation.org)
Heroes From Abroad: The Machal and Aliyah Bet Legacy
Presenting the stories of the brave soldiers who came from abroad to help Israel fight in the War of Independence in 1947-1949, extending their loyalty and risking their lives for Israel, yet remaining relatively unknown until recently. Through December 31
Yeshiva University Museum (212-294-8330; www.yumuseum.org)
There is a Mirror in My Heart: Reflections on a Righteous Grandfather
Aristides de Sousa Mende was responsible for saving over 30,000 Jewish refugees during the Holocaust. In this exhibit, his grandson, artist Sebastian Mendes, translates his heroism in a variety of artistic forms, including drawings, sculptures and performance. Through July 24.

YIVO Institute for Jewish Research (212-246-6080; www.yivo.org)
Simon Dubnow: A Missionary for History, A Visionary of Diaspora
This exhibit commemorates the 150th anniversary of Dobnow's death with a look at Eastern Europe's first historian to document Jewish history. Open run.
Derfner Judaica Museum at The Hebrew Home at Riverdale (718-581-1596; www.hebrewhome.org/art.asp)
Treasures of the Judaica Museum
On display are objects by Jerusalem and European artisans at the Bezalel Academy of Arts and Design, the Baum Legacy collection, Modernist interpretations of traditional objects and ritual art from a diverse range of Jewish communities. Open run.
Museum at Eldridge Street, New York (212-219-0302; www.eldridgestreet.com)
Ways We Worship
This short-run tour introduces people of all cultural backgrounds to Jewish practice, culture and ritual, from a Shabbat service at Eldridge Street Synagogue in 1887 to the present day.
The Jewish Museum, New York (212-423-3337; www.thejewishmuseum.org)
Culture and Continuity: The Jewish Journey
The unfolding story of Jewish culture and identity as reflected through Jewish art and artifact. Permanent exhibit.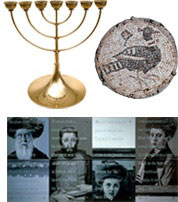 The Line and the Circle: Video by Sharone Lifschitz
Born and raised in a kibbutz, Lifschitz finds herself back in a darkroom with her mother developing pictures from her childhood. The conversation that emerges sheds light on kibbutz life, especially regarding diminished parent-children relationships. Through October 23.
Museum of Jewish Heritage-A Living Memorial to the Holocaust, New York (646-437-4200; www.mjhnyc.org)
The Morgenthaus: A Legacy of Service
This exhibition tells the story of three generations of the Morgenthau family and explores the fascinating ways in which their service to others changed world events, American politics and Jewish history. Long-running.
Last Folio: A Photographic Journey with Yuri Dojc
Slovakian born photographer, Yuri Dojc, stumbled across a school in Eastern Slovakia, untouched from the day students were carted away to concentration camps.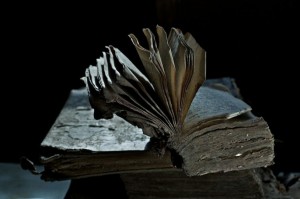 This exhibit pieces together the stories of those students from the books and documents left behind.
Kehila Kedosha Janina Synagogue and Museum, New York (212-431-1619;www.kkjsm.org)
Janina Project: Celestial Structures
Hanging crystal structures by Judy Moonelis. Permanent display.
Something Old, Something New
Weddings in Greece and within the Greek Jewish communities of New York celebrate a time long gone.
Harriet and Kenneth Kupferberg Holocaust and Resource Center at Queensborough Community College, Bayside, Queens (718-281-5770; www.qcc.cuny.edu/KHRCA)
Goose Stepping on Long Island: Camp Seigfried
This exhibit exposes the seemingly innocent camp on Long Island during the 1930's that was a fortress of Nazi propaganda and promotion. Open-ended.

OHIO
Skirball Museum at the Hebrew Union College of Cincinnati (513-221-1875; www.huc.edu)
An Eternal People: The Jewish Experience
Seven galleries portray the cultural, historic and religious heritage of the Jewish people. Permanent exhibit.

OKLAHOMA
Sherwin Miller Museum of Jewish Art, Tulsa (918-492-1818; www.jewishmuseum.net)
On display are archaeological and ritual objects, costumes, fine art and Americana as well as memorabilia donated by Oklahoma veterans who took part in the liberation of German concentration camps and by Jewish refugees.

PENNSYLVANIA
Philadelphia Museum of Art (215-763-8100; www.philamuseum.org)
Rembrandt and the Face of Jesus
Rembrandt revolutionized Christian art with his depiction of Jesus with a Semitic flair and the surrounding Sefardic Jewish culture informed his work. Through October 30
Eastern State Penitentiary, Philadelphia (215-236-3300; www.easternstate.org)
Alfred W. Fleisher Memorial Synagogue
Completed around 1924 and used continuously until the Eastern State Penitentiary closed in 1970, the synagogue has been faithfully restored with dark wooden benches, a beautiful Ark, reader's table, ornate plaster Star of David and an eternal flame. An exhibit describes Jewish life in the 180-year-old institution. Permanent exhibit.
National Museum of American Jewish History, Philadelphia (215-923-3811;www.nmajh.org)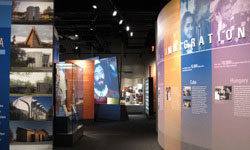 Core exhibition spans four floors and 350 years of the American Jewish experience.
TENNESSEE
Janet Levin March Gallery at the Gordon Jewish Community Center, Nashville (615-356-7170; www.nashvillejcc.org)
A monthly rotation of Jewish jewelry and art showcases the work of local artists.

TEXAS
Holocaust Museum Houston, Houston (713-942-8000; www.hmh.org)
Bearing Witness: A Community Remembers
Film footage, artifacts, photographs and documents show life in prewar Europe, the Nazi move toward the Final Solution and life after the Holocaust. Includes a rare collection of children's shoes recovered from the Majdanek concentration camp in Poland. Permanent exhibit.

VIRGINA
Beth Ahabah Museum and Archives, Richmond (804-353-2668; www.bethahabah.org)
Minding the Store: Richmond's Jewish Merchants
Telling the story of Richmond's Jewish merchants as they progressed from street carts to small shops to malls, this long-running exhibit links names from an earlier era with modern-day businesses.
WASHINGTON, D.C.
Jewish Historical Society of Greater Washington, Lillian & Albert Small Jewish Museum (202-789-0900;www.jhsgw.org)
Jewish Life in Mr. Lincoln's City
The vibrant centers of activity during the Civil War had a strong Jewish presence in their midst. This exhibit focuses on the stories of Jews in Washington D.C. and Alexandria during this period. Through April 4.
National Portrait Gallery (202-633-1000; npg.si.edu)
Seeing Gertrude Stein: Five Stories
Largely seen as the Picasso of poetry, Stein's works deconstruct language, enabling the reader to experience it anew. This exhibit looks at Stein's unique life, her whimsical artistry, her fractured identity and the contributions that forever changed the 20th century. Through October 14 to January 22, 2012.
United States Holocaust Memorial Museum (866-998-7466; www.ushmm.org)
State of Deception: The Power of Nazi Propaganda
This long-term exhibit reveals how the Nazi Party used modern techniques as well as new technologies to carefully craft messages to sway millions with its vision for a new Germany.
National Museum of American Jewish Military History (202-265-6280; www.nmajmh.org)
Hall of Heroes: American Jewish Recipients of the Medal of Honor
Preserving the memories and heroic stories of the fifteen Jewish soldiers who received the medal of honor. Permanent exhibit.

Women in the Military: A Jewish Perspective
This long-running exhibit profiles great women veterans from the Civil War to the Gulf War. Transcending the social restrictions of being a Jew and being a woman in the Army, these women's achievements represent a significant shift in the history of Jewish women in America.
Rescue and Renewal: GIs and Displaced Persons
This exhibit evaluates the relationship between Jewish GIs and the displaced Jews after World War II. Forging a bond based on common heritage, these soldiers were often able to provide and care for the victims of the Holocaust, contributing to their physical and emotional wellbeing.

CANADA
Montreal Holocaust Memorial Centre (514-345-2605; www.mhmc.ca)
The permanent collection includes over 7,500 artifacts Judaica, of propaganda and of objects from the ghettos and camps. Hundreds of testimonies from survivors are documented as well.
United Kingdom
Jewish Museum, London (011-44-20-7284-7384; www.jewishmuseum.org.uk)
Entertaining the Nation: Stars of Music, Stage and Screen
Depicting the little-known Jewish presence in the British entertainment industry, this exhibit showcases the life stories of Maureen Lipman, Peter Sellars, Sacha Baron Cohen, Mark Bolan, as well as countless others. Besides the stars, the exhibit reveals those involved behind the scenes: the man behind the rise of the Beatles, a producer for the Rolling Stones and more.
Morocco: Photographs by Elias Harrus and Pauline Prior
Documenting the Jewish community in southern Morocco in the 1940's and 1950's, a community characterized by the close cultural ties with their Muslim neighbors. Contrasted with these photographs are ones taken in 2008, where the Jewish presence had nearly disappeared entirely.
THEATER
CALIFORNIA
Greenway Court Theatre, Los Angeles (310-285-9476; www.jewtopiaplay.com)
Jewtopia
After a best-selling run in New York, this play returns to L.A. to tell the story of Chris O'Connell and Adam Lipschitz, two men in search of a nice Jewish girl. Stereotypes collide and cultures clash in this critically praised show.
NEW YORK 
59E59 Theaters, New York (212-753-5959; www.59e59.org)
Folksbiene: The National Yiddish Theater, New York (212-213-2120; www.folksbiene.org)

New Worlds Theatre Project, New York (917-513-7620; www.newworldsproject.org)
Marjorie S. Deane Little Theatre, New York (212-352-3101; www.freudslastsession.com)
Freud's Last Session
What if Freud, the atheist Jewish psychiatrist, had met C.S. Lewis, the Christian theologian and writer? What if their conversation had spanned everything from God to human nature to Freud's own childhood? Open run.
St. Luke's Theatre, New York (212-239-6200; www.dannyandsylvia.com)
Danny and Sylvia: The Danny Kaye Musical
How did David Daniel Kaminsky from Brooklyn become Danny Kaye, beloved American comedian? The secret is his mentor/manager/wife, Sylvia Fine. This play features some of Kaye's best-known songs, such as "Tchaikovsky" and "Minnie the Moocher." Brian Childers stars as Kaye in an award-winning performance. Open run.