Inside Hadassah: Laying Foundations for the Future
Summer is on its way—a time to revitalize our energies, set priorities and plan for the future. Hadassah is continuing to plan and build, too. a It is especially gratifying to witness the construction of Hadassah Hospital's emergency-preparedness facilities in the Sarah Wetsman Davidson Tower in Jerusalem. Financial support for the tower, for Hadassah's medical research and initiatives as well as our other life-saving and life-changing projects is essential, and we welcome your support. We also encourage you to become a donor to The Hadassah Magazine Circle. And for a fresh warm-weather treat, we have included an enticing sample recipe from Leah Koenig's The Hadassah Everyday Cookbook
. Enjoy the summer! —Ruth G. Cole
A Smash Hit for Summer
Celebrate warm weather with this simple and delightful grilled fruit dessert from the new Hadassah Everyday Cookbook: Daily Meals for the Contemporary Jewish Kitchen
 (Universe) by Leah Koenig. Go online to www.hadassahmagazine.org to order your copy today, or visit your local bookseller.
Grilled Pineapple with Minted Raspberry Smash
Serves 4-6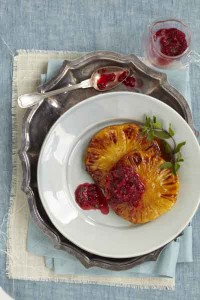 For Pineapple:
1 whole pineapple
1/2 cup packed brown sugar, dissolved in a little water
1 TB fresh lime juice
For Smash:
1 cup fresh raspberries (do not use frozen)
1 TB sugar
1 TB fresh mint, chopped
1. Using a sharp, sturdy knife, cut the bottom off the pineapple. Stand the pineapple up on a flat surface and, slicing down along the fruit, remove the outer peel, rotating as you go until the peel is gone. Lay the pineapple down horizontally and slice into 1/2-inch rounds or cut into 1/2-inch long wedges.
2. Mix together the dissolved brown sugar and lime juice in a small bowl. Using a pastry brush, lightly coat each pineapple round or wedge with the mixture. Spray your grill or grill pan with a little vegetable oil and grill pineapple on each side for a couple of minutes until it is nicely caramelized and browned.
3. Make the smash: Combine raspberries, sugar and mint in a medium bowl. Using a fork, smash the raspberries and other ingredients together. Allow to sit for at least 10 minutes before dolloping onto grilled pineapple.
The Height of Preparedness
On March 23, for the first time in seven years, Jerusalem was struck by a terrorist's bomb. Thirty-five victims were brought to Hadassah's hospitals, where they were rushed into emergency rooms with equipment and medical personnel at the ready.
While we pray for peace in Jerusalem, this tragic event drove home once again the importance of emergency preparedness in Israel's capital as well as Hadassah Medical Center's key role in that arena. Unfortunately, Hadassah doctors have gained unparalleled experience treating trauma.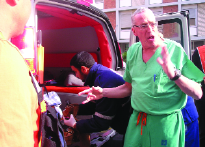 The 14-story Sarah Wetsman Davidson Tower, scheduled to open in time for Hadassah's centennial next year, will significantly enhance the Ein Kerem hospital's emergency-preparedness facilities.
In the worst-case scenario, the tower's surgical center is designed to function as a self-contained hospital unit, explains Itzik Kara, director of the nursing services' division of surgery and critical care. The unit is equipped with an on-site generator to ensure uninterrupted flow of electricity, and all computers have their own backup systems so that information is not lost. Furthermore, each operating room has its own backup system so it can function independently if necessary. "I hope we never need this support," he says, "but if we do, we are prepared."
To this end, two underground floors of the tower, including the 20 operating theaters in the surgical center, have been built to meet strict government construction codes to protect against conventional and unconventional attacks. Among these reinforcements are thick concrete walls, steel shutters and sealed gaskets for windows, and a special air system designed to ensure that no contaminated air can seep in.
In addition, floors with intensive-care units have protected areas where patients can be moved if necessary, and all shelters on the campus have extra capabilities for electricity, gas and air, to accommodate extra beds.
All told, the tower's new fortified space, together with the existing space in the adjacent Judy and Sidney Swartz Center for Emergency Medicine, totals 382 beds in protected areas.
Though we hope and pray that these special reinforcements will never be needed, Hadassah Hospital stands prepared to meet a critical need in Jerusalem and in Israel. You can be a part of this important project; for giving opportunities related to emergency care, please call 800-988-0685 or e-mail towercampaign@hadassah.org.
Prize-worthy
For Danielle Cantor, design and communications manager at Jewish Women International, promoting healthy relationships and positive self-esteem for women and girls is not merely a day job.

Recognizing her dedication and potential to have an even greater impact, the Hadassah Foundation will present Cantor with its third-annual Bernice S. Tannenbaum Prize on June 14 in New York.
"I've always been proud of my work…," says Cantor, "but with a few degrees of separation between ideas and audience, I don't often get to see the impact firsthand."
The Bernice S. Tannenbaum Prize was conceived and implemented through generous contributions from Joan and Leonard Leiman with additional funding from The Philip and Muriel Berman Foundation.
Support Hadassah Magazine Today So It Can Continue Publishing the Stories of Tomorrow
Three hundred prizes for excellence in journalism in 30 years? The first Jewish magazine nominated for a National Magazine Award? The largest circulation of any Jewish publication in North America? The most coveted resource in the Jewish community for information on Jewish travel and literature? That's Hadassah Magazine.
We are proud of the quality magazine we produce, informing and inspiring our readers. From Jewish culture worldwide to art, food and books, Hadassah Magazine has a finger on the pulse of the Jewish world today. We strive to take you behind the headlines, reporting on Israel's growth and development and filling in the context of Israeli life.
Now, Hadassah Magazine is turning to you for financial support.
Advertising revenue has never covered all of our costs, and the gap has always been made up by Hadassah. Today, we find ourselves simultaneously facing the new economics of publishing (in a world that is increasingly Web-focused) as well as the tightening budgets of nonprofits throughout the country.
Please help us by contributing to The Hadassah Magazine Circle, made up of readers like you who are committed to sustaining the magazine and maintaining its quality. All contributions—from $18 to $5,000—are tax deductible, and members of the circle will be recognized annually in the magazine and on our Web site. All donations are greatly appreciated.
With your help, Hadassah Magazine will continue to be an award-winning, influential voice for Hadassah's crucial work here and in Israel, for Zionism and the vitality of the Jewish people worldwide.
Join the circle at www.hadassahmagazine.org/circle. For more information, e-mail magazine@hadassah.org or call 212-451-6283.

Save the Date!
Mark your calendars: Join us from October 15-18, 2012, for Hadassah's Centennial Convention in Jerusalem. Share in magical moments in Israel, including a Gala Centennial Celebration as well as the dedication of the Sarah Wetsman Davidson Tower at Hadassah's Ein Kerem campus. Come visit Hadassah's projects in Israel and witness firsthand the tremendous impact we have made on the Jewish state. Pre- and postconvention tour options are available. Don't miss this once-in-a-lifetime opportunity. For more information, visit www.hadassah.org.
What a Deal!
Give someone you care about a gift that lasts a lifetime.
In honor of Hadassah's upcoming centennial, become a life member or Associate for only $100, an offer available all year.
Join over 22,000 people who have already taken advantage of this terrific opportunity. To enroll, contact your local unit, call 800-664-5646 or visit www.hadassah.org.
Kudos go to the Florida Atlantic Region, which is leading the charge with the most new life members recorded so far!
Plant Potential
Is marijuana good for your heart? It just might be, according to a new study by Hadassah Medical Center researchers. While other medicinal uses of the cannabis plant are widely known, this is among the first studies investigating the drug's potential to help those with heart disease. In analyzing preclinical data derived from animal models, Hadassah investigators—led by cardiologists Ronen Durst and Chaim Lotan, in coordination with Massachusetts General Hospital in Boston—discovered that marijuana holds promise in the management of some cardiovascular diseases. The findings were published in the February 2011 issue of Cardiovascular Therapeutics.
The chemical compounds of the marijuana plant, called cannabinoids, can modulate cardiac inflammatory processes, maintaining hemodynamic homeostasis and rhythm control, which would help those suffering from arrhythmia (irregular heartbeat), ischemia (obstruction of arterial blood supply) and heart failure. These findings might one day spell relief to the millions of people who suffer from some form of these diseases. Cardiovascular diseases are the leading cause of death in the world, particularly among women. More than one of every three Americans suffers from some form of cardiovascular disease.
"Given the proven safety [of cannabinoids in animal models], the leap toward human studies is small," the researchers concluded in the article. They are optimistic about their findings and hoping to continue their research and confirm their results with clinical trials.