Letter From Jerusalem: The Value of Peace
The news came over the radio on a Thursday evening.
Indeed, if you were in downtown Jerusalem, the news blared into the street from radios turned to top volume in every café and falafel joint at the same time, as loud as the shofar of the End: Anwar al-Sadat, the president of Egypt, the enemy incarnate—the man who on Yom Kippur just four years before had launched a war that shattered Israel's defenses and confidence and left it a country of bereaved parents, of war widows and of orphans too young to remember their parents—would be arriving at Ben-Gurion International Airport in 48 hours. He was coming to make peace.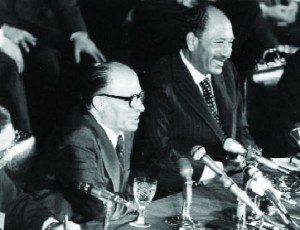 If Israel Radio had announced that Martians were landing at Ben-Gurion that evening in November 1977, if it had announced that gravity would be repealed in the morning, the news would have done less to overturn Israelis' basic understanding of the universe.
In the immediate sense, Sadat was accepting an invitation from Menahem Begin, the prime minister whose election earlier that year had apparently signified the victory of intransigence toward Arabs and suspicion toward the world.
In a slightly longer-term perspective, Begin had responded with alacrity to Sadat's offer a few days earlier to come to Jerusalem. It would take close to a year and a half from Sadat's words before the Knesset "I have come…in order that we may establish peace" to the actual signing of the peace treaty between Israel and Egypt. The psychological revolution, though, began when his visit was announced, even before he arrived.
Thirty-three years later, on January 25th of this year, another revolution started—in Tahrir Square in Cairo. Led by young Egyptians frustrated with corruption, repression and economic stagnation—not by Islamic extremists—it quickly led to the fall of President Hosni Mubarak and the prospect of democratic elections in Egypt this September. Arguably, Sadat's visit and the January 25th revolution are the two nonviolent events that have most altered the Middle East in living memory.
In the years between them, however, the sense of miracle and wonder among both Israelis and diaspora Jews produced by peace with Egypt faded to acceptance, boredom, disappointment and sometimes ignorance.
Outside Israel, I have heard impassioned remarks from people who believe Israel got a raw deal, perhaps forced on it by then-American President Jimmy Carter. Inside Israel, complaints about the cold peace—like the earlier objections to withdrawing from the Sinai—have come from the political right.
Perhaps the most extreme comments by a major politician came from Avigdor Lieberman, who reportedly told ambassadors from the former Soviet Union in 2001 that Israel needed to be ready to respond to Arab provocations, including purportedly hostile acts by Egypt, and that one Israeli policy option was "bombing runs against the Aswan Dam."
More subtly, Benjamin Netanyahu questioned the value of peace between Israel and a dictatorship in his 1993 book, A Place Among the Nations
 (Bantam) and declared that to make real peace possible, "the first order of business…is to press the Arab regimes to move toward democracy."
Nonetheless, when the uprising began in Egypt, both Netanyahu and Lieberman—now Israel's prime minister and foreign minister—warned European diplomats that the fall of Hosni Mubarak's regime threatened the peace agreement.
Putting aside the irony of that reversal, the Egyptian revolution does raise a number of critical questions. Looking back, what have Israel—and, for that matter, Egypt—actually gained from the peace accord? Looking forward, what are the odds that a new regime in Egypt will keep the agreement?
Lest one forget, notes Arye Naor, who served as cabinet secretary under Begin, the first thing that Israel got out of the treaty with Egypt was, quite simply, "Peace—eyn kleynikayt!" That is Yiddish for "no small matter."
Naor, now a professor of public policy at Ben-Gurion University of the Negev, explains, "Were it not for the agreement that Begin signed with Sadat, it is reasonable to assume that Israel would have had to win at least one more war against Egypt." Nice as it is to win, "in our reality, every military victory is also a loss." Here Naor's voice turns as stern as Begin's.
"After the Holocaust, the ability of the Jewish people to absorb casualties is lower than that of any other nation. Anyone who doesn't understand this should not engage in policymaking."
Because Israel is a small country, Naor notes, founding father David Ben-Gurion set the iron rule that wars must be fought on the enemy's territory. "To do that, you have to maintain a large army," Naor explains. Were there no peace with Egypt, Israel would have to maintain "several large military formations…to prevent the possibility of meeting the Egyptian army near Ashdod." To that I should add: The need for a large army existed even when Israel held the Sinai—and Egypt nonetheless managed to cross the Suez Canal in 1973.
On the other hand, says Naor, "without Egypt you cannot imagine an Arab coalition that could threaten Israel's existence with conventional means." More specifically, without Egypt as an ally, Syria has been unable to engage in a direct armed confrontation with Israel—further reducing Israel's military burden.
What's more, the agreement actually created a three-way relationship, tying Egypt along with Israel to the United States. "That was Begin's wisdom," Naor argues. At a point in the talks when then-Defense Minister Ezer Weizman believed a treaty could be wrapped up "in a tête-à-tête with Sadat," Begin insisted on involving President Carter. As part of the peace deal, Cairo became dependent on America for arms and economic aid—a net benefit for Israel.
In sum, the peace agreement brought an unmatched improvement in Israel's national security. It had similar impact on economic development. "Peace…and the demilitarization of the Sinai eased our defense burden enormously," says economist Paul Rivlin of the Moshe Dayan Center for Middle Eastern and African Studies at Tel Aviv University. Figures presented by Bank of Israel Deputy Governor Zvi Eckstein in a lecture last April back that up: In the mid-1970s, Israeli military spending had soared to over a third of the gross domestic product. But by 1982, when Israel completed the Sinai pullout, defense spending had dropped to under a quarter of GDP. It has continued to fall ever since—to just 7 percent of the GDP in 2010. Total government spending and the national debt have dropped drastically in tandem.
These figures do not include all the savings—for instance, the hard to calculate benefits for the civilian economy of men being at work rather than in reserve duty. Nor do they portray the full benefits.
A drop in military spending from the extraordinary levels of the 1970s means that the government is not "crowding out" civilian production or private borrowing in the credit market, says economist Aamer Abu-Qarn of Ben-Gurion University. He adds that the stability brought by peace with Egypt also boosted Israel's credit rating, allowing the country to borrow money more cheaply, and made Israel more attractive to foreign investors. The peace dividend has been essential to Israel's transformation from a third world to a first world economy.
So it is natural for Israel to want to preserve the peace. Fortunately, the payoff for Egypt has gone far beyond recovery of the Sinai Peninsula. Peace has also been "no small matter" for a country that lost up to 20,000 men in six days of fighting in 1967 and as many as 11,000 more in its 1973 war with Israel—not to mention the dead in other fighting from 1948 onward.
Egypt's own peace dividend has been huge. "The entire Egyptian economy rests on a policy that links development to stability" in the military-diplomatic realm, says Yoram Meital, a leading Israeli expert on Egypt and head of the Chaim Herzog Center for Middle East Studies and Diplomacy at Ben-Gurion University.
Peace with Israel, as Meital stresses, was the opening to Egypt's strategic ties with the United States and the West. It has brought over $70 billion in American aid since 1979, along with many billions more in foreign investment. Peace, he adds, allowed Egypt to reopen the Suez
Canal and develop its tourism industry—two of its major sources of income.
As economist Rivlin notes, Egypt has also saved on military outlays: "[Egypt] is a very poor country. It can't afford war." It is also a country where the military is deeply involved in the civilian economy. So, strangely enough, "here you have a fighting machine that doesn't want to fight," Rivlin says. The generals have a personal economic interest in the quiet status quo.
The evidence of Egypt's stake in peace, Meital says, is that the treaty has "survived the most difficult tests"—Sadat's assassination, two Israeli wars in Lebanon and the repeated confrontations between Israel and the Palestinians.
And looking forward? Meital's cautious estimation is that "in the foreseeable future, [Egypt's] commitment to the peace agreement will continue."
That is the good news. the bad news is that the chilly relations of today could get much, much colder, Meital suggests. In September, Egypt plans to hold free elections for a new parliament and government, drawn from civilian society. Meanwhile, the Israeli-Palestinian peace process is stuck and "the Palestinian side has despaired of reaching an agreement with Israel," Meital says. To add to a potential perfect storm, the Egyptian election could practically coincide with a United Nations vote on recognizing an independent Palestinian state.
In Meital's assessment, "a civilian government in Egypt will certainly want a new beginning in relations with Palestinian society." Already Egypt has announced that it will open its border crossing with Gaza, undercutting the Israeli blockade. Diplomatically, it brokered the reconciliation agreement between Fatah and Hamas.
Put differently, the revolution in Egypt is another powerful reason for Israel to reevaluate its policy toward the Palestinians and the peace process. The old Middle East is gone. In the new one, the peace with Egypt could last in the minimal sense of no war. But cooperation with Egypt that was taken for granted could evaporate, and Israel's isolation could dramatically increase. It is not enough to look back longingly at how Sadat and Begin defied expectations and transformed the Middle East 33 years ago. Some new acts of startling courage are needed.