Letter from Jerusalem II: A Very Merry Un-Birthday
August 3. Things in the Middle East are rarely, if ever, as they seem on the surface. The issue of a Palestinian unilateral declaration of independence, billed as the biggest event of 2011 in terms of Israeli-Palestinian issues, is no exception. Only by analyzing what is really going on can we understand the cause and consequences of this development. a Briefly, the Palestinian Authority has said that it is so frustrated with the slow pace of negotiations with Israel that it intends to short-circuit them altogether by going to the United Nations—asking countries to recognize it as the government of an independent country of Palestine and seeking United Nations membership at the organization's next session.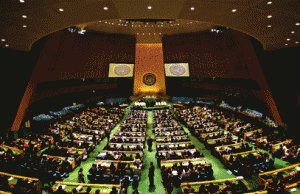 The Palestinian Authority's complaints are ironic since the failure of negotiations to progress has been mainly of its own doing. At the time of the Hamas-Israel war in Gaza, in January 2009, they cut off talks with Israel and have avoided serious negotiations ever since. Moreover, it was the Palestinian Authority's rejection of a plan based on far-reaching Israeli concessions in 2000 that doomed the Oslo peace talks.
Thus, having stalled the negotiations process and opposed previous plans, the Palestinian Authority complains that the very outcome of its actions gives it no choice but to abandon talks altogether. The reason for this strategy is essential for understanding the continuation of the conflict.
The Palestinian Authority leadership, in charge of the West Bank, cannot make peace because it is weak and divided. It has systematically educated the Palestinian public to regard concessions as treason. Any sign of flexibility is used by rival leaders and Hamas, which rules in the Gaza Strip, to discredit them. Real peacemaking is politically impossible and personally dangerous.
In addition, both the Palestinian Authority and Fatah, its ruling party, are dominated by hardliners who would like to see Israel disappear and have a Palestinian-Arab-Muslim state from the Jordan River to the Mediterranean. They will certainly not close the door to terrorism against Israeli civilians and they do not want to take any step that forecloses the possibility of total victory in the future.
Thus, the unilateral approach suits their personal, political and ideological needs. It gives them a rationale for avoiding compromise—even talks with Israel; they are basically going over Israel's head to get a state from the international community. It also buys time.
Of course, they hope this strategy will bring them recognition from a larger number of countries. Even if a unilateral declaration of independence does not succeed completely, it is still the best option given the goals and constraints on the Palestinian Authority's leadership. Indeed, the very threat of going to the United Nations has brought the Obama administration and the Europeans to offer the authority even more concessions.
It is likely, in fact, that the united nations-oriented strategy will not change anything. Even if some states formally recognize a Palestinian state—as has happened with several Latin American countries—dozens of governments have already done so for years. Israel will not give in no matter what happens and neither the United Nations nor anyone else will press it to do so.
The No. 1 procedural problem the Palestinian Authority faces at the United Nations is that any proposal must go first to the Security Council. There it will almost certainly be vetoed by the United States. And that is the basis for another set of important issues related to the proposal.
President Obama has ceaselessly sought engagement with Muslims and Arabs. To veto such a resolution—which will be supported by Arab and Muslim-majority states—will set off a firestorm of criticism.
How can Obama avoid casting a veto? In handling this issue, he backed himself into a corner. It would have served American and his own interests if he had begun dealing seriously with the gambit when it first appeared in the fall of 2010. He apparently did not threaten the Palestinian Authority with the cost of violating its previous commitments. Nor did he launch an international campaign to persuade countries not to support the unilateral independence bid.
Only after several traditional United States allies, mainly in South America, announced support for the Palestinian Authority's strategy and the United Kingdom, France, Italy and Germany said they opposed it did Obama weigh in. He justified launching a new peace plan and giving more to the Palestinian Authority based on a need to win European support for rejecting the unilateral bid, even though the main European countries had already announced that they would not back it.
Meanwhile, in May the Palestinian Authority signed a reconciliation pact with Hamas to justify the independence bid. That Hamas is an openly anti-Semitic Islamist group allied with Iran, Syria and the Muslim Brotherhood does not enhance its popularity in the West. Obama has condemned the deal, but has not taken visible steps against it.
The hope is that the unity agreement will fail. Hamas and Fatah are hopelessly deadlocked; they postponed creating a joint government—the original deadline was July—until after the United Nations session.
If the Palestinian Authority proposal is vetoed in the Security Council, it can move to the General Assembly; a resolution there would not be binding, but that does not mean it is of no importance. The strategy means there will be no serious talks in 2011. It also reflects the Palestinian leadership's continued disinterest in a comprehensive peace and its lack of urgency in seeking a state in practice, not just on paper.
In an Arab television interview, Nabil Shaath, a moderate Palestinian leader, explained why his government seeks unilateral independence. "We will be able to sign bilateral agreements with states," he said, "and this will enable us to exert pressure on Israel…force it to recognize us and to leave our country."
In other words, the goal is to place international pressure on Israel to give in to Palestinians demands.
Clarifying the meaning of "leave our country"—does it mean pre-1967 borders or replacing Israel with an Arab Muslim state—Shaath says that he, and the Palestinian Authority, mean the latter: "Two states for two peoples means…a Jewish people over there and a Palestinian people here. We will never accept this…. We will not sacrifice the 1.5 million Palestinians with Israeli citizenship who live within the 1948 borders, and we will never agree to a clause preventing the Palestinian refugees from returning to their country."
In other words, there will first be a Palestinian-Arab-Muslim state. Then the Palestinian leadership will seek to make Israel part of their own state, with Palestinian refugees and Palestinians with Israeli citizenship forming a new majority in Israel.
While in many ways the Palesinian Authority's unilateral independence strategy is not earthshaking, it is going to have a negative effect on the region and further doom an already moribund peace process.
Barry Rubin, author of Israel: An Introduction (Yale University Press), blogs at www.rubinreports.blogspot.com