Inside Hadassah: A Fond Farewell and Welcome Aboard
It is the start of the Jewish New Year and time to look to the future. With this issue, I conclude my term as chair of Hadassah Magazine.
I have had eight remarkable years with the publication, and I savored each issue and every inspiring story in "Inside Hadassah." I express my appreciation and admiration to Executive Editor Alan Tigay and his outstanding editorial team for their professionalism. Working with them was a joy!
Best wishes to Nancy Falchuk, outgoing national president and new magazine chair, on her next rewarding Hadassah experience! L'hitraot. —Ruth G. Cole
---
Hadassah does not do anything halfway. Just as our medical center is the pacesetter for treatment and research in Israel, the award-winning Hadassah Magazine represents the best of Jewish journalism in America.
The strength of the magazine lies in its editorial excellence, which magnifies its message and its reach. This publication touches every member, not only with news about Hadassah but also by communicating our values to the broader Jewish community.
I commend Ruth Cole for her years of service as chair of the magazine, and I am honored to follow her in this prestigious position. —Nancy Falchuk
Hadassah Prime Time
Fiction and reality crossed paths in June when four television actors paid a visit to Hadassah Hospital. The special guests wereGrey's Anatomy stars Sarah Drew (Dr. April Kepner), who traveled with her husband, Peter Lanfer; Kevin McKidd (Dr. Owen Hunt); Lucas Neff, who plays Jimmy Chance on Raising Hope; and Travis Milne (Chris Diaz) of the Canadian television program Rookie Blue.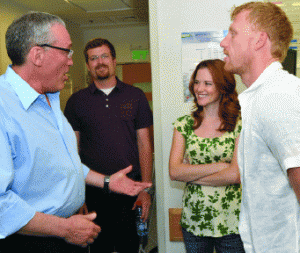 The group—sponsored by America's Voices in Israel and El Al—toured the campus and met with Hadassah staff.
The Grey's Anatomy actors also received professional pointers from Dr. Avi Rivkind, head of Surgery and Shock Trauma at Hadassah. They compared scripted scenarios with actual procedures. Drew got a laugh from the group when she approached a surgical bed and began applying CPR to a pretend patient.
Say Hello to…
It takes an accomplished leader and visionary to head one of the most esteemed medical organizations in the Middle East and the largest private employer in Jerusalem. That is why Dr. Ehud S. Kokia has been selected as the next director-general of the Hadassah Medical Organization.
Dr. Kokia has been the chief executive officer of Israel's Maccabi Healthcare Services, which includes 5,300 clinics, a network of hospitals and over 5,000 physicians. Prior to his appointment to that position, he had been medical director there for 16 years.
"Professor Kokia is both a dedicated and gifted physician and a medical executive who we believe is the best person to lead Hadassah into the next decade of providing health care for the people of Israel and the world," said Yossi Rosen, chair of HMO's board of directors. "We are fortunate to have such a talented leader to follow in the footsteps of Professor Shlomo Mor-Yosef. Likewise, Professor Kokia is fortunate to have a team of devoted men and women to work with at Hadassah."
Dr. Kokia is a graduate of Tel Aviv University's Sackler School of Medicine and has a master's degree in health administration from Ben-Gurion University of the Negev. An obstetrician and gynecologist by training, he was a research fellow at the University of Maryland, Baltimore, and worked at Sheba Hospital in Tel Hashomer before joining Maccabi. Dr. Kokia has taught at both Ben-Gurion University and Tel Aviv University and has published widely on endocrinology, fertility and health policy. He is also a lieutenant colonel in the Israel Defense Forces; served as commander of Israel's Air Force Center for Aerial Medicine; and completed the United States Navy's flight surgeon course in Pensacola, Florida.
"I am moving from one superb medical organization to another," noted Dr. Kokia. "I feel the weight of shouldering the historic responsibility for leading Hadassah with its trailblazing standards. I want to help Hadassah continue on the trajectory of growth set forth by my friend and colleague, Professor Shlomo Mor-Yosef."
"Dr. Kokia is one of the leaders of Israel's health system," said Dr. Mor-Yosef, "and I am sure he will guide Hadassah to new pinnacles of achievement."
Winning Discovery
Two Hadassah scientists were awarded this year's Sir Zelman Cowen Universities Fund Prize for Discovery in Medical Research in June. The prize, presented annually (and alternately) by Australia's University of Sydney and the Hebrew University of Jerusalem, is given to researchers under 45 years old for discoveries in medicine that further understanding and treatment of disease.
The prizewinners are Dr. Eli Pikarsky of the Hadassah–Hebrew University Faculty of Medicine's Department of Pathology and Dr. Sigal Ben-Yehuda of the Department of Molecular Biology. "Both winners have made impressive contributions to our understanding of complex and difficult diseases—cancer and antibiotic-resistant infections," said Dr. Jonathan Stone, managing trustee of the Sir Zelman Cowen Universities Fund, which administers the prize. They were presented with medals, crafted by Melbourne sculptor Michael Meszaros, and the $10,000 prize at a ceremony at the Hebrew University.
Dr. Pikarsky was recognized for his research to examine the determinants of malignancy in testicular cancer, the impact of inflammation on liver cancer and the regulation of liver regeneration. Dr. Ben-Yehuda was honored for her research into bacteria biology, focusing on mechanisms of bacterial resistance to antibodies.
The prize is named in honor of Sir Zelman Cowen, governor-general of Australia from 1977 to 1982, who was Jewish.
Hadassah at 100
Contribute to our centennial celebration commemorative book, Thin Threads—Real Stories of Hadassah Life Changing Moments. For more information or to submit your story for consideration, please visit www.thinthreads.com/hadassah.
Hadassah's Leading Light
The time marking the transition from Israel's somber Remembrance Day to the excitement of Independence Day is an emotionally charged one. The Israeli government's official ceremony is held at Mount Herzl, Jerusalem's military cemetery, and is attended by some 6,000 people.
The ceremony begins with the lighting of 12 torches, which symbolize the 12 tribes of Israel. Each year, the honor of lighting the beacons is given to worthy Israelis. This year, at the May 9 ceremony, Hadassah's own Barbara Goldstein was invited to light a torch in honor of the organization's centennial.
"It's something you dream of, it becomes the highlight of your life," Goldstein, 69, told the Israeli daily Ha'aretz. "I've gone to maybe 30 of those ceremonies. [The concluding statement said by each torch lighter] is in my head and it's in my kids' heads, 'for the eternal glory of the State of Israel,' but you never imagine you're going to be the one up there doing this."
Goldstein lives in Jerusalem and is the deputy executive director of Hadassah's Offices in Israel. As she lit the torch at the ceremony on behalf of Hadassah, Goldstein paid tribute to the Jews of the diaspora who are partners in building the State of Israel; to women's organizations in Israel and throughout the world; and with the prayer that people from the four corners of the Earth will ascend to Jerusalem in song.
Others connected to Hadassah have been selected to kindle torches in the past: Nava Ben-Zvi, president of Hadassah College Jerusalem, for her contributions to education; Dr. Yosef Shenkar, former head of Hadassah Hospital's Department of Obstetrics and Gynecology, for his medical achievements; and Nomi Nalbendian, assistant head nurse in the Department of Rehabilitation, when the government honored those involved in treating terror victims during the bleakest days of theintifada.
Only Goldstein, however, was chosen as the representative of Hadassah, The Women's Zionist Organization of America. "This is the first time an American Jewish organization has ever been so honored by the State of Israel," Goldstein asserted.  "It was hard to stand up straight—I felt the weight of 100 years of Hadassah on my shoulders."
"Henrietta Szold, founder of Hadassah, connected herself totally with the people of Israel," noted Marlene Post, past national president and centennial cochair. "As a young woman, Barbara Goldstein internalized the dreams of Henrietta Szold and worked to make them a reality. And, even today, as we enter our centennial year, Goldstein is truly our torchbearer as she continues to embody the visions, words and spirit of our dear founder."
Goldstein's personal involvement in Hadassah goes back over 50 years. As national president of Junior Hadassah in 1959, she received a scholarship to travel to Israel; in exchange, she signed a form promising to serve both the Jewish people and the organization. "They gave me $100—and look what they got for it!" she quipped. Since then, Goldstein has had leadership positions in Hadassah from the regional to the national level, with too many different titles and portfolios to list. "They didn't know what to do with me anymore, so they sent me to Israel," she noted with her trademark humor.
The New Jersey native and mother of three made aliya 13 years ago and was followed two years later by her husband, Mordechai, when he retired from his position as a synagogue cantor. (He passed away in 2007.)  "The truth is, being here fulfills everything I ever wanted to do in my life," Goldstein said. As a youngster, she went door-to-door to raise money for Zionist causes and skipped class to hear Abba Eban speak at the United Nations.
In addition to the large crowd at the event, another two million watch it live on television. "In Israel now, people come up to me each day and say 'Hadassah,'" Goldstein said. "They may not have caught my name, but they heard Hadassah and they certainly remember it."