Israel's Waiting Room
Exile, exodus and redemption. this cyclical pattern repeats itself in Jewish history. One unique aspect of the story of the redemption and homecoming of the Jews of Ethiopia is the frequent repetition of that cycle, starting with immigration to Israel in the 1970s, then the massive airlifts of Operation Moses in 1984 and Operation Solomon in 1991.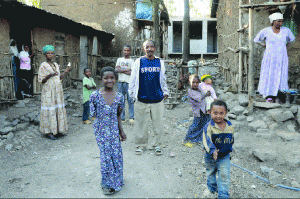 Still, tens of thousands were left in Ethiopia, mostly members of a group known as the Falash Mura, Ethiopians whose Jewish ancestors were forcibly converted to Christianity. Many traveled from their villages to the country's capital, Addis Ababa, and the northern city of Gondar, way stations on their path back to Judaism where organizations such as the Jewish Agency, the American Jewish Joint Distribution Committee and the North American Conference on Ethiopian Jewry maintain temporary housing, schools and health clinics. And every few months several hundred would make aliya. As of July, about 8,000 remained in the cities. In November 2010, the Israeli government had decided to bring them to Israel within four years.
Photographer Debbi Cooper traveled to Ethiopia for a last look at a group on the final stages of their journey home.
---
A young boy studies in a school that has been set up by the NACOEJ; many of the Falash Mura learn about their Jewish heritage while waiting to make aliya.
---
Women and children wait in Addis Ababa, for many the last stop before leaving for Israel.
---
 At the American Jewish Joint Distribution Committee's health clinic in Gondar, a doctor examines a pregnant woman.
---
A girl stands outside her family's hut in Gondar.
---
Both men and women join in the daily prayer services that are part of Jewish life in the temporary camps.