Profile: Anne Schuchat
Wearing her crisp uniform, Dr. Anne Schuchat presents a quiet, unadorned image in her office at the Centers for Disease Control and Prevention in Atlanta one cool spring morning. Director of immunization and respiratory diseases for CDC, she is also the assistant surgeon general for the United States Public Health Service.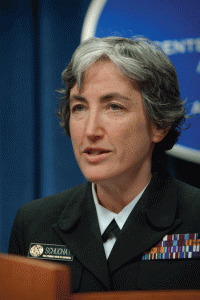 Career stature aside, this 5-foot-4, 52-year-old Jewish woman with salt-and-pepper hair and green eyes seems anything but intimidating. In fact, colleagues describe her as kind, calm and humble. Which is not to be confused with meek: Dr. Schuchat confidently steps into the limelight when need be. That is ironic for someone who grew up thinking she wanted to become a small-town doctor.
"I thought caring for one person at a time would be a very gratifying career," she reflects at her mini-conference table. "It was relatively late in my training when I learned about public health and the ability to focus on large populations and communities."
Early in her public health career, Dr. Schuchat worked in the field as a disease detective.
Public health is a great field to be part of and something that can really handle all kinds of specialties," she declares. "We need everybody in public health. It is one of those fields where people tend to be upbeat, positive, focused on fixing things. It has ended up being a really rewarding career for me."
Dr. Schuchat's supervisor, Dr. Rima Khabbaz, CDC's deputy director for infectious diseases, calls her a great leader. During the 2009 H1N1 pandemic, Dr. Khabbaz says, "She was the face of public health at CDC. She was on the screen in all of our living rooms, reassuring people. She was calm and credible."
Dr. Schuchat will have an influence on the screen again—this time the silver screen. In Contagion, an action-thriller due out soon, Kate Winslet plays a disease detective battling a global outbreak of a deadly viral illness. While researching her role last winter, the Oscar-winning actor interviewed Dr. Schuchat.
Dr. Schuchat found the idea that one of the film's characters might be modeled after her "pretty hilarious." Yet, she believes Winslet's character, Dr. Erin Mears, is a composite of medical and scientific professionals.
And Dr. Schuchat dismissed any notions of glamour—literally—about her work to Winslet, explaining that she wears no makeup on an outbreak investigation.
The actor, who said she would leave off the mascara, probed for more details on what kind of clothes Dr. Schuchat wears in the field and even how her hair would look.
"I love it!" she exclaimed to the star. "I can't wait to tell my mom that Kate Winslet is asking me questions about my hair."
The actor took photos of Dr. Schuchat's comfortable, sensible shoes, among other things she saw. Winslet enjoyed learning that the real-life disease detective carries an old backpack and promised to fish one up from beneath her daughter's bed.
The fourth of five children, Dr. Schuchat grew up in a Jewish family in Washington, D.C., that celebrated traditional religious holidays and probably traces its ancestry to shohets, ritual slaughterers. After graduating from Dartmouth Medical School, she did her residency in internal medicine at New York University's Veterans Affairs hospital and then traveled the world as an epidemic intelligence service officer. Officers are on the public health frontlines, conducting epidemiologic investigations, research and surveillance nationally and internationally.
Dr. Schuchat joined CDC in 1988, working first in the Meningitis and Special Pathogens Branch of the Division of Bacterial and Mycotic Diseases. Her fieldwork has taken her from Costa Rica, where she investigated an outbreak of listeriosis, a bacterial infection, to Gambia, where she helped with pneumonia vaccine studies.
Dr. Khabbaz acknowledges Dr. Schuchat to be one of the agency's stars. "She cares about her staff," she says. "She cares about the impact of what we do, the public health mission of CDC. She cares about being a great role model for women."
Another co-worker, Sheila Marlow, says Dr. Schuchat is the kind of person who will meet strangers at a dinner party and agree to speak with their daughters about careers in public health. She understands the importance of being accessible. "One conversation with one young girl can mean this young girl going off and doing amazing things," Marlow says. "I think Anne recognizes that."
Likewise, Dr. Schuchat frequently appears as the keynote speaker at conferences across the United States.
Her down-to-earth persona gibes with a reputation for being particularly kind and intelligent as well as a strong leader. Dr. Schuchat oversees a staff of 800 researchers and scientists, yet she still finds time to maintain her clinical skills by working once a month in the infectious disease clinic of a Veterans Affairs hospital in Atlanta through the United States Public Health Service Commissioned Corps. (Dr. Schuchat is a rear admiral in the Commissioned Corps, comprising some 6,600 uniformed health officers who serve around the world to protect and advance the health and safety of Americans.)
Now—unlike years ago—she sees patients with HIV/ AIDS doing well. Dr. Schuchat remembers that as a young resident at the New York hospital, that wasn't the case.
"AIDS was a major problem at that time," she recalls. "Patients were at the end stages of their lives. One-third of the hospitalized patients in wards were there because of AIDS. It was early in the history of the infectious disease, which was a big part of my medical training.
"This year is the 30th year of recognition of the disease," she continues. "I think that becoming a doctor is an emotional as well as a physical effort. You're up all night, see people in dramatic presentations of illness, and certainly AIDS is such a dramatic illness. The personal stories were really hard. It was a privilege learning to be a doctor in those years."
She believes time and experience have helped turn HIV into a chronic disease that can be managed—"the way we manage diabetes or cardiovascular disease."
The infectious disease expert has a broad global perspective. On a severe acute respiratory syndrome (SARS) assignment in 2003, she headed the Beijing epidemiology team for the World Health Organization's China Office. Later she served as a visiting professor for the Beijing Centers for Disease Control and Prevention.
While presenting a cool-as-a-cucumber face to the public during epidemics, Dr. Schuchat admits to anxiety behind the scenes. "Responding to a problem like SARS," she comments, "where it's tragic—a loss of life and strain on the health system—there is a certain amount of stress to try to help as effectively as possible."
The physician, who now realizes she was not cut out for small-town life, enjoys being part of a bigger effort. With her entry into the epidemic intelligence service postgraduate training program at CDC more than 23 years ago, she stepped over a threshold into the public health community. She became part of a team that saves lives and improves health worldwide.
From her beginnings as a young disease detective, Dr. Schuchat had risen to acting deputy director for science and program for CDC when, in 2009, the H1N1 flu emerged as a health threat. She calls it an incredible privilege to have served as CDC's voice at Congressional hearings. And, as often as twice a week, she stood before the nation's media and explained the latest developments. Experts say Dr. Schuchat's scientific knowledge and communication skills helped clarify the government's response to H1N1.
The Atlanta Journal-Constitution praised her performance: "Schuchat has remained a stable voice as the swine flu story has changed and changed again. She has remained steady amid the hardball questions, news of further outbreaks, and criticism of her agency for delays in providing vaccine."
Looking back on that high-profile period, Dr. Schuchat recalls that "when I was on TV a lot, people recognized me. When I'm in uniform, on a plane or in Washington, people ask me about it, and it's a good opportunity to talk about what we do at CDC."
But in general, she quips, "I do not have Kate Winslet's problem" of being recognized.
Dr. Schuchat often walks to work—either to the agency's headquarters near Emory University or another campus some three miles away. Reading is another relaxing pastime. Recent favorites include Cutting for Stone
 (Vintage) by Abraham Verghese and Away: A Novel
 (Random House) by Amy Bloom, a novel about a Jewish immigrant whose husband and parents were killed in a Russian pogrom but whose daughter might still be alive in Siberia.
Dr. Schuchat takes her own advice about leading a healthy lifestyle: She eats a lot of vegetables and limited amounts of red meat, exercises regularly and maintains a strong social support network.
Married for 19 years, Dr. Schuchat doesn't have children but says she enjoys a close relationship with her parents, siblings and their families. "My husband and my family are important ways of remembering what matters," she says.
Ever the health professional, she adds, "My family and I love all those traditional [Jewish] foods, but we try to respect the fact that we have a predisposition to cholesterol problems and heart disease."
Ronda Robinson, a freelance writer based in Atlanta, is the author of Beyond Politics: Inspirational People of Israel
 (Mazo Publishers).