The Jewish Traveler: Santa Fe
Ringed by mountains, Santa Fe is indeed "the city different," as it has billed itself for nearly a century. This 400-year-old city is the oldest capital in the United States and has the country's oldest house, oldest church and oldest public building still in use. Earth-colored adobe houses line its streets.
Art-lovers will delight in the 10 museums and 200 art galleries, more per capita than in any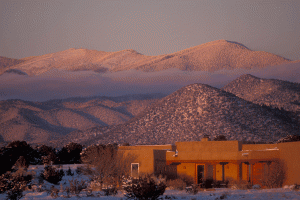 American city and many of them showing museum-quality works. In summer, Santa Fe hosts an Indian Market (arts and crafts); a Traditional Spanish Market (Spanish colonial art); and a Folk Art Market with artists from 40 countries.
The city provides a feeling of openness and freedom, and spiritual life here has an ashram flavor. Even Jewish life is different. One rabbi rides a motorcycle, another drives a motorscooter and a third is a championship ice skater.
And on Passover the Jews add green chili to their matza brei, says Rabbi Marvin Schwab, but serve it with sour cream "so it won't peel the lining off their mouth."
History
The earliest Jews in the area were Conversos fleeing the Inquisition, but the record is fragmentary. Gaspar Castaño de Sosa was the first to arrive with the Spanish conquistadors, in the late 1570s. Even the colonial governor Don Juan de Oñate, ordered by King Felipe II of Spain to spread Catholicism, had Jewish maternal ancestors.
In the 1820s and 1830s, Jews came as fur trappers and merchants, but they did not stay. When New Mexico became an American territory in 1846 and Jews could live there freely, the first who came to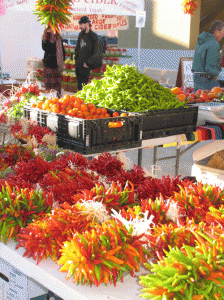 Santa Fe and stayed was Solomon Jacob Spiegelberg. He opened a general store, and his brothers joined him soon after.
Like Spiegelberg, most of the original Jewish immigrants came from Germany. Many were peddlers or merchants and many were related to each other.
By 1860, when the first services were held on Yom Kippur, Santa Fe had about 25 Jews, mostly men who returned to Germany or the East Coast to find wives. Some served in the Union Army in the Civil War; Corporal Simon Rothschild and Corporal Simon Levy are buried side by side in Santa Fe's National Cemetery.
Spiegelberg's brother Willi was instrumental in founding a bank in 1872. In 1879, Willi's wife, Flora, a children's book author, started the city's first nonsectarian school for girls. She also ran two religious schools, a Hebrew school on Saturdays and a Catholic Sunday school, and established the city's first playground.
By 1880, about 70 percent of New Mexico's Jews were related by blood or marriage. They opened stores, were quartermasters for the United States Army and traded with Native Americans. In Santa Fe, they integrated into the social life and were friendly with Archbishop Jean-Baptiste Lamy, who sent them fruit, wine and flowers for the Jewish New Year. And when President Rutherford B. Hayes and his wife came to visit in 1880, they stayed in the home of Solomon Spiegelberg's brother Lehman.
The main line of the railroad came to Albuquerque that year but bypassed Santa Fe, which suffered a decline that lasted until World War I. During this period, the new immigrants included Russian, Polish, Lithuanian and Romanian Jews.
Meanwhile, Jews became active in politics, serving as mayors and governors of the territory. By the time New Mexico became a state in 1912, the Jews identified as American rather than as European and they helped found the state's historical society. After World War II, many of the newcomers were American-born professionals from the East.
Community
Most of Santa Fe's Jews have come from somewhere else in search of a quiet life in beautiful, natural surroundings. Many are retired. For some, it is a second home.
Estimates of the Jewish population range from 2,000 to 7,000 in this city of 65,000, but the five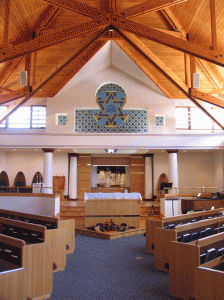 congregations count only some 1,000 households among them. They include educators, scientists, academics, doctors, lawyers, therapists, musicians and many artists.
Conventional denominational categories don't apply to most of the congregations, but they tend to be supportive of Israel. The community is also active on behalf of interfaith relations and other causes.
The Jewish Federation of New Mexico (505-821-3214;www.jewishnewmexico.org), headquartered in Albuquerque, represents Jews throughout the state.
Hadassah has a local chapter (505-438-8150; https://santafehadassah.org) with 200 members.
Reform Temple Beth Shalom (205 E. Barcelona Road; 505-982-1376;www.sftbs.org), founded in 1953, is the oldest and biggest local congregation. Its large, light-filled sanctuary has a Middle Eastern touch in the blue geometric-patterned tiles seen through a keyhole-shaped opening above the Ark. Led by Rabbi Marvin Schwab, Beth Shalom has some 350 households, a preschool with 50 children (half of whom are Jewish), a K-12 religious school and adult education. It has close relations with Christ Lutheran Church, which it calls its sister congregation.
Egalitarian and participatory Beit Tikva (2230 Old Pecos Trail; 505-820-2991; www.beittikva.info) grew out of Temple Beth Shalom in 1995 and coalesced around Rabbi Leonard Helman, a former state judge and chaplain to the state legislature. The current rabbi is Martin Levy.
HaMakom, the Place for Passionate and Progressive Judaism, is a Conservative-based congregation with a Renewal focus. Led by Rabbi Malka Drucker, author of 22 books, and Cantor Cindy Freedman, the service has a feel-good spiritual quality (in the library of St. Bede's Episcopal Church, 1601 St. Francis Drive, corner of San Mateo Road; 505-992-1905;www.hamakomtheplace.org).
Rabbi Mordechai Scher came to Santa Fe 10 years ago to help bolster the small Orthodox community. His congregation, Kol BeRamah Torah Learning Co-op of Santa Fe (551 Cordova Road; 505-216-6136; www.chabadsantafe.com), but the city's historic central plaza is the location for Chabad's Succamobile, Hanukka menora and Rosh Hashana shofar blowing.
The luxurious new mikve built by Chabad two houses away from the center is an adobe structure with a modern interior. Local artist Joshua Kalkstein created the "Waters of Eden" mosaic for the immersion pool, depicting the four rivers flowing from Eden and incorporating the names of the four matriarchs.
Rabbi Yafa Chase is chaplain at large serving Santa Fe's unaffiliated Jews.
Sights
Santa Fe is perfect for walkers. Start at the plaza, which is surrounded by museums, galleries, restaurants and exquisite shops. On its north side, the former Palace of the Governors, the country's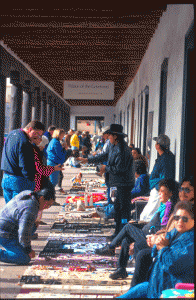 oldest public building in continuous use, is now the New Mexico History Museum (113 Lincoln Avenue; 505-476-5200;www.nmhistorymuseum.org).Inside, the Spiegelbergs serve as an example of how, in many immigrant families, "one bold traveler arrived first in a new land and sent for others to follow." Outside, facing the plaza, Native American artisans display their wares daily.
On weekends, other artists also show their works in the plaza. Al Chapman, a caricaturist and painter, is the doyen of the Jewish artists there. Others include ceramicist Lynda Feman and goldsmith Pam Slipyan. Walk two blocks west on Palace Avenue, turn right on Grant and left on Johnson to reach the Georgia O'Keeffe Museum (217 Johnson Street; 505-946-1000; www.okeeffemuseum.org). O'Keeffe—who was married to Jewish photographer Alfred Stieglitz, promoter and marketer of her work—transformed blue sky, red rock and sun-bleached cattle bones into unforgettable paintings.
Two streets north of Johnson is Staab Street, named for an early Jewish pioneer. Three streets south of Johnson, off West Alameda, is Polaco Street, named for Polish-born Joseph Hersch ("El Polaco"), who came here in 1846 and was eventually considered the wealthiest man in New Mexico.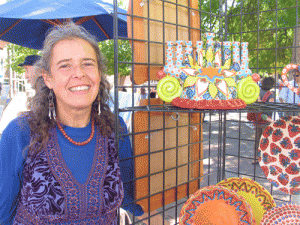 Return to the plaza, where many of the stores were once Jewish-owned. A sign at the corner of Old Santa Fe Trail and Palace Avenue still bears the name Santa Fe Dry Goods. Here Johanna and Emil
Uhlfelder originally opened the White House store, and their son-in-law Barnett Petchesky had a shoe store next door.
One block south on Old Santa Fe Trail is Jewish-owned La Fonda Hotel (800-523-5002; www.lafondasantafe.com); the lobby features a display window of Jewish artist Sara M. Novenson.
Return to Palace Avenue and continue east to reach the Cathedral Basilica of St. Francis of Assisi. Under the arch over the main doors, the four Hebrew letters of the name of God are inscribed inside a triangle. In Europe, this was a common Christian symbol, denoting the one god of Moses and Abraham revealed in the New Covenant as the trinity.
Nearby, La Posada de Santa Fe (330 East Palace Avenue; 866-331-7625; www.laposada.rockresorts.com), a luxurious spa resort, looks like a pueblo-style inn, but visible above its adobe outer walls is a 19th-century mansion built in French Second Empire style. Inside, the initials A.S. are entwined over the entrance. Abraham Staab and his wife, Julia, were among Santa Fe's social and commercial elite but did not hide their religion. A mezuza is visible on the doorpost of one of the main rooms. Employees say they have seen Julia Staab's ghost or felt her presence.
Across the street from La Posada is the Peyton Wright Gallery (237 East Palace Avenue; 800-879-8898;www.peytonwright.com), which shows Spanish colonial art in a pale yellow two-story adobe house. Built in the 1860s, this was the home of Willi and Flora Spiegelberg and was the first in town to have gaslights and indoor plumbing.
Turn left on Paseo de Peralta and continue south to Canyon Road, along which are a multitude of galleries, including several that promote works by Jewish artists.
To reach the Museum of International Folk Art, home of the world's largest collection of the art style, take the M bus or return to Paseo de Peralta, follow it south about two miles (it becomes Old Santa Fe Trail) and turn left on Camino Lejo. The museum's collection of Jewish material from Asia and the Middle East includes a colorful ketuba from Afghanistan and a Purim grogger from the Holy Land that shows Haman leading Mordecai on a horse (Museum Hill, 706 Camino Lejo; 505-476-1200; www.moifa.org).
Continue west on Camino Lejo, turn right on Old Pecos Trail and left on Cordova, crossing Cerillos to reach the historic Fairview Cemetery, where several Jewish pioneers are buried. Many of their graves have no Jewish markings.
The archives of the New Mexico Jewish Historical Society (www.nmjewishhistory.org) are now a permanent collection at the New Mexico State Records Center and Archives (1205 Camino Carlos Rey; 505-476-7908; www.nmcpr.state.nm.us), where the staff is very helpful. To get there, proceed about two miles southeast on Cerillos and turn left at Camino Carlos Rey.
Jewish Arts and Crafts
Off the Wall Gallery displays whimsical contemporary crafts and Judaica (616 Canyon Road; 505-988-5323). The studio of Phyllis Kapp, creator of dreamlike watercolor landscapes, evolved into Waxlander Art Gallery and Sculpture Garden (622 Canyon Road; 505-984-2202; www.waxlander.com).
Andrea Kalinowski created a series of works that combine photographs, text and quilting to tell the stories of nine Jewish women pioneers for the traveling exhibition Stories Untold: Jewish Pioneer Women 1850-1910, online atwww.storiesuntold.org.
Arius Tiles produces a line of art tiles with Jewish themes, including various blessings and Stars of David with a Middle Eastern look (www.ariustile.com).
Side Trip
Until 1880, Las Vegas, New Mexico, was the territory's largest commercial center, because the Santa Fe Trail began there and the railroad came there first. Eighty percent of the businesses were Jewish-owned.
Las Vegas, 65 miles east of Santa Fe on I-25, has more than 900 historic buildings, some adobe and some Victorian. On the plaza, see the Victorian Plaza Hotel (230 Plaza Park), with its Ilfeld Ballroom. The Italianate three-story building next door was The Great Emporium, Charles Ilfeld's department store and mercantile company, the largest in the state between the world wars. The one-story red-painted brick building at 220 Plaza was the law office of Ilfeld's son, Louis. The Stern & Nahm dry-goods firm was at 114 Bridge Street, a block east of the plaza.
The Newman St. Paul's Chapel at Eighth and Columbia on the Highlands University campus was originally Temple Montefiore. The temple, established in 1884, was the first Jewish house of worship in the territory and moved to this site in 1922, where it remained until 1955. Today's congregation, numbering about 40 families, again holds Sabbath services in the chapel.
The Ilfelds and other Jewish pioneers are buried in the Masonic Cemetery and the adjacent Montefiore Cemetery, established in 1881. The graves of many of the early pioneers bear no Jewish markings.
The Web site of the Las Vegas Citizens' Committee for Historic Preservation (https://lasvegasnmcchp.com) offers a wealth of information.
Personalities
Solomon Bibo (1853-1934) started a mercantile firm with two of his brothers after working for the Spiegelbergs in Santa Fe. He married an Acoma woman and was appointed governor of the Acoma Pueblo in 1888, holding the post for three terms, thus becoming America's only known Jewish Indian "chief."
Arthur Seligman (1873-1933), born in Santa Fe, was a successful banker and merchant. He began his political career in 1906 as a member of the Territorial Board of Equalization, was mayor of Santa Fe from 1910 to 1920 and was twice elected governor of New Mexico, serving from 1930 until his death in 1933.
Books, Film
Ride the Pink Horse
 (Canongate Books) by Dorothy Bell Hughes uses the Santa Fe Fiesta as backdrop for a highly visual crime novel with sharp dialogue. Robert Montgomery directed and starred in a 1947 film adaptation; parts were filmed in the La Fonda Hotel.
Artist Eli Levin describes the town's transformation from a refuge for artists into a cultural boomtown in Santa Fe Bohemia: The Art Colony, 1964-1980
 (Sunstone Press).
Recommendations
Santa Fe, 5 miles from a national forest and 15 miles from a ski area, is a great place to start your exploration of the American Southwest. American Eagle flies from Dallas-Forth Worth and Los Angeles to Santa Fe Municipal Airport. Other airlines land at Albuquerque International Sunport, an hour's drive southwest of the capital. The RailRunner rail service provides a handy way to visit Albuquerque.
But before you travel, check with your doctor about how to avoid the effects of Santa Fe's altitude, and once you are in the city be sure to drink plenty of water.
The Sage Inn (725 Cerillos Road; 505-982-5952; www.santafesageinn.com) offers comfortable accommodations and can provide kosher catering. The inn is a 15-minute walk to the city center; you can also ride there and back in the free shuttle.
Marriott Residence Inn (1698 Galisteo Street; 505-988-7300) is a five-minute walk to Chabad. Kol BeRamah can arrange Shabbat home hospitality.
Santa Fe has no kosher restaurants, but kosher meals are available through Chabad, and Kol BeRamah stocks frozen kosher meat and other kosher food products. Trader Joe's (530 W. Cordova Road) sells kosher beef and poultry, and Whole Foods (three locations) sells kosher frozen chicken.
Yin-Yang Chinese Restaurant serves excellent and affordable vegetarian and fish dishes (Design Building, 418 Cerillos Road; 505-986-9279).
Historian Stefanie Beninato gives tours of Jewish and of general interest (505-988-8022; info@swguides.com).
Long after your visit ends, the light, the art, the architecture and the unusual collection of people will keep Santa Fe in your heart.
For more details about Santa Fe, search Esther Hecht's blog, www.estherhecht.wordpress.com.