Inside Hadassah: Paying Tribute to Our First 100 Years
Hadassah has been at the forefront of enriching and empowering the lives of American Jewish women—and saving the lives of generations of Israelis—for 100 years. We have planned for this anniversary for a long time, and now, on February 24, we will reach our Centennial milestone.
To honor the occasion, Hadassah has returned to its earliest roots, inaugurating an online study group dedicated to Esther and Purim and expanding our pioneering role in nursing care and careers in Israel. Please read on for more on our Centennial plans, including events local, national and international.
Henrietta Szold famously kept her eyes looking to the future—of the organization she founded as well as the betterment of the Jewish people in their historic homeland. Let us follow her example and keep our sights on the next 100 years.
Welcome Aboard!
In anticipation of Hadassah's Centennial, last year we launched our most ambitious membership drive to date—and, wow, were we successful! 48,131women and men became Life Members and Associates through our special $100 offer.
To all the newcomers, Welcome to Hadassah, a community made up of hundreds of thousands of enthusiastic, proud and dedicated Zionists.
And kol ha-kavod to everyone who made this wonderful achievement happen!
Learning Online
In honor of the approaching holiday of Purim, in 1912 Henrietta Szold and the women in her study group chose to name their nascent Zionist organization Hadassah, after Queen Esther, heroine of the Purim story and a strong Jewish female role model.
Celebrating this 100-year connection with Esther's story, last Purim Hadassah launched its first online study program: Esther Through the Lenses. The program culminates this March, to coincide with Purim (on March 8) and Hadassah's Centennial.
"'We're not waiting for the future. We're building it,'" noted study group participant Barbara Schwab. "This is our motto today, and it was Esther and Mordecai's motto in Shushan."
Each month, a commentary is posted with questions to inspire thought and discourse, with a discussion board for participants to post feedback, responses and ideas. There is also suggested reading and resources to accompany and enhance the discussions. Topics in the series include divine presence in the Scroll of Esther and its historical accuracy as well as comedy, advocacy and heroism within the story.
Learn more about the program at www.hadassah.org/esther.

Upcoming Events and Important Dates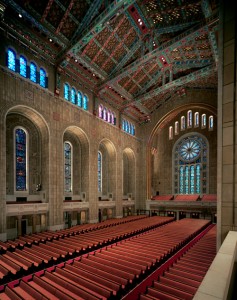 In honor of our historic link to the congregation, Temple Emanu-El (on the Upper East Side of New York is inviting Hadassah to its Shabbat services on Friday, February 24th—our organization's actual Centennial date. Hadassah's first meeting in 1912 occurred in the vestry of the temple's former building on Fifth Avenue at 43rd Street. Hadassah National President Marcie Natan and members of the national board and executive committee plan to attend.
Thousands of Hadassah Members and Associates coast to coast plan to gather in homes and other intimate settings on Thursday, March 22, for Home Sweet Hadassah. While ultimately a local event, the Centennial committee has created sample agendas and events for the evening, including possible welcoming remarks and ice-breaker activities: Play "Where were you in Hadassah?" a game to place where you were at a specific point in Hadassah's history; have members write inspired visions of Hadassah's future on attractive stationery; screen Centennial and other Hadassah videos. Some groups are using the meeting to welcome new life members who took advantage of Hadassah's $100 Centennial membership last year. For more information on Home Sweet Hadassah, e-mail centennial@hadassah.org.
On March 19, the Sarah Wetsman Davidson Hospital Tower is scheduled to open. Look for more coverage of the opening of our new state-of-the-art medical building in an upcoming issue.
The Centennial celebrations in Hadassah Magazine are far from over! We are planning a commemorative August/September issue full of stories of Hadassah's pioneering accomplishments, both in Israel and in the lives of American Jewish women. To learn how to place a tribute in this special issue, visit www.hadassah.org/centennialtribute.
Preserving Our Early History
Though Hadassah Magazine doesn't turn 100 this year—we are only 98 years young—you can still get a wonderful sense of the earliest days of our organization by reading through the original Bulletins and Newsletters, which eventually evolved into the magazine. And thanks to a grant from the Metropolitan New York Library Council, Bulletins and Newsletters from 1914 to 1933 have been digitized and made available online.
Also covered by the $10,000-plus grant was the digitization of 50 audio reels, including one from 1949 in which Hadassah presented Eleanor Roosevelt with the first-ever Henrietta Szold award. Listen to the first lady's comments on her meaningful work with Youth Aliyah.
These Hadassah materials plus films and other preserved recordings are available in the digital collection of New York's Center for Jewish History (https://digital.cjh.org).
Find Your Voice Through Hadassah
Hadassah boasts 300,000 Members, Associates and supporters—found in every congressional district across the country—advocating together for women and the Jewish community. Add your voice to ours and take a stand on the issues important to you.
The Hadassah National Action Center provides profiles of elected officials, legislative alerts and direct contact to policy leaders all at your fingertips.
A myHadassah account will help you access the National Action Center, in addition to preferences management tools and specialized member-only content. Visit www.hadassah.org/actioncenter to log in or create a new account today.
Check the box for the Email Action Network to receive updates when new issues are posted to the Action Center.
---
Nursing at Hadassah—Ahead of the Curve

Almost 100 years ago, Hadassah decided its first project would be sending two nurses to Jerusalem to assess the deplorable health conditions there. This was the beginning of the organization's crucial role in shaping the health care infrastructure in prestate Israel as well as the beginning of its long-standing association with nursing.


In 1918, Hadassah opened Palestine's first school for women, now known as the Henrietta Szold Hadassah–Hebrew University School of Nursing. The first class of 22 nurses graduated in 1921, and since then, over 2,500 graduates have shaped the field of nursing in Israel. Ten years ago, the school achieved another first by pioneering a master's degree in clinical nursing. The existing bachelor's of science program had been a Middle East first more than 50 years previously. In both instances, Hadassah leadership convinced all involved that a modern health care system demanded educated nurses—and then Hadassah went out and raised the money to make it happen!
"Generations before us had the wisdom to send nurses to assess firsthand the public health challenges in Palestine," says Nancy Falchuk, immediate past national president and a nurse herself. "Over the years, we, Hadassah in America, have been leaders and role models for creating the infrastructure to address these challenges. We have been ahead of the curve when it comes to nursing."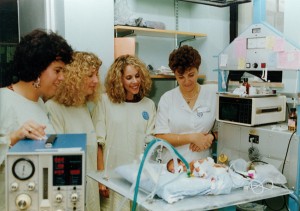 Nursing, Falchuk explains, for years was not seen as a career choice for Jewish women. "Even in the late 1980s," says Falchuk, "I thought I was one of the only Jewish nurses around. And guess what? There were 500 in my hometown of Boston alone. Today, Hadassah has a mailing list of more than 5,000! We came together for the first time, as nurses, as Jews, as women and as Zionists.
"With this much enthusiasm," Falchuk continues, "Rachel Albert and I cofounded the Hadassah National Center for Nurses' Councils, the first, and still only, organization for Zionist nurses in the United States."
When the enormous human suffering in Bosnia became a nightly news story in the 1990s, the Nurses' Councils took action and collected the largest single medical supply shipment to the area. And, despite the constant gunfire, four American Hadassah nurses traveled to the war zone to make sure the shipments arrived—which they did.
There have been more than 14 missions to Israel for nurses to "see Israel through the eyes of a nurse."
Barbara Sabin, an emergency room and trauma nurse in New Jersey, participated in the first nurses' mission in 1990. "I saw the notice in Hadassah Magazine and it caught my eye," she recalls. "Ten days later, I left on the mission. Thirteen of us went to Israel at a time when no one was going [during the Gulf War]." The impact of that trip on Sabin was lasting. "I came back energized and passionate about how we can work together with our colleagues there," she says. Sabin is the cochair of Hadassah's Nurses' Advisory Board with Pennie Branden.
Branden, a Connecticut nurse, underscores the significance of the 10th anniversary of the master's program in nursing. "Before the State of Israel decided it needed higher education for nurses, the Hadassah Nurses' Council saw the need," she says. "It was a first in Israel, possibly a first in the Middle East."
"The nurses at HMO are leaders in Israeli nursing clinical care and education," says Falchuk. "Next, we need a Ph.D. program, and why not a nurse practitioner?"
Advancement in nursing is essential because nurses see the whole person. "We, in the United States, realize how important nursing is," Sabin says. "Hadassah Hospital wouldn't survive without its nurses." —Rachel Schwartzberg

Rachel Schwartzberg, former Hadassah Magazine editorial assistant, is now a freelance writer in Memphis, Tennessee.