Letter from Herzliya: The Good, the Bad and the Ugly News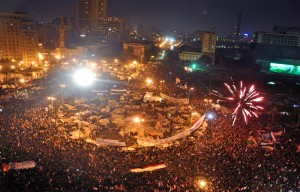 January 9. The cause [of this Munich crisis] was not the existence of minorities in Czechoslovakia; it was not that the position of the Sudeten Germans had become intolerable. It was not the wonderful principle of self-determination. It was because Herr Hitler had decided that the time was ripe for another step forward in his design to dominate Europe. I think it is necessary to be clear on this, because the Prime Minister seems to me to be laying a great deal too much stress on the anxiety of Herr Hitler for his fellow Germans in Czechoslovakia. —Clement Attlee, British House of Commons, October 3, 1938
Suddenly, but predictably, the situation in the Middle East has altered sharply. After decades in which the governments of the region were stable in a stagnant kind of way there is an entirely new reality in the area. Unfortunately, it is not a good reality. Not for Israel, not for the United States.
Three countries have undergone obvious changes of regime that relate to the Arab Spring: Egypt, Tunisia and Libya. In each case, radical Islamist groups have come to the fore, buoyed by popular support. Contrary to the spirit of Western democracy, can the people vote for and cheer anti-Semitic, anti-democratic groups—even if they run in elections? Sure: Historically, anti-Semitism and popular support for totalitarian governments and fascistic movements have not been antithetical.
And what else would you expect—after living in a highly traditional society as hostile to outsiders as medieval Europe; exposure to years of indoctrination from governments and hatred taught by radical opposition forces; with little or no contact with Western democratic thinking; and the endless disinformation from school, mosque and media? Let's focus on reality, neither wishful thinking nor politically correct-driven fantasies; that's the way things are from Morocco through Afghanistan, and then some.
Let's also divest ourselves of the simultaneously comforting yet self-flagellating fantasy that we are responsible or that we can alter this situation. Changing details of Israeli policy; expressions of sympathy, apology or self-criticism; attempts at understanding (often based on the deliberate propaganda of camouflaged radical Islamists) aren't going to change the views of millions of people and movements set on committing genocide.
Pretty grim? Well, we have been through worse.
As the 20th century began, Theodor Herzl recorded an amazing fact. Despite advances in technology, transportation and communication, one thing remained as it was when the Turks conquered Byzantium, Columbus set sail and oxcarts were the main means of travel: anti-Semitism.
Indeed, Herzl mournfully pointed out, "After a short breathing space… bad times have come again…not only in the backward countries…but also in those that are called civilized."
Now, here we are at the onset of the 21st century and the cycle is being repeated. Once again, though, it is taking place in a wider context, there is another movement that rejects modernity, democracy, freedom of thought and speech, individual liberty and equality for women: revolutionary Islamism.
Of course, this movement has been far more than an ideological theory for many years. In 1979, Iran had a radical Islamist revolution, followed by one in Afghanistan. The former produced the hostage crisis, the eight-year-long Iran-Iraq war, the sponsorship of terrorism in the Middle East and beyond—and the drive for nuclear weapons. The latter resulted in Taliban rule, along with Osama bin Laden and al-Qaeda-produced September 11.
And now the contagion has spread to Egypt, Tunisia and Libya. But that is not all.
More quietly, Islamist regimes have come to power in Turkey, Lebanon and the Gaza Strip, while in Syria the dictatorship has aligned itself with these revolutionary forces and no one knows what will come next there. The list of radical Islamist states in the Middle East is now longer than the list of all other kinds of government combined.
But aren't these governments, or at least many of them, democratic? No, they are merely elected after a fashion.
Consider the Gaza Strip, where there is a prevalent myth that the Hamas regime rules democratically. That is simply not true. Hamas won an election, then staged a coup and shot to death all those opposing it. Elsewhere, the Iranian regime won the last election by a huge amount of ballot fraud. In Lebanon, a Hezbollah-dominated government was elected after a couple of dozen acts of terrorism, resulting in the death of several members of parliament on the other side and widespread intimidation.
Once the Islamists take power, the party takes steps to ensure that it will never leave office again. This isa pattern well known in the history of communism and Nazism. In Turkey, for example, continually extolled as a model for the rest of the Muslim-majority world and Middle East, scores of journalists are in jail and the regime has bought up or intimidated a large portion of the mass media. Hundreds of intellectuals, army officers and others have been thrown into prison for years on fabricated charges. Recently, a retired general was sentenced to one year in jail for saying in a personal conversation that he thought the government had sold out Turkey.
What does this mean for Israel? Its enemies have increased, become more active and, unquestionably, more extreme. Islamist groups—including not only Iran's government, Hamas and Hezbollah but also all of the Muslim Brotherhood branches—openly talk of committing genocide against the Jews of Israel (and they don't make fine distinctions about Jews elsewhere, either).
The idea that any of this is going to be mitigated by engaging in or accelerating, much less resolving, Israeli-Palestinian negotiations is laughable. The Islamists don't want a two-state solution or peace with Israel. Quite the contrary. They will fight, terrorize and subvert any attempt to reach one. They want Israel off the map, not at the negotiating table.
These events are not arising because of the Palestine issue, just as Clement Attlee pointed out that German aggression of the 1930s was not a response to the suffering of ethnic Germans in Czechoslovakia. It is about a revolutionary movement, Islamism, that wants to seize state power in every possible country and transform those societies into dictatorships run by the strictest possible interpretation of Muslim law.
As in so much of human history, this is about lust for power and the imposition of an ideology that motivates passion but does not correspond to human needs.
Of course, the Palestinian Authority understands this, far better than Washington, and will not move a foot forward. Indeed, they have refused to talk seriously since January 2009, so why should they do so now?
This is no moment for Israel to make concessions in the face of an increasingly dangerous environment. Faced with a government in Egypt that for all practical purposes is about to throw away the peace treaty—even if it is unlikely to tear up that document in public—why should Israel make material concessions in exchange for another piece of paper, even if that were possible?
Equally, faced with a situation in which a change of government in Egypt has overnight rolled back 30 years of real peace, why should Israel make massive concessions to a Fatah government that might easily be replaced by a Hamas regime—indeed, has already been replaced in the Gaza Strip by one?
Moreover, it is a time when Western, including American, support for Israel is at its lowest point in about a half-century. Those who argue to the contrary can only make claims based on an ignorance of the facts, misstatements and wishful thinking.
Is everything, then, unrelievedly gloomy? No, though understanding how critical the situation is must be the beginning of wisdom today. The radical Islamists are badly divided, with different factions, especially along Sunni/Shia Muslim lines, hating each other as much as they hate Israel.
They are a long way from consolidating power and they constantly make the mistake of being too arrogant, unable to keep up the moderate pose for anyone who cares to watch carefully. Precisely because their policies are so misguided, they make their own countries much weaker than they might be otherwise. In addition, they are about to face devastating economic problems that will lead to an increase in demagoguery and the hunt for scapegoats but at the same time reduce the ability to slay them.
Israel is relatively strong and relatively united, alert to the danger and taking needed steps to counter it as much as possible.
Finally, there is always the hope that the West will wake up and see the threat that exists. With a landslide for the Islamists—not just the Muslim Brotherhood but even ultraconservative Salafist extremists—in Egypt, that reality is becoming even more obvious every day.
Barry Rubin is director of the Global Research in International Affairs (GLORIA) Center; his blog is at www.rubinreports.blogspot.com. His latest book is Israel: An Introduction
 (Yale University Press).