Brief Reviews: Retrieving Life and Memory

FILMS
Incessant Visions: Letters From an Architect
Erich Mendelsohn, a much heralded 20th-century architect, designed the Einstein Tower in Potsdam, Germany, and Hadassah Hospital on Mount Scopus as well as buildings in England and America. Duki Dror re-creates his life using letters, photos, film, reenactments (above) and interviews. The film reintroduces Mendelsohn to those who may have forgotten him. Go2 Films (www.go2films.com). —Renata Polt

Footnote
Joseph Cedar's latest film examines academic competition in the talmudic community, personified by archtraditionalist philologist Eliezer Shkolnik and populist talmudist Uriel Shkolnik—Eliezer's son. Cedar probes the tension between father and son with gentle grace and Jewish humor to create a culture-specific film that hits a universal note. Sony Pictures Classics (www.sonyclassics.com). —Judith Gelman Myers

Buried Prayers
On Lublin's outskirts, the smokestacks of Majdanek poured human ash into the sky. Inside the camp, Jews were detained without food and water in a field where, as a final act of defiance, they buried their valuables to keep them from the Nazis. Sixty-three years later, the survivors direct excavations at the field. The documentary's emerging stories are mind-boggling as we try to grasp the human capacity for both violence and survival. Produced by Matt Mazer and directed by Steven Meyer. Historical Media Associates (www.buriedprayers.com). —J.G.M.
Before he became a ritual slaughterer, Shalom Nagar, a Yemenite Jew, was a prison guard who pushed the button at Adolf Eichmann's hanging. Selected by lot to do so, Nagar was an unwilling executioner, and the experience gave him a humanitarian outlook and turned him to religion. Netalie Braun's documentary follows Nagar as he works, chats with cronies and mourns his son's death. Go2Films (www.go2films.com). —R.P.
In Another Lifetime
During the chaotic closing days of World War II, 18 Hungarian Jews are marched through Austria on their way to Mauthausen. Bivouacked in a barn, they attempt to preserve their humanity by playing and singing "Wiener Blut." Filmed with stark, unsentimental technique—no music, no flashbacks—Elisabeth Scharang's film shows both the kindness and the cruelty of man. FilmLaden (www.vielleicht-in-einem-anderen-leben.at). —R.P.

Deaf Jam
Aneta Brodsky, born in Israel to deaf parents, is a young deaf woman with big dreams. Her animated presence tugs at the heart in this film by Judy Lieff. Brodsky and her classmates at New York's Lexington School for the Deaf participate in a poetry workshop and perform in spoken- word competitions. In this tender coming-of-age story, Brodsky bonds with project partner Tahani Salah, a Palestinian American hearing student. Made-by-Hand LLC. (www.deafjam.org). —Penny Schwartz
EXHIBITS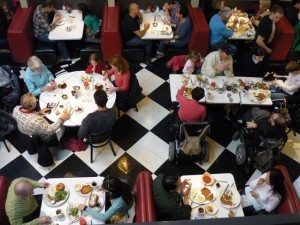 Chosen Food: Cuisine, Culture and American Jewish Identity
What is Jewish food? The answer in this lively look at a surprisingly complex topic starts with the diverse countries of Jewish origin and ends with the food justice movement. Memorabilia, interactive displays, photos and videos explain how Old World cuisine adapted to local customs, the meaning of food in Jewish life and the evolution of kosher cuisine. Through September 30 at the Jewish Museum of Maryland (www.jewishmuseummd.org); the exhibit then travels to the Breman Jewish Heritage & Holocaust Museum in Atlanta. —Barbara Pash

Stanley Saitowitz: Judaica
San Francisco architect Stanley Saitowitz visualized ritual Jewish objects as functional rather than decorative items, as they had been in his childhood home in Johannesburg, South Africa. He created 13 items, ranging from a yad (Torah pointer) to a halla cover. All but the halla cover, which is knitted, are made of metal: an etrog box, a matza plate that looks like a loaf of matza and an elegant Seder plate. Through October 16 at San Francisco's Contemporary Jewish Museum (www.thecjm.org). —R.P.

RECORDINGS
Half You, Half Me
Girls in Trouble sings complex, even radical messages in ballads, folk and rock melodies, backed by drums, violin, guitar, bass and accordion. In "We Are Androgynous," Lilith sees herself as Adam's equal, even after they are separated. "Lemons" expresses the love Potiphar's wife had for Joseph. "DNA" is about the loyalty of sisters Rachel and Leah, who shared a husband in Jacob. JDUB Records (www.girlsintroublemusic.com). —Susan Adler

With All Your Heart
Jay Rapoport's catchy lyrics are about faith and optimism, of similarities rather than differences. His liturgically informed compositions ("Open My Lips"; "Talmud Torah Kneged Kulam"; "B'chol Le'vav'cha") are bouncy, inspiring—pedagogy (for all ages) at its best. Produced by Glenn Grossman (www.ruachrock.com). —Zelda Shluker

THEATER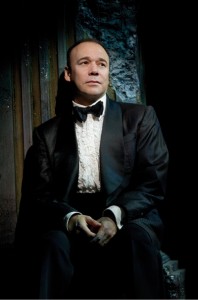 Follies
Dmitri Weismann is a Jewish Ziegfeld-like impresario played by the charming David Sabin. He reunites the musical beauties of his production of Weismann's Follies in a celestial revival of the award-winning musical.
Reminiscing about their earlier halcyon days in the theater are Jan Maxwell's hauntingly sad Phyllis and Elaine Page's intrepid Carlotta, belting out "I'm Still Here." Ron Raines sings robustly as Benjamin Stone, who likely hides his Jewish name as much as his feelings. Danny Burstein (right) is a showstopper as the broken Buddy.
This Broadway original is now at the Ahmanson Theatre in Los Angeles, May 3 through June 9 (www.centertheatregroup.org). —Jules Becker
WEB SIGHTING
From touring shuls in Ukraine to visiting a Sarajevo Jewish cemetery, travel writer Ruth Ellen Gruber's blog, https://jewish-heritage-travel.blogspot.com, and Jewish Heritage Europe, www.jewish-heritage-europe.eu, a new aggregate site coordinated by Gruber, serve as complementary guides to the continent. Jewish Heritage Europe is a comprehensive resource, fostering interest in Jewish heritage sites for academia and tourists. The blog lends a personal touch, for example, by taking readers to a concert at a synagogue in Slovakia. —Leah F. Finkelshteyn