Cut & Post: Jewish Midwestern Cuisine
For Avrom Honig, founder of Chalutz Productions, necessity was the grandmother of invention. Filming his now 85-year-old Bubbe cooking in 2006 became his media entrée and the start of a culinary collaboration. "I never expected to become so close to my grandmother and that I would always be able to share with future generations her legacy in the kitchen," he admits. That serendipitous sharing is now two-fold: a Jewish Life TV vodcast called 
Feed Me Bubbe
 (
www.feedmebubbe.com
) and a new cookbook of the same name (
Feed Me Bubbe: Recipes and Wisdom from America's Favorite Online Grandmother
 ) from Running Press, winner of a gold Mom's Choice Award.
If the recipes—from brisket and potato kugel to salmon and vegetarian tzimmes—are simple, the accompanying wisdom is gourmet. Both the vodcasts and cookbook sparkle with insights about kashrut, Yiddish (even a Yiddish word of the day) and Jewish life, so much so that her legion of fans have "adopted" Bubbe—aka Bayla Sher—a former bank teller in Massachusetts, as a kind of online grandmother. "I only now understand e-mail, Twitter, Facebook and video productions because of my grandson," she reveals. —Jules Becker

'You Made Me a Woman'
Conventional Wisdom: Challenging gender inequality in Judaism is a contemporary phenomenon. Fact: A siddur written in 1471 in Northern Italy defied convention by adapting the traditional morning liturgy to reflect women's dignity and religious aspirations.
Instead of thanking God "for not making me a woman" (recited by men) or "for making me according to His will" (recited by women), the siddur affirms, "Blessed are You, God, for You made me a woman and not a man." The rare and well-preserved siddur, part of the collection of the Jewish Theological Seminary Library in New York, was commissioned by a wealthy Jewish man as a gift to his wife. The courageous author? Rabbi Abraham Mordechai Farrisol, a scribe, scholar, cantor and physician who wrote many books on comparative religion.
"This siddur proves that at least some Jewish women probably felt uncomfortable with this blessing throughout history," says JTS library head and professor of Talmud and rabbinics David Kraemer. And the siddur shows that the increasing tensions around women's issues in Israel are a "modern distortion of Judaism," according to Rabbi Julie Schonfeld, Rabbinical Assembly executive vice president.
The contemporary version of the blessing praises God "for making me in His image." —Rahel Musleah



Jewish Cooking à la the Midwest
Growing up in the Chicago suburbs in the 1980s and '90s, my connection to Jewish food was limited to halla and holidays—and any notion of Midwestern Jewish food was essentially nonexistent. So it was a delight to discover From the Jewish Heartland: Two Centuries of Midwest Foodways
 by Ellen F. Steinberg and Jack H. Prost (University of Illinois Press), a new book that tracks the culinary contributions Jewish settlers brought to the Midwest from the 1800s through today.
Steinberg and Prost pepper their research with lively anecdotes of the farmers, home cooks, bakeries and delis that define Jewish food life in the region. The recipes, which the writers culled from periodicals and individual cooks, include a handful of Sefardic dishes (Syrian spinach soufflé, borekas) among Ashkenazic classics (sauerkraut, apple kuchen).
If many of them sound familiar, they are. After all, the Midwest's frigid, windswept winters are not unlike those of Eastern Europe, which makes comforting, hearty kugels and cholent right at home next to the native casseroles and stews.
And yet Jews adapted their traditional dishes to fit their new home, sprinkling cranberries from Michigan's bogs into baklava, puréeing Minnesota raspberries into cream soup (below) and coating loaves of rye bread in cornmeal made from the Great Plains' most iconic grain. The result: a colorful, food-centric history documenting the emergence of a Midwestern Jewish identity. —Leah Koenig

Cold Raspberry Cream Soup
Serves 6.
1 14 oz bag of frozen raspberries
1 pint fresh raspberries, plus more for garnish
1 cup water
1 8 oz carton raspberry yogurt
1 banana, cut into chunks
1/2 cup milk (or more to thin at end if needed)
1/4 cup sugar
1/8-1/4 tsp cinnamon
2-3 TBs raspberry liqueur
1/2 cup half and half
Mint leaves for garnish
1. Place the defrosted frozen and washed fresh raspberries in a blender with water and yogurt. Blend until smooth.
2. Add banana, milk, sugar, cinnamon and liqueur and blend again. Stir in half and half.
3. Strain soup through a fine sieve and adjust seasoning if desired. Use additional milk to thin soup if desired.
4. Let cool overnight in refrigerator, then serve in glass bowls garnished with a few whole raspberries and mint leaves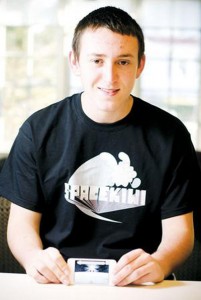 Fun and Game Apps
Some teens watch television after school, others hang with their friends and some even do homework. Boston-area teen Eli Bock 16, just happens to invent computer games.
Bock's Space Kiwi by ORRO Apps, said to be the first iPhone game app with fully animated character features, hit the iTunes App Store in December. Born of the fertile imagination as well as the musical and whiz-kid tech skills of the Newton North sophomore, Space Kiwi boasts a high cute factor all the while demanding "adept maneuvering to avoid simultaneous enemies of different powers and from all directions, with each level harder than the last," according to the iTunes App Store.
But what was the most fun part of Space Kiwi for its youthful designer? It was, hands down, dreaming up the 60 levels of difficulty: "It gave me an opportunity to get really creative with trying to introduce different foes and challenges for the players—and trying to trick them!" —Deborah Fineblum Raub

Your Own Personal Color Guard
Getting your "colors done" has never been big in Israel—until now. England's leading image analysis company, the House of Colour (www.houseofcolour.co.uk), has opened its first branch in Israel, near Kfar Saba in Bene Tzion.
Wendy Lehmann, an exuberant ola from London, explains how the color and style of what you wear can boost a mood, enhance natural looks and lend confidence at work, home or play.
Over several hours, Lehmann shows clients how to create a personal brand in what becomes a riotously fun experiment to learn what looks wrong or right, in group or individual sessions. Clients depart with plenty of tips and a wallet full of color swatches to demystify the process when shopping.
Prices range from $125 for color analysis to almost $200 for personal style, with discounts for packages and groups. Makeup, scarves and other items are available online. —Lisa Alcalay Klug