Last Look: Beauty and the Beholder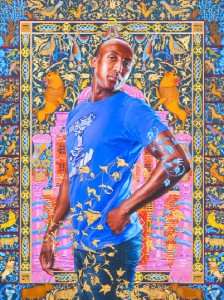 Kehinde Wiley has traveled the world looking for subjects to paint. The successful Los Angeles-born artist is best know for his "The World Stage" series, vibrant, larger-than-life portraits of men of color from China, Sri Lanka, Brazil, India and, now, Israel.
In 2010, the artist, whose mother is African-American and father is Nigerian, spent one month exploring Tel Aviv and Jerusalem nightlife, and photographing Israelis from Ethiopian and Arab backgrounds. These photographs are the basis of his 18-painting "The World Stage: Israel."
Wiley, 35, focuses on young urban men on the margins of a society undergoing rapid changes. His hypermasculinized, powerful DJs, rappers and club-goers are depicted in exaggerated poses that are a pastiche of classical portraiture.
The paintings' technicolor backgrounds—ornate neon patterns that leak onto the subject's arms or torso—are based on mizrahs, papercuts and textiles from The Jewish Museum of New York's collection. (Wiley uses imagery from his subjects' cultures in the elaborate ornamental patterning on his "World Stage" pieces.) The museum, www.thejewishmuseum.org, is displaying 14 of the Israel works in an exhibit through July 29, and has acquired one of the paintings, the 9-foot-tall Alios Izthik, of an Ethiopian Israeli, for its permanent collection.