Medicine: Moving In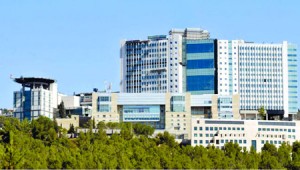 Early on Monday, March 19, two dozen urology patients crossed a bridge between two buildings, opening the latest chapter in Hadassah's 100-year narrative
Some in wheelchairs, some on gurneys and some on their own two feet, they left the 51-year-old building at Hadassah-Hebrew University Medical Center at Ein Kerem to become the first patients in the 19-story Sarah Wetsman Davidson Hospital Tower.
The move was choreographed to its last detail. From the physicians and nurses to the orderlies who accompanied the patients, the urology staff knew exactly where they were going, and where everything would be.
A reception group was waiting for them in the department—including Emily Reaser, daughter of Karen Davidson (Bill Davidson's widow and Sarah Wetsman Davidson's daughter-in-law) and Jonathan Aaron, Bill Davidson's son-in-law. Also among the group were tower campaign chairs Judy and Sidney Swartz; Hadassah National President Marcie Natan; past president and building chair Bonnie Lipton; and current and past directors-general of the Hadassah Medical Organization Ehud S. Kokia and Shlomo Mor Yosef.
Thanks to advanced planning and the 14-hour dry run, the staff was already familiar with the new rooms; supply closets; water, electricity, heating and cooling systems; phone lines; the pharmacy and garbage disposal. By the opening ceremony several hours later, patients who had begun the day hospitalized five to a room were comfortably settled into one- and two-bed patient rooms on the building's fifth floor, each next to a window.
Toward noon, following a breakfast reception for Cornerstone Donors, people gathered in the tower's atrium—the David and Fela Shapell Family Gateway to Health—for a brief ceremony. (A formal dedication will be held at the Centennial Convention in October, by which time orthopedics, vascular and general surgery, gynecology, ENT, plastic and maxillofacial surgery, along with logistics, administration and education, will also have moved.)
All the celebrants had been intimately involved in the tower's birth. Among them were Emily Reaser, Judy and Sidney Swartz, David and Fela Shapell, Drs. Bill Speck and Evelyn Lipper, Leichtag Foundation representatives, Marcie Natan as well as other Hadassah leaders and HMO board members. From the medical center came senior management, department and nursing heads, Dr. Kokia and Dr. Mor-Yosef, who conceived and launched the ambitious project. Jerusalem Mayor Nir Barkat attended with senior municipal staff. The building's architects—Arthur Spector and his team in Jerusalem and representatives from HKS Architects of Dallas, Texas—project manager Natan Margolin and builders Electra and Solel Boneh stood in the structure they had brought from blueprint into being.
With Hadassah, Israeli and American flags festooning the atrium and sunlight streaming through its rounded glass roof, everyone stood to sing a joyous "Hatikva." A short film interposed Hadassah's 1961 move to Ein Kerem with that into the tower. The ribbon was cut and the mezuza affixed. Speeches were brief but emotional. HMO staff joined celebrants for an enthusiastic Sheheheyanu.
Then it was time to fine-tune the next move: The following week, the Department of Orthopedics was scheduled to relocate next to urology on the west wing of the fifth floor.