Books: Modern, Fictional Treatments of Anne Frank
Revisiting Anne Frank, for Better or for Worse
By Sanford Pinsker

Anne Frank's extraordinary diary made her a subject of adoration—and of controversy. Just as Southern apologists insisted slaves did not write slave narratives, that Frederick Douglass did not write his powerful Up From Slavery (1901), Holocaust deniers quickly pointed out that Anne Frank's diary was a fraud. Nonetheless, versions of the Anne Frank story flourished on Broadway and on the silver screen. It was not until Philip Roth's extended fantasy of Anne Frank in The Ghost Writer
 (1979; Vintage) that the possibility of Anne escaping the Holocaust was raised.
Nathan Zuckerman (Roth's mouthpiece), a young, talented writer, travels to New England to meet with the stern, magisterial E.I. Lonoff, who is modeled on Bernard Malamud. There he meets Lonoff's assistant, a strange young woman who Zuckerman later imagines is none other than Anne Frank.
The fantasy allows Zuckerman to exact a delicious revenge on his parents as he imagines telling them that (a) he has met a nice Jewish girl in New England and that (b) the woman he wants to marry is Anne Frank! All their yelling and disappointment in him would vanish in an instant, and he would be unconditionally loved. As Roth elaborates on what Zuckerman calls "the Jewish saint," it becomes clear that Anne is only extraordinary, only valuable, if she remains dead. Indeed, that is the point of her martyrdom.
Hope: A Tragedy
 (Riverhead, 292 pp. $26.95), Shalom Auslander's absurdist romp, follows in Roth's footsteps. Auslander grew up in the Orthodox world of Monsey, New York, and left it as a young adult, but he can never quite win his race to get beyond God's long reach. Whether in the short stories of his first collection, Beware of God
 (2006; Simon & Schuster); the sad ruminations of his memoir, Foreskin's Lament
 (2008; Riverhead); or especially in Hope, his first novel, Auslander takes no prisoners. For him, the Anne Frank cult is at once sentimental and falsifying. His Anne, like Roth's, outlives the Holocaust to end up as an old crone typing, typing, in the attic of Solomon Kugel's newly acquired rural farmhouse.
At first, Kugel thinks the noise up the stairs is a mouse. Later, he discovers that it is (gulp!) a potty-mouthed Anne Frank who demands matza to eat and paper to type on. No doubt many readers—especially those who cherish their tear-stained copies of the diary—will find Auslander's Anne hard to swallow.
Hope: A Tragedy is at once outrageous and outrageously funny.
"I don't know who you are, [Kugel] said, or how you got up here. But I'll tell you what I do know. Anne Frank died in Auschwitz.
…It was Bergen Belsen, jackass, she said."
For Auslander, no Holocaust piety goes unpunished.
At the same time, however, there is a seriousness lurking just below the novel's black humor. Its very title, Hope: A Tragedy, pits optimism against pessimism, an insistence that life will get better against a realization that it won't. As the sign on Kugel's psychoanalyst's wall puts it: "Give up. You'll live longer." Kugel's deep-seated ambivalence is divided between his psychoanalyst's pessimism and the optimistic Anne Frank. Auslander does not overtly tip his hand but his novel ends with Anne Frank typing away at a book that may well have no readers. Is this a sign of eternal optimism? Of pessimism? Of both?
By contrast, Nathan Englander is a quieter, subtler writer. He came to considerable critical acclaim with his first collection of short stories, For the Relief of Unbearable Urges
 (1999; Knopf). Perhaps he arrived at his distinctive brand of otherworldliness as a function of his Orthodox Jewish education, filtered through fiction-writing workshops. His stories had critics exploring the link between his work and those of Bernard Malamud and Isaac Bashevis Singer.
His next book, The Ministry of Special Cases
 (2007; Vintage International), is a serviceable novel that explored the dark politics of Buenos Aires in 1976. But as Englander's latest short-story collection makes clear, he is more comfortable—and more imaginatively powerful—when working on smaller canvases. The writing is not only tighter but also more evocative. Every detail, however small, points to an inevitable, incontrovertible, ending.

The eight stories in What We Talk About When We Talk About Anne Frank
 (Knopf, 201 pp. $24.95) are set in Israel (for example, "Sister Hills," "Free Fruit for Young Widows") and in America ("Peep Show," "Camp Sundown" "The Reader," "How We Avenged the Blums" and the title story). These stories resonate because of Englander's odd coupling of the morally serious and deliciously comic.
Consider "Peep Show," a story of a cleaned-up Forty-second Street in which one X-rated peep show remains. Allen Fein, a nondescript New York lawyer, finds himself drawn to the guilty pleasures of a peep show. He is, on the surface, a creature of the suburbs where he lives with his non-Jewish wife, Claire.
"When had he become a grown man [Fein wonders], on his way home to a loving wife, a pregnant wife, a beautiful blond Gentile wife, who laughed when he didn't know how to work the Christmas lights, who bought a candle with a picture of Jesus on it when it came time for the memorial for his father ('They were out of the little white ones,' Claire had said. 'Can't you just turn Jesus toward the wall?')"
Englander may wear his Jewishness lightly but it is always there—as weapon, shield or riddling challenge. As one character in "How We Avenged the Blums" puts it: "It's a delicate thing being Jewish…. It's a condition that aggravates the more mind you pay it."
The title story, an homage to Raymond Carver's seminal story, "What We Talk About When We Talk About Love," chronicles an alcohol- and pot-fueled afternoon with two Jewish couples—one devoutly religious and living in Israel, the other secular and living in Miami. There is bright talk and humorous moments. As the afternoon wears on, a competition develops between them, pitting Jewishness as culture against Judaism as religion. Ultimately, they arrive at "the Anne Frank game," in which each person imagines a Righteous Gentile who would hide their children during a second Holocaust.
Here, Anne Frank serves as a ghostly presence and a cautionary tale. To his credit, Englander is not preachy about the dark places that thinking about Anne Frank takes his vulnerable characters; rather, he is poetic as the four of them are trapped in a pantry fitted out to duplicate Anne Frank's attic hideaway—"Afraid to open the door and let out what we've locked inside." They have learned far too much about who would, or would not, risk their lives to save those they presumably love.
Some 15 years ago, author Cynthia Ozick imagined a proper "salvational" ending for Anne Frank's diary in her essay "Who Owns Anne Frank?" (The New Yorker, October 1997), namely, that it should have been burned on the attic floor. Unthinkable? Unimaginable? Perhaps. But Ozick, who surely knew how attracted the Nazis were to burning Jewish books, had the steely courage necessary to save us from sanitized, sentimentalized images of Anne Frank. In their own ways, Auslander and Englander's vivid reimaginings lie outside Ozick's sharp critique. Indeed, their respective tales keep Anne Frank alive in ways that do honor to the craft of fiction.
Fiction


Mitzvah Man
 by John J. Clayton. (Texas Tech University Press, 255 pp. $26.95)
Forty-something Adam Friedman, Mitzvah Man's hero—or, rather, superhero—is a resident of Cambridge, Massachusetts. His successes in software development and online trading have enabled him to "retire" to a life of traditional Jewish observance, proficiency in martial arts and domesticity: He is utterly devoted to his wife, Shira, and his 14-year-old daughter, Lisa. This Edenic bower is shattered by two violent incursions.
Attending the 25th-class reunion of the predominantly Jewish prep school in New York he hated as an adolescent, Adam exploits his skill in karate to humiliate a classmate who used to bully him. Assailed by the hollowness of his revenge, that very night Adam suffers a reversal of fortune when he learns that, back home, his wife has been victimized by hit-and-run teenagers, and succumbed to her injuries.
Riven to the core, a few weeks later Adam impulsively responds to what he perceives as the imperatives of a weekly Torah portion that describes the Children of Israel's unhesitating willingness to follow the divine presence from place to place in the wilderness. Heedlessly, in midst of winter and his soul's wilderness, Adam takes to the road wherever it or God leads him. Lisa, apprehensive of losing a second parent, reluctantly accompanies him.
Clayton's depiction of this budding adolescent is a triumph. Lisa is as irresistible as Holden Caulfield, a similitude evoked not only by Clayton's perfect rendering of an adolescent's voice and sensibility but through evocative motifs such as the centrality of Central Park and allusions to the trope of "phoniness."
And so Mitzvah Man morphs into a kind of road novel. The first stop is a Cape Cod cottage belonging to close friends, which Lisa and her father break into. At the New York apartment of a friend from prep school days, Adam senses that his friend's marriage is teetering. Adam urges reconciliation on the couple; astonishingly, his intervention proves effective. Suddenly, Adam fully awakens to his new métier: meddling in the lives of others but with beneficial results. After saving a young woman from being gang raped—and himself ending up in the hospital with a concussion—Adam becomes a public hero capable of accessing genuine powers of foresight and healing. Inevitably, in tandem with Adam's good deeds, his troubles proliferate, spin out of control and threaten to destroy him.
Lisa, fearing for her father's sanity, humors him—the Mitzvah Man appellation started as her joke—but in the end, she comes to accept the authenticity of his own vision of himself. The tonal delicacy with which Clayton imbues the relationship between daughter and a father torn between proclaiming God-inspired messages to the world and love of family is touching, funny and masterful. By turns, we perceive Adam as a profoundly sad widower and self-deceived "holy fool."
Nevertheless, Mitzvah Man raises far-reaching and vexing questions about the efficacy of Judaism or proactive religious values in deflecting the destructive course embraced by the contemporary world.
Until now, Clayton, who teaches at the University of Massachusetts Amherst has been known for his short stories. If there's any justice, Mitzvah Man, his fourth novel, should be his breakout novel. It is that good. —Haim Chertok

Nonfiction


Sacred Trash: The Lost and Found World of the Cairo Geniza

by Adina Hoffman and Peter Cole. (Schocken/Nextbook, 306 pp. $26.95)
Award-winning writers Adina Hoffman and Peter Cole have impressively brought the Cairo Geniza to a wider audience. The geniza, uncovered in a small room off the women's gallery in the Ben Ezra Synagogue in Old Cairo (Fustat) in the late 19th century, is comprised of some 280,000 fragments of parchment, most deposited there between the 11th and 19th centuries.
Though the "discovery" of the geniza is most often attributed to Solomon Schechter, the Cambridge University scholar who later became the first chancellor of the Jewish Theological Seminary in New York, uncovering the massive collection was the joint work and consuming passion of a large cast of characters spanning decades and continents: scholars and librarians, hobbyists and patrons. These largely unknown players devoted time and energy to studying and cataloging the musty fragments. Hoffman and Cole have made it their business to ensure that these scholars and their contributions not be forgotten. They provide detailed character sketches of Schechter and his cohorts, including sisters Margaret Gibson and Agnes Lewis; Schechter's Oxford counterpart, Adolf Neubauer; Anglican priest Charles Taylor; Israel Davidson; publisher Salman Schocken; Menahem Zulay; E.J. Worman; Hayyim Schirmann; S.D. Goitein; and Soviet prisoner-turned-scholar Ezra Fleischer.
The second half of the book elaborates on the geniza's enormous contribution to the study of medieval Hebrew poetry—including never before seen works by luminaries such as Menahem ben Saruk, Dunash ben Lebrat and Judah Halevi. The authors also explain how the geniza sheds light on the Karaites in the Middle Ages, particularly regarding their interactions with the mainstream Rabbanite community.
Relegated to the afterword, however, are the briefest mentions of the myriad personal letters, sales receipts, dowry lists, ketubot, gets and rabbinic legal responsa documenting day-to-day Jewish experiences spanning over 800 years. Also mentioned as afterthoughts are the numerous documents handwritten by Maimonides, arguably the greatest Jewish scholar and personality of the era, from rough drafts of his halakhic works to prescriptions for a variety of illnesses.
The reader yearns for more about those rare fragments and, perhaps, less about the people who sorted them. —Rachel Schwartzberg

Sculpting the Bible
George Wardlaw: Crossing Borders
 by J. Richard Gruber, Ori Z. Soltes and Suzette McAvoy. (Marshall Wilkes, 184 pp. $65)
George Wardlaw, a child of the Depression who converted to Judaism in 1955, toiled prolifically and creatively as a painter, jewelry-maker and sculptor over a 60-plus-year career, and now his colorful, expressionist work has been captured in a lavishly illustrated coffee-table book. Of particular interest in Crossing Borders are the Jewish themes, as explained by Ori Z. Soltes, former director of the B'nai B'rith Klutznick National Jewish Museum in Washington, D.C.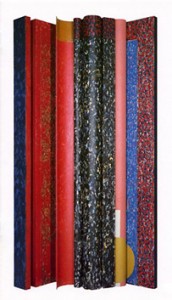 Beginning in the 1980s, Soltes notes, Wardlaw started to create a series of imposing acrylic-on-aluminum sculptural works called "Doors." These bundled columns of blue, red and multi-patterned convex, concave and angular forms led to "Passages XI: Exodus," a seven-part series recalling the narrative of the Israelites' departure from Egyptian servitude. His Parting of the Red Sea is 92 x 204 x 66 inches. In another work, Wardlaw uses chimneys to symbolize the Holocaust, depicts a series of elements rising to signify Creation and shows us the Ten Commandments. The ideas of Exodus, particularly the plagues, are also represented in pencil, ink and acrylic on Mylar paintings.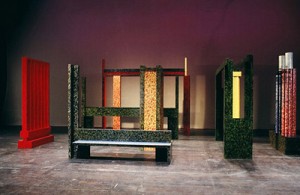 The book recounts how Wardlaw was raised on a farm in Mississippi and emerged from his modest beginnings to become a member of the New York avant-garde art scene of the 1950s and 1960s and, later, an influential teacher. After serving in the military in World War II, Wardlaw studied art and taught at the University of Mississippi with noted Jewish artist Jack Tworkov and was later recruited by Tworkov to teach at Yale University before serving as the chair of the art department at the University of Massachusetts Amherst. —Stewart Kampel