Interview: Daniel B. Shapiro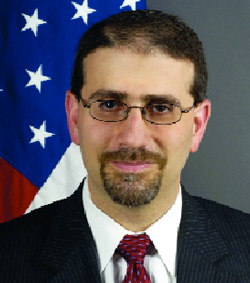 Daniel B. Shapiro is the 19th United States ambassador to Israel—and the third Jew to hold that position—appointed by President Obama in March 2011. Born in Champaign, Illinois, the 43-year-old diplomat, who speaks Hebrew and Arabic, held several congressional staff posts in the 1990s and served on the National Security Council under President Bill Clinton. In 2009, he became the council's senior director for the Middle East and North Africa.
Q. Not every American ambassador to Israel visited the country at age 4 and is able to address Israelis in Hebrew. What do you bring to this post?
A. I do come with a lot of personal connections and experience in Israel. I was first in the country as a young boy with my parents on their sabbatical. It happened to include the '73 war, which was a defining experience…for our whole family's relationship with Israel. I returned as a student [for sophomore year at the Hebrew University's Rothschild International School during the first intifada]…. It undoubtedly helps ambassadors to know a place, speak the language and have connections. [It gives] you a feel for why people take the political views they take.
Q. Is the role of ambassador changing?
A. It's essential that our ambassadors not think of themselves only as the conduit of government-to-government communication. That traditional diplomatic role is important, and I do it every day. At the same time, speaking and listening to various publics is vitally important. Secretary [of State Hillary] Clinton charged all of us with getting out of the capitals, out of the usual meeting rooms and ministries and embassies [to do that].
Q. Where did you learn Hebrew?
A. I started at a Reform summer camp in Wisconsin that had a great intensive Hebrew-speaking program. I lived with a family in Jerusalem—that's where it really improved—and I studied Hebrew throughout college at Brandeis, Hebrew University and Harvard.
Q. Do you see the American-Israeli relationship changing as a result of the upcoming presidential elections?
A. I don't play any role in American politics and it's important to state that. Yet there is a great deal of consensus about our relationship with Israel, our commitment to Israel's security, our determination to prevent Iran from acquiring nuclear weapons, our interests more broadly in the Middle East, countering threats of weapons of mass destruction, terrorism and other forms of instability.
Q. The Obama administration has explicitly stated that Iran will be stopped from acquiring nuclear weapons. What additional light can you shed?
A. The president has said on a number of occasions that he's absolutely determined to prevent Iran from acquiring nuclear weapons. I believe when a president of the United States, any president, makes a statement like that, declaring that kind of determination…that shouldn't be underestimated. He's also said all options are on the table to achieve that goal. Secretary of Defense [Leon E. Panetta] has said that all the planning has been done to ensure that options are available to the president at whatever time he might choose them, so I think that also is a strong indicator of the seriousness of America's determination.
Q. How much time do we have to stop Iran?
A. The current approach, which we and Israel and our European allies all agree on, is the correct one: We are trying to prevent Iran from acquiring nuclear weapons by dramatically increasing sanctions, economic pressure and diplomatic isolation. In the last months, we've seen dramatic increases in sanctions, making it much harder for Iran to conduct any form of international commerce, international financial transactions, shipping or development of its energy sector. A European oil embargo is now being imposed; there are new American sanctions that will impose sanctions on other countries that purchase Iranian oil or countries that allow their private financial institutions to do business with the Iranian central bank.
Q. Are these efforts working?
A. Iran is feeling the squeeze and its currency has been significantly devalued. We're going to continue to intensify that pressure in the weeks and months ahead, joined by many partners around the world. We're also in a…coordinated discussion with our Israeli partners. We recognize the gravity of the threat of Iran and why Israel absolutely, understandably, views it as an existential threat. We are going to remain closely coordinated with Israel, sharing intelligence assessments, evaluating the effectiveness of the sanctions, finding ways to increase their effectiveness… and all this takes place at very high levels. Chairman of the Joint Chiefs of Staff General [Martin E.] Dempsey recently…had positive meetings with his Israeli counterpart Major General [Benny] Ganz; Secretary of Defense [Panetta] and Defense Minister [Ehud] Barak speak regularly; the prime minister and the president spoke recently.
Q. So surprises, whether by Israel or America regarding each other's steps, would be unlikely?
A. To repeat: The dialogue is intense. It is daily, ongoing and at a very high level. In an environment like this, the great likelihood is we won't be surprising each other.
Q. The objective in the Israeli-Palestinian conflict is a negotiated two-state solution. How can this be achieved when Gaza is governed by rejectionists and missiles are being fired against Sderot, Ashkelon and Eilat?
A. Our goal consistently has been to get the parties to talk to each other in direct negotiations without preconditions and tackle together the core issues that must be resolved to achieve a two-state solution. [This] can't be done through unilateral measures, it can't be done through appeals to the United Nations and it's not going to be imposed by outside parties. We absolutely agree that Hamas is not a legitimate actor to include in the diplomatic process. It is a terrorist organization, and until they recognize Israel, renounce violence and agree to abide by previous agreements, we don't see a role for them in a legitimate diplomatic process.
Q. How do you break the stalemate?
A. By demonstrating that leaders like President [Mahmoud] Abbas and Prime Minister [Salam] Fayyad, who have committed to a path of nonviolence, who are engaged in serious institution-building in the West Bank, who have improved the security situation for both Israelis and Palestinians…can deliver for their people…at the negotiating table. And as those leaders are able to demonstrate the results, it will certainly strengthen their hand in the internal Palestinian split and make it easier for those in Gaza…to make the case that the path of nonviolence and institution-building is the correct way to achieve Palestinian aspirations.
Q. The Arab Spring upheavals were first seen as the democratic outpouring of popular will, but now look more like a gateway for extreme Islam. What's your take?
A. These transitions are going to take years, not months. Nobody was able to predict everything that happened over the last year, so we should be humble about our ability to predict the next year, much less the next 5 to 10 years. We know these transitions contain risk: Revolutions can be hijacked by extremist actors. There are risks that peace treaties with Israel might be challenged, and we need to be on guard against such developments, trying to mitigate them, prevent them…. Real democratic regimes could emerge. That means governments that respect the universal rights of their own people, don't use violence against their people and respect freedom of speech, association and assembly.
Q. What about the largest Arab nation, Egypt?
A. Egyptians of all stripes know that for the United States it's very important for Egypt to be governed in a democratic fashion and that the peace treaty with Israel be sustained. We can't control the outcomes, but we can establish these principles. For Israel, the opportunity of having real democratic neighbors is something that it's never experienced. Such neighbors generally do not fight wars against each other and don't allow their territories to be used as launching pads of attack.