Profile: David Grossman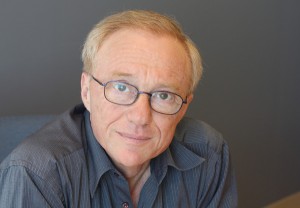 In a perfect world, novelist David Grossman would be at home writing books all day. But in this world, the world-renowned author of both adult and children's literature finds himself time and time again stepping out of his authorial role to address rallies, sign petitions, write political articles and march for social justice.
"I am a person who takes the world very personally," he said during a recent interview. "I would be very happy to only write books. That is what causes me the most happiness, but somehow life has tossed me to a place where I want to have a more general influence."
And sometimes it is the seemingly minor grievances that upset Grossman enough to miss a day at his desk and take action. Last summer, when he heard the public library in the border town of Kiryat Shemona was in danger of closing, he joined a group of authors in donating books and bringing them to the town in a show of solidarity.
"When I heard about it, I freaked out," Grossman said. "The government was not giving money for the library in Kiryat Shemona even though the amount was negligible…and they speak incessantly about the importance of education and the future of our children." The author has a special relationship with the border town: When it was under Lebanese rocket attack in the early 1980s, he used to go up there with fellow novelist Meir Shalev to read to children in bomb shelters. Besides, his first girlfriend was from Kiryat Shemona. Now he has collected some of his books, written various dedications in them "to the reader," "to the children" or "to the librarian," and donated them to the library.
These books are as sure to delight, educate and challenge the imaginations of the residents of the small town as they do readers all over Israel and the world. Grossman has published nine novels, two journalistic accounts, multiple books of essays, a children's opera, two plays and more than 15 children's books; his works have been translated into over 30 languages. He has explored his country's internal and external landscape in an extraordinarily broad range of styles and genres. He has penned poignant studies of childhood and adolescence, love, marriage, fatherhood, motherhood, the Holocaust, the Palestinian condition and the scars of war. Many of his works have been adapted for the screen and stage and he has been awarded some of his country's and other nations' highest literary honors. His most recent novel, To the End of the Land
 (2008; Vintage), won the Jewish Book Award, the French Prix Médicis étranger and the German Book Trade's Peace Prize.
As an author, says Grossman, sipping ice water on the balcony of his home outside of Jerusalem, he has only one obligation: "To tell a good story." However, an author implicitly makes a social and political statement. "The essence of writing is the ability to change people's point of view, by looking at every situation from different points of view, even from the point of view of my sworn enemies." he noted. "Even to become a better fighter I must understand how they think and especially if I want there to ever be peace here. I have to understand where they hurt, where they are vulnerable, the story they tell themselves and also their mistakes—and they have many."
Furthermore, by introducing complex ideas in sophisticated language, he feels he is fighting the stupification caused by the culture of reality television.

"I purposely wrote To the End of the Land
 in rich language because I felt I wanted to reclaim the language that was usurped by Channel 2 [commercial television] with all its shallowness and vulgarity," Grossman explained. "There is still a layer of people who do not get addicted to that, but I think that layer is getting thinner."
Born in Jerusalem in 1954, Grossman burst onto the literary scene in the 1980s with daring novels that instantly received critical acclaim and won awards. The Smile of the Lamb
 (1983; Picador) was the first major Israeli work set in the West Bank and featured an Israeli soldier and a Palestinian. It was later made into a movie. See Under: Love
 (1986; Picador), Grossman's first book to be translated into English, propelling him to international fame, was a highly experimental study of the second generation of the Holocaust, then a taboo in Israeli society. Then came The Yellow Wind
 (Picador), a 1987 journalistic account of the 20 years since the Six-Day War. It was a series of encounters with Palestinians and settlers in the West Bank, documenting the former's frustration and the latter's religious fanaticism and prophesying the first intifada, which broke out at the end of that year. Every one of Grossman's books has been a best seller in Israel and many have been successful abroad.
"Almost every book Grossman published in those years started a kind of public scandal," said Michael Gluzman, a literature professor at Tel Aviv University who is writing a book about Grossman. "The Yellow Wind
 was a kind of earthquake. In a way, that book shaped the political awareness of a generation of Israelis…. See Under: Love
, too, was very experimental and groundbreaking.
"Besides Grossman's tremendous literary daring was his tremendous political daring. You can't take that away from him whether you agree with him or not. I don't think there was any other writer in the 1980s who reached so many readers and whose cultural impact was so great."

Apart from being prolific and influential in adult literature, Grossman has the rare distinction of being just as prolific and influential in children's literature. The figure of Itamar, a little red-headed, freckled boy with a wild imagination whose bespectacled father looks just like the author, is so popular in Israel that two parks in the city of Holon are devoted to him, with large sculptures of characters and scenes from his stories.
The six titles in the Itamar series (not available in English), including Itamar Walks on Walls and Itamar Meets a Rabbit, have been adapted for theater and puppet shows, animated, sold on videocassettes and CDs and developed into museum exhibits as well as educational software translated into 20 languages. Itamar Meets a Rabbit was made into a children's opera performed with the Israel Philharmonic Orchestra and narrated by Grossman.
Youth occupy a special place in Grossman's adult fiction as well. The protagonist of See Under: Love
 is 9-year-old Momik, who grows up in Jerusalem in the shadow of his parents' Holocaust memories. The Book of Intimate Grammar
 (1991; Picador), which was made into a feature film, is the coming-of-age story of Aron Kleinfeld, from years 11 to 15. These children, like the author's younger self, are close observers of the adults around them and irrepressible inventors of games and worlds generated by their fears and imaginations. One of the main characters in To the End of the Land
, Avram, was, in his teen years, a voice artist who wrote, acted out and recorded radio dramas in his home-based studio, much like Grossman did as a child actor and reporter.
With a mother born in Mandate Palestine and a father who emigrated from Poland before World War II, Grossman, the eldest of three boys, is not the child of survivors, yet came of age in an Israel where the Holocaust was alluded to in hushed tones and infused his consciousness. Thus the fictional Momik, who is determined to hunt down and confront the "Nazi beast" lurking in the basement.
To the End of the Land
, Grossman's most celebrated novel, traces its characters from adolescence during the 1967 Six-Day War to a narrative present in which their children are at the end of their army service. A major backstory has to do with the traumatic experience of the 1973 Yom Kippur War. The main theme is protagonist Ora's hike through Israel while her son is on a dangerous military operation, hoping to avoid bad news by not being home to receive it.
Grossman's son Uri, 20, was killed in combat during the Second Lebanon War in 2006, while the author was completing the book. He wrote in an afterword that by writing the book while his son was in the service he had hoped to keep him safe. The public treated the novel as something between realism and fiction.
Grossman said that although readers associate the book with his son's death, his intention was to underscore the richness of life: "That book is not about death, it is about the fullness of life, about family and love and the anxiety we have for our children. I think it articulates the Israeli condition."
Gluzman commented that the author's personal tragedy affected not only the book's reception but the author's image. "The death of Uri Grossman is such a traumatic event that it wounded the fictionality of To the End of the Land
," he posited, "and you can hardly read it as literature anymore. Undoubtedly, his bereavement has completely shaped Grossman's public image, where he speaks from and the way we speak about him."
In real life, Grossman is as unassuming as his writing is effusive. With his strawberry-colored hair and thick square glasses, he receives a visitor in a black T-shirt tucked into immaculate white denim pants at his home in Mevaseret Zion, where he lives with his wife, Michal, a psychologist, and daughter, Ruthi. His eldest son, Jonathan, is married. Sitting with his guest on the veranda, steeped in luscious foliage and overlooking the rolling Judean Hills, Grossman is home for a few weeks in the middle of an intense schedule of travel and public appearances.
Indeed, while other writers have harnessed the tools of social media to stay in touch with their readers, Grossman maintains a very 20th-century approach: Not only does he not have his own Web site, he does not even use e-mail.
"I had it and I canceled it," he confessed. "I discovered I wrote unnecessary e-mails for almost two hours a day. And I want to write books." How does he communicate, then? "The important things find me," he said, smiling. "I have more than 30 publishers around the world and they are used to sending me faxes. I am one of the last writers in the world whose readers write him actual letters and I answer each one if it is in a language I know. I keep the postal service in business."
While Grossman's unflinching call for conciliation with the Palestinians places him at odds with the ruling ideology, his voice continues to command the nation's attention. When the Israeli social protest movement got under way in the summer of 2011 with demands to reduce social gaps, it was to Grossman that the country's most widely read newspaper, Yedioth Ahronoth, turned for a front-page essay on the meaning of it all. "Finally we are doing the right thing," Grossman wrote of the outburst of frustration with the degradation not only of the standard of living but also of values. "Maybe we have just opened a window to another future."
He is not a pacifist and believes Israel needs a strong army to defend itself. "If we see what Syrians are doing to other Syrians," he said, "what Iraqis do to other Iraqis every day, we can only guess what would happen to Israel if Israel could not defend itself." But he believes Israel is strong enough to be more generous and less fearful in its dealings with its Arab neighbors.
Having served in military intelligence for four years, Grossman speaks Arabic fluently and is especially pleased when his work is translated into that language: "I was deeply moved by a review of [To the End of the Land
] in Al-Hayat, the biggest Arabic newspaper, based in London. The reviewer wrote it was 'a story of love, of brothers, and of a young man's love for his country.' They write a lot of reviews about my books and they note with disappointment that even though I want peace, I still love Israel. It is hard for them to digest that contradiction, but anyone who does not understand that does not understand the nature of the Israeli left."
In his numerous meetings with American Jews, they have told him they did not want to criticize Israel even if they disagreed with it.
"I think that is an evasion," he countered. "For American Jews, Israel is not just another country. It is a significant place where they and their children might live one day. I am sure they wouldn't want to live in a country that is becoming so fundamentalist and nationalist. Love means getting over your anxiety and speaking out to change the reality so that anxiety doesn't come true."