A Summer Menu from Helen Nash's Kitchen
Helen Nash's two previous kosher cookbooks—Kosher Cuisine
 and Helen Nash's Kosher Kitchen
 (Jason Aronson)—are regarded as perennial standouts in the field of Jewish cooking, praised by well-known Jewish chefs as well as non-Jewish foodies and food writers, including the late, celebrated New York Times critic Craig Claiborne.
Now, Nash, a longtime culinary instructor and lecturer in New York, is releasing a new collection of kosher recipes, Helen Nash's New Kosher Cuisine: Healthy, Simple & Stylish
 (Overlook). The subtitle is no throwaway line: The 200-plus dishes she features all share an elegance of simplicity, using few—but high-quality—ingredients as well as a minimum of steps. Think artfully tossed salads with classic touches such as feta cheese and chickpeas; a clever presentation of steamed cauliflower with capers; multiple recipes for fresh and easy tomato soups (perfect for late summer, when tomatoes are at their local best); and her inclusion of slightly upscale yet entirely accessible dishes, like Black Cod with Miso (which is absolutely delicious, yet calls for only 6 ingredients). Add in some sushi rice (which Nash helpfully includes a recipe for, or really a technique), and you have a light, healthy summer meal, which happens to be dairy, so…. You can indulge in a particularly tasty dessert. Consider Nash's Peach Almond Cake, a paean to one of summer's tastiest and most abundant fruits.
Summer has never tasted so fresh and easy!
Summer Tomato Soup


This is a simple summer soup that can be served hot or at room temperature. The number or portions will depend on the juiciness of the tomatoes.

2 pounds ripe tomatoes
3 garlic cloves
3 tablespoons extra virgin olive oil
7 thyme sprigs
Kosher salt
Freshly ground black pepper
1/8 teaspoon sugar (optional)
Core the tomatoes and cut them into large pieces. Peel and quarter the garlic cloves.
Place the tomatoes, garlic, oil and 5 of the thyme sprigs in a saucepan. Bring to a boil over high heat. Lower the heat and cook, covered, about 10 minutes, until the tomatoes are very soft.
Remove the thyme sprigs and pass the soup through the medium blade of a food processor.
Season to taste with salt, pepper and sugar. Garnish with leaves from the 2 remaining thyme sprigs.
Chickpea and Feta Salad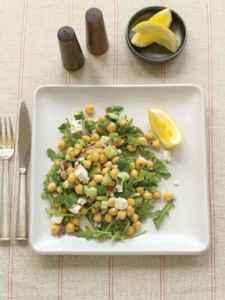 Makes 8 appetizer portions. I love to make this in the summer when fresh herbs are plentiful.
1 pound dried chickpeas
2 kirby cucumbers
2 small red chilis (see notes)
1 medium red onion, finely chopped
1 cup loosely packed fresh mint leaves, finely chopped
1 cup loosely packed fresh cilantro leaves
Mâche or arugula
1/2 pound feta, cut into small cubes (see notes)
Lemon-Olive Oil Dressing
5-6 tablespoons freshly squeezed lemon juice
Grated zest of 1 lemon
4 tablespoons extra virgin olive oil
1 tablespoon honey
Kosher salt
Freshly ground black pepper
Place the chickpeas in a bowl, cover with cold water and soak overnight.
Drain the chickpeas and place them in a large saucepan with enough water to cover. Bring to a boil over high heat. Lower the heat and cook, partially covered, for 35 minutes, or until they are soft. Drain in a sieve and place in a large bowl.
Trim the ends of the cucumbers. Cut the cucumbers in half lengthwise and remove the seeds. Cut the cucumbers into 1/2-inch cubes. Combine them with the chickpeas.
Cut the chilis in half lengthwise, then core, seed and finely chop. Combine them with the chickpeas and cucumbers, and add the onion, mint and cilantro.
To make the dressing: Mix the lemon juice and zest, oil and honey. Toss with the salad and season to taste with salt and pepper. Place the dressed salad on a bed of mâche or arugula sprinkled with extra virgin olive oil. Top with the feta and serve.
Notes: There are many varieties of feta, but I prefer the milder ones; when seeding chili peppers, I advise wearing thin plastic gloves to avoid irritating your skin or your eyes.
Cauliflower with Capers
Makes 6 servings as a side dish. Cauliflower is available year-round and can be prepared in a variety of ways. This is one of the easiest and, because of the capers, most flavorful.
1 medium-sized head cauliflower
1 garlic clove
1/2 teaspoon kosher salt
2 tablespoons small capers
1 1/2 tablespoons freshly squeezed lemon juice
3 tablespoons extra virgin olive oil
1/2 cup tightly packed flat-leaf parsley, finely chopped
Freshly ground black pepper
Cut the stalk and leaves off the cauliflower and discard. Cut the head into small florets and place them in a steamer. Cover and steam for 3 minutes, or until just tender. Transfer to a medium bowl.
Coarsely chop the garlic on a cutting board. Sprinkle with salt and, using a knife, crush into a paste. Place the paste in a small bowl and add the capers, lemon juice and oil. Pour over the cauliflower and stir in the parsley.
Season to taste with salt and pepper. Serve warm.
Black Cod with Miso
Black cod has a wonderful taste and is thicker, moister and silkier than regular cod. I usually serve it with sushi rice (recipe below).
4 skinless black cod fillets (about 6 ounces each)
Marinade:
2 tablespoons plus 3/4 teaspoon white miso paste
2 tablespoons sugar
1/4 teaspoon kosher salt
2 tablespoons mirin
2 tablespoons sake
Pat the fillets dry with paper towels and place in a glass, ceramic or enamel-lined baking pan. Combine the marinade ingredients. Pour over the fillets and coat well. Cover the dish with cling wrap and refrigerate for at least 4 hours. Turn the fish once.
Remove the fillets from the refrigerator and bring them back to room temperature.
Preheat the broiler. Set the rack in the broiler pan and cover it completely with heavy foil. Make a shallow "basket" with a piece of heavy foil, crimping it at the corners so that the liquid doesn't spill out. Set the basket on the broiler rack and place the fillets inside. Pour the marinade on top. Put the pan in the broiler as close as possible to the heat source. Broil the fillets for about 6 minutes, without turning, until the top is brown and the inside of the fish has just turned opaque. (The fish will continue cooking when it is removed from the heat.)
Spoon the accumulated juices on top and serve.
Sushi Rice
Makes 4 servings.

3/4 cup raw sushi rice
1 cup water
1/4 teaspoon kosher salt
Place the rice in a heavy saucepan with the water and salt. Bring to a boil, lower the heat and simmer, covered, for 8 minutes. Fluff with a fork and serve.
Peach Almond Cake
Makes 8 servings. This is a delicious recipe that I love to make in summer, when peaches are at their best. You can serve it warm or at room temperature, topped with ice cream or sorbet.

4 tablespoons unsalted butter plus 1 tablespoon for greasing the pan
1/2 pound blanched almonds
1/2 teaspoon vanilla extract
1 teaspoon almond extract
3 peaches
Boiling water, as needed
Generous 1/2 cup sugar
1/2 cup unbleached all-purpose flour
5 large egg whites (see note)
Preheat the oven to 400 degrees. Grease a 9 by 2 1/2-inch springform pan with 1 tablespoon butter.
Chop the blanched almonds in a food processor to a semifine texture.
In a small saucepan melt the remaining 4 tablespoons butter. Add the vanilla and almond extracts and cool.
Peel the peaches by placing them in a bowl and pouring boiling water over them. Drain and slip off the skin. Cut the peaches in half, remove the pits and slice into 1/4-inch wedges.
In a medium bowl, combine the almonds, sugar and flour. Sir in the melted butter mixture.
Place the egg whites in the bowl of an electric stand mixer. Using the balloon whisk attachment, beat them at high speed until stiff. With a rubber spatula, fold half the egg whites into the flour mixture. Reverse the process and pour the egg white-flour mixture into the bowl with the remaining egg whites. Combine gently and thoroughly.
Spoon the batter into the springform pan, distributing the batter evenly. Arrange the peach slices on top in overlapping concentric circles.
Bake on the middle shelf of the oven for 30 minutes, until a cake tester inserted in the center comes out clean.
Cool on a wire rack. Remove the rim and unmold.
Note: It is easier to separate the eggs straight from the refrigerator, when they are cold. Make sure the whites have come to room temperature before beating.