The Arts: Lines and Curves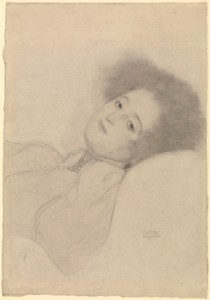 Austrian painter Gustav Klimt is best known for his portraits of beautiful society ladies, predominantly Jewish, during Vienna's golden age from the 1880s to World War I.
But he was equally innovative and gifted as a draftsman. An exhibit at The J. Paul Getty Museum in Los Angeles, "The Magic of Line," marks the 150th anniversary of the artist's birth. The over 100 drawing on display, culled from among some 4,000 surviving such works, are a testament to Klimt's skill and variety.
The exhibit is the first retrospective fully dedicated to his drawings. Set in chronological order, the pieces illustrate Klimt's stylistic evolution from academic realism and interpretations of Greek mythology to symbolism that explored the world of dreams, melancholy and sexual desire.
At the turn of the 20th century, he led Vienna's rebellious young artists in the Secession Movement, which broke with the academic artistic establishment and set out to revolutionize not only the visual arts, but all of aesthetic life.
It was also during this time that Klimt painted one of his best-known works, Portrait of Adele Bloch-Bauer I, a gold-flecked rendering of one of the wealthiest and most iconoclastic Jewish women of the era.
The painting, confiscated by the Nazis, was at the center of a seven-year legal battle between the Austrian government and Maria Altmann, Bloch-Bauer's niece and a Los Angeles resident. Altmann won and the portrait now hangs in New York's Neue Galerie, after Ronald Lauder purchased it for a reported $135 million.
Among Klimt's post-1900 works on display (he died in 1918) is his Beethoven Frieze, interpreting the final choral movement of the composer's Ninth Symphony. For this work, Klimt created three adjoining friezes: Yearning for Happiness, Lasciviousness and Appeasement in Poetry.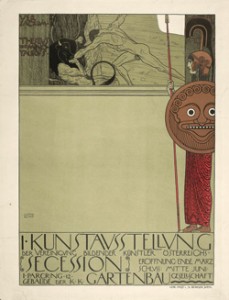 In Three Ages of Women, he represented the emotional and physical changes in the female life cycle.
During the last decade of his life, Klimt drew studies of some of his most famous portraits, in which he explored both the identities of his sitters and, a frequent theme, the transitory nature of life.
An enlarged photograph of his last studio includes his drawing board, which consisted of a stand mounted on coasters, allowing Klimt to follow his models' movements around the studio as they changed positions.
The exhibit, which runs through September 23, is accompanied by lectures, readings, musical performances, and a course in Viennese cuisine. For a video on Klimt's creative process, visit www.getty.edu/art/exhibitions/klimt/video.html.