Commentary: One Day, One Hospital, One Nation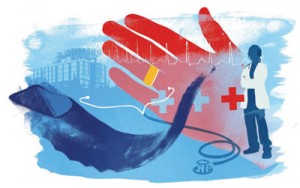 When I was little, my mother told me that she would always remember where she was when she heard that President Franklin Roosevelt had died. That fascinated me—the idea that one moment in history could be so indelible seemed strange, mysterious, majestic. Little could I have imagined that one day, the same would happen to me, and that Hadassah Hospital would play a pivotal role in that memory.
In September 2000, I didn't feel great the night before Rosh Hashana, but did not think much of it. I took some Advil for a stomachache and slept fine through the night. The next morning, though, I woke up early to review my Torah reading for shul, and noticed that the pain had moved to the lower right side of my abdomen. I looked up appendicitis in a book we had at home; it said that often the pain begins in the upper abdomen and then several hours later moves to the lower right quadrant.
Uh, oh. I was starting to get worried, but still went to shul. It was Shabbat and Rosh Hashana, after all. But as I read the Torah, it actually seemed like the scroll was moving, levitating on the table. That certainly didn't seem right. So I did what all Jews in shul do—I asked one of the doctors sitting near me what he thought. He said that if the pain did not go away in a few hours, I should go to the emergency room.
I lasted another half hour. Feeling awful, I went home to rest, but ultimately I just knew something was up and decided to go to the hospital.
Driving my minivan down the winding road to Hadassah Hospital at Ein Kerem, I had several thoughts. First, I asked myself, "Who in the world decided to put the country's best emergency room at the bottom of a driving obstacle course?" And then, I thought, "Oh my God. What if I'm not sick? I won't be allowed to drive home; it's Shabbat and a holiday. I'll have to walk this? Please, God, let me be sick." (Turns out that God answered my prayers.) Finally, on my way down the hill, I noticed that there was no traffic whatsoever. I made a mental note: Shabbat and Rosh Hashana—a good time to go to Hadassah in the future.
And the parking, oh, the parking. This is when they should make a promotional video about how plentiful parking at Hadassah Hospital can be. The lots were all empty. They did not even charge.
I checked in, got blood tests and was poked and prodded, and the doctors concluded that I needed an emergency appendectomy. This was clearly going to be a Rosh Hashana to remember.
As they prepped me for surgery, I was told to remove my wedding ring. I knew that I wouldn't be able to because I could never get the ring off. But the staff said it had to come off or they would cut it off. They gave me Vaseline, but I just couldn't remove it.
By now, I was sufficiently in pain from the appendix, their probing and the shots and IV that I did not care very much about the ring. "So cut it off," I said, figuring that I would get it fixed somehow. But a nurse nearby overheard this, ordered everyone away from my bed, and said, "Give me five minutes. It's Rosh Hashana, and I'm not going to let his year start with his wedding ring getting cut off." Everyone moved away, and in a few moments of maneuvering, she had it off. Not what would have happened in an American emergency room, I knew. This was different. This was Israel. This was Hadassah.
They wheeled me into the operating room, where there were four of us. An ultra-Orthodox OR nurse, an Arab anesthesiologist and a Russian surgeon. And me, of course, an American oleh. This, too, I thought to myself, is Israel at its best: haredi, Arab, Russian, American—a brand new society emerging.
"How much do you weigh?" the anesthesiologist asked me. I told him what I weighed, in pounds.
"I do not know anything about pounds," he said. "How many kilos do you weigh?"
"I don't know anything about kilos," I said. I wanted to say, "Why don't you just divide by 2.2," but being snarky to your anesthesiologist didn't seem like a terribly wise move. I was thinking of how to suggest that kindly when he said, "No worries. We'll just guess."
"Guess?" I wanted to scream, but the mask was already on my face, and the next thing I knew, I was waking up. I guess he guessed right. The surgery, of course, went fine.
The next morning, the second day of Rosh Hashana, one of the orderlies asked if I wanted to go to the synagogue downstairs for services. He offered to wheel my bed down, though ultimately it proved too complicated. Finally, he made it his mission to get someone to blow the shofar for me. He came back several times during the day until someone came to my ward to blow the shofar just for me. Israel, again. Hadassah, again.
It was on the second or third day that I was at Hadassah Hospital that one of the morning nurses came in to refill my IV and I could tell she was crying. I asked her if she was O.K.
"I'm the one who is supposed to ask you that!" she said. I pressed her, and she told me that a soldier at Joseph's Tomb had been shot and that the Army had not been able to evacuate him in time, so he subsequently bled to death.
"Did you know him?" I asked, still curious that she was crying.
"No," she said, "but they always bring those boys to our unit, and we always save them. I know we could have saved him, too." She adjusted my IV, wiped her face and walked on to the next patient.
I did not understand what she was talking about, to tell you the truth. At the time, I could not understand why there would be shooting at Joseph's Tomb, or who, for that matter, would be shooting at whom. When Rosh Hashana had begun, things were tense, but certainly not violent. Then, during the holiday, we were basically completely out of touch with the rest of the world.
What I didn't know then was that the second intifada had started. It would last for four terrible years, and Hadassah Hospital would play a central role in helping thousands of Israelis to heal.
Like my mother, I now have an "I will never forget where I was" moment. For me, it was the beginning of that horrible period, and I was at Hadassah Hospital.
I will never forget the winding road and the plentiful parking, but much more important, the nurse who cared about my ring, the mix of Russian, Arab and haredi professionals, the doctor who guessed my weight—correctly—and, perhaps most of all, the nurse who cried because they didn't get a chance to save one of the boys.
Right there, in a few days at Hadassah Hospital, was a microcosm of the very best that Israel can be.
Here's wishing Hadassah another grand century, and more.
Daniel Gordis is senior vice president and Koret distinguished fellow at the Shalem Center in Jerusalem. His latest book is The Promise of Israel: Why Its Seemingly Greatest Weakness Is Actually Its Greatest Strength (Wiley).