Family Matters: Members with Seniority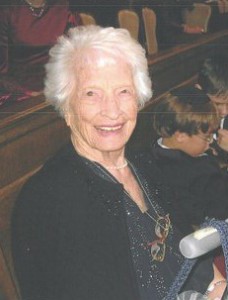 At age 14, Frieda Cooper was drafted to the role of secretary at her mother's Zionist meetings in Boston. She dutifully attended every gathering to take notes, "because," she recalls, "at that time, most of the women in the group could not write in English." That was 1924.
Things have certainly changed since then, when women gathered in living rooms across the United States in grass-roots efforts to create a Jewish state and lend support and raise funds for the beleaguered Jewish residents of what was then Palestine. Hadassah was only 12 years old.
Cooper, at 102, is one of a few dozen Hadassah members who have been alive since before the founding of the Women's Zionist Organization of America, which celebrates its 100th birthday this year. Though these women come from different backgrounds—some are American born, others arrived in the United States as children; some live in large cities, others in small towns—they are united in their lifelong passion for the State of Israel and their memories of its milestones.
Belle Roberts was born in 1911 in Cleveland when fellow Ohioan William Taft was in the White House. "We never used the word 'Zionist,'" explains Roberts, who later moved to Atlanta, "but it always meant a great deal to my family." She vividly remembers the creation of the State of Israel in 1948. "We were all so concerned. We just couldn't believe it."
Memories of the establishment of the state are indelibly stamped on the minds of these centenarians, as though it occurred yesterday rather than over 64 years ago. "When Israel started, I can picture the day," Cooper says. "Oh, how excited we were. I was crying."
Cooper was 11 when her father sent tickets to bring her family from Poland to the United States. She describes, in her still noticeable Boston accent, how he included tickets for a niece and nephew as well. "My cousins exchanged the tickets and went to [Palestine] instead," she says. "My older sister and brother later offered for them to come to the United States to visit but they did not care to come. They loved Israel. They would not leave, even for a visit."
Her cousins' choice made a big impression on young Cooper, and from that time on she worked tirelessly for various Zionist organizations. She recollects that during Israel's wars, groups went door-to-door in Boston to raise money. They sent hundreds of thousands of dollars to the Jewish state.
Cooper now lives in Memphis, Tennessee, with her daughter and son-in-law, Barbara and Rabbi David Radinsky. "I have been to Israel twice," Cooper says, as her daughter pulls out albums with pictures from one of the trips. "We toured from one end of the country to the other. When we got off the plane everyone was crying. It was unbelievable. It is a beautiful country."
Arguably the best-traveled Hadassah member is Ruth Gruber, who is celebrating her 101st birthday in September. As an American journalist, acclaimed photographer, writer, humanitarian, former United States government official and, at the age of 20, one of the youngest women ever to receive a Ph.D., Gruber has visited Israel more than 45 times. Most of those trips were for assignments to cover both war and peacetime events for the New York Post and the Herald Tribune. On those visits, Gruber personally witnessed many historic events unfold and saw firsthand Hadassah doctors and nurses working to save lives, especially during times of conflict.
Gruber, a lifelong New Yorker, has written nearly two dozen books; one of them, Raquela: A Woman of Israel
 (Open Road Media), is a biography of a Hadassah nurse who lived during the early days of statehood. "I spent nearly a year with Raquela Prywes," Gruber notes. "She was a beautiful Hadassah nurse who delivered babies in war and peace." Raquela won the 1979 National Jewish Book Award for best book on Israel.
Gruber became a Hadassah member in the 1930s. "I joined Hadassah many, many years ago, when one of their members asked me to give a lecture," she recalls. "I was so impressed with the women in the audience and with learning what Hadassah does in Israel that I joined immediately and soon became a life member."
For years, Gruber wrote a popular column for Hadassah Magazine entitled "Diary of an American Housewife." She is still an active member of the editorial board of Hadassah Magazine.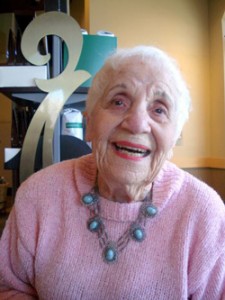 Evelyn Bersh notes that she "only" joined Hadassah—as a semiretiree—when she moved from South Orange, New Jersey, to Tucson, Arizona. Never mind that that was over 40 years ago, in 1971.
"Some of my friends belonged," she notes. "I felt that I could learn from being a member." Bersh, 101, stresses that although she was interested in the social connections offered at Hadassah groups and events, "learning was the primary thing for me. I was always impressed with the women in Hadassah, with their level of knowledge."
With her experience as a volunteer for an advocacy group in New Jersey, Bersh also felt that she could use her leadership skills to help Hadassah. "I worked hard and became a leader in the chapter, and eventually got involved in the Southwestern Region as well," she says.
Bersh now resides in an assisted-living community located close to her daughter, Linda Tumarkin. Tumarkin adds that her mother is very proud of her work with Hadassah and has always been a strong advocate for Israel. "The fact that she was able to visit there means a lot to her," says Tumarkin.
Roberts has also traveled to the Jewish state "three or four times," she says, and has visited Hadassah Hospital. She joined Hadassah in 1991 when she moved to Palm Beach, Florida, from Atlanta. "I guess you could say I was lax in not joining earlier," she muses. "I always thought it was a wonderful group. Now, my daughter is involved in Hadassah, and she recently gave life memberships to my two teenaged great-granddaughters in Maryland. It has become a family thing."
Hadassah has been a "family thing" for generations of women. "My mother was a life member, my daughter is a life member," says Anne Kodicek, 102, proudly. "And my husband was a Hadassah Associate, of course."
Kodicek herself has been a life member since 1941, and she remembers exactly what brought her to Hadassah. "A friend had a luncheon and invited a few women," she explains. "After lunch, she started talking about Hadassah and asked us to join. We were not told why she was having the luncheon beforehand."
Kodicek, whose life has taken her from the legendary Orchard Street on New York's Lower East Side to Hammond, Indiana, and then to Delray Beach, Florida, where she now lives, has held numerous positions in the various Hadassah chapters to which she belonged.
"I was very active from the first day," adds Kodicek, who takes pride in the many Hadassah pins she has collected over the years, in particular a filigree pin from the 1940s. She recalls synagogue luncheons and one role model in her community, Leah Weiner, who inspired her and other women in the chapter to embrace Hadassah's mission. In memory of her parents, Kodicek dedicated a plaque near the famed Chagall windows in the Abbell Synagogue at Hadassah Hospital in Ein Kerem.
At 107 years old, Edith Linkon isn't sure of the exact year when she joined Hadassah, though she knows it was in Benton, Indiana. In small-town Indiana, where there was not even a synagogue, traveling to nearby, larger Benton and connecting with other Jewish women through Hadassah was crucial to her Jewish experience.
Linkon sounds apologetic that she is not able to attend meetings anymore—"Now that I am getting old," she says, without a trace of irony. She lives in the Jewish Home for the Aged in Memphis, where her granddaughter, Sue Ann Lipsey—herself a grandmother—visits several times a week.
Linkon recalls giving money religiously to the Jewish National Fund. "I always put money in my blue box every Friday," she says. "We put money in there to keep [Israel] going."
These women not only remember the passionate Zionism of their younger years, but still speak with ardency about Israel today. They have a true appreciation of the Jewish state—something many younger Americans take for granted: They were alive during a time when the very idea of a country for Jews was radical and when the creation of a Jewish state was truly a matter of life and death.
"It is important to support Israel," says Linkon adamantly. "I was there. I visited and loved it and still give my money." She feels that having a Jewish country "finally made us real Jews."
Cooper talks of "how strong [Jewish] love for Israel was and is and always will be." Why? Simply because "it makes people think it is important for us to be, to have our own country," she explains. "Israel started with nothing—now it has so much and gives so much to the world. Some people [before 1948] did not want to admit they were Jews. When Israel became a state, they changed their minds and told people."
"Our life would not be worth anything if it was not for Israel," declares Kodicek, who has visited the country six times. "We had no place to call our own. That is why we worked night and day in Hadassah. You have no idea how many hours we spent working to establish the State of Israel."