Letter from Mount of Olives: Keeping a Promise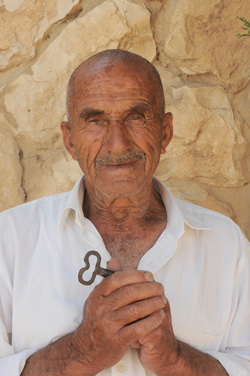 Abed Sayd was an apprentice gravedigger in 1941 when Henrietta Szold came to pick out her final resting place.
"I was a boy, but I knew that she was the woman who built Hadassah Hospital," said Sayd, 86. Seventy-one years after first meeting Miss Szold, as everyone called her, he is tanned and muscular, though slightly bent, sitting on a stone terrace on the Mount of Olives, waiting for a family that needs his help finding a grave. "She said she wanted to be buried here on the Mount of Olives across from Old City so that when the Messiah came she would be the first to get up from her grave. She asked me to take care of her grave after she died. I said to her, 'Maybe I'll die first.'"
Life felt precarious to Sayd back then, even though he was a healthy youngster. After all, he had grown up around burials—and his older brother, Hussein, had died at 17.
The Sayd family had become gravediggers by chance. Sayd's grandfather Hussein Sayd was working as a handyman in the Old City for the Parnases, a family of Jewish undertakers. They needed help in the cemetery and offered him the job of groundskeeper and cemetery worker. He began working in the Sephardic Burial Society plots in the lower mountain. In 1939, Abed's father, Muhammed, was placed in charge of the upper hill, bought the year earlier from a French girls' school to expand the cemetery. Muhammed chose Abed and his older brother to succeed him.
Abed didn't have much say in it: "My father's word was holy. I did whatever he said."
Likewise, he was only 15 when his mother insisted he marry his brother's widow, their 18-year-old cousin, Safia. He did, even though the genetic pairing had already produced a daughter who was deaf and mentally challenged. They had six children together, one with the same genetic problems as his brother's child. Safia died this past April.
When the Sayds took charge of the upper cemetery, they moved to a house on the property. In the days when phones were scarce, burials sometimes arrived unannounced and, he explained, "it was important to be within shouting distance."
The caretaker never went to school—and his father spoke only Arabic—but Sayd, a Muslim, speaks Arabic, Hebrew, English, some German and "a bissel Yiddish," he said, acquired from interacting with clients. That is why his father wanted him to take care of Miss Szold. He learned to read Hebrew from the headstones.
"I can only read print style [not cursive]," Sayd said. His Arabic reading is at the same level.
Near the spot on the hill where Henrietta Szold picked out her grave, a patch of rosemary grew by the tombstone of a person named Wilf. Sayd recalled how Szold bent down and picked a few leaves of the green plant, inhaled, and said, "I like this. Please plant it near my grave."
Sayd visited Szold in her office in the Russian Compound to complete the transaction. "She spoke nicely and gave me a glass of tea," he said. "I pledged to take care of the grave."
Four years later, on Tuesday, February 13, 1945, Henrietta Szold died of cancer in her room in the nursing school on Mount Scopus. "I was sad," said Sayd, "she was such a nice lady." He remembered his pledge.
The day was freezing when he took a horse and wagon to the Castel, a hillside west of Jerusalem, to bring back a large block of dolomitic limestone for the tombstone. Snow had started falling, the ground was wet, cold and hard—but as he had promised, Sayd dug the grave.
Thousands of people came to the funeral. Zionist leader Chaim Weizmann and Judah L. Magnes, president of Hebrew University of Jerusalem, helped carry Szold's coffin. Youth Aliyah children wept for "our mother," the woman who took the place of their real mothers who had been murdered by the Nazis. "The [children] cleared the way themselves to get through the snow," Sayd said.
After the snow melted, he planted rosemary around the grave.
Following the War of Independence, the Mount of Olives fell under Jordanian control. Despite promises to respect the cemetery, by the end of 1949 and throughout the Jordanian occupation of the site, residents uprooted tombstones and plowed the land in the cemetery. An estimated 38,000 tombstones were damaged. The Jordanians paved four roads through the cemeteries. The Intercontinental Hotel was built on the summit of the Mount of Olives. "I couldn't confront the Jordanian soldiers [over their treatment of the cemetery]," said Sayd. "They're not democratic like the Israelis."
There was no more burial in the 3,000-year-old Jewish cemetery. During this period, Sayd was employed repairing vehicles in Amman, returning to Jerusalem every few weeks to his family.
After the Six-Day War and Jerusalem's reunification, Sayd set out by truck to find Henrietta Szold's grave. He recognized the stone he had brought by horse and wagon on that cold February day—it had been thrown by the side of the road near Ma'ale Adumim—and brought it back.
Szold's remains were transferred along with 25 others to a nearby common grave.
Sayd erected the stone and replanted rosemary. Today, the plant is flourishing, surrounding the grave like a green horseshoe. Ceremonies are held at her grave. (Cemeteries in Israel are open all the time, but it could be hard identifying a particular grave unless a guide finds it for you.) Sayd likes to break off fragrant branches to give Hadassah visitors to take home—"bringing a little of Miss Szold's spirit back with them," he explained.
His cell phone rings often. Some people want to purchase plots; others want help finding graves in the labyrinth of stone. Still others just want company. "Some people are afraid of cemeteries," Sayd said. "Not me. I'm afraid of the living."
He doesn't need a map, nor does he write down appointments: "I keep it all in my head."
Sayd sold the house that abutted the cemetery and lives nearby with his family on the Mount of Olives. He drives a bright red vintage Volkswagen Beetle back and forth, parking near the Mount of Olives' scenic overlook where a camel driver offers tourists poses on his camel, named Barbara. Sayd's son and one grandson are already working in the municipal cemetery in Givat Shaul to learn the business.
Sayd laughed at the word "retire."
"I'm 86," he pointed out. "I could have retired 20 years ago. I'll take care of Miss Szold's grave until I die, and then my son will take over and then my grandson.
"A pledge is a pledge."