Yiddish in the Holy Land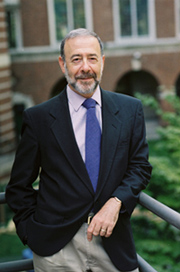 Ortal Eyali is studying Yiddish in the Negev. One of 86 students enrolled in Yiddish language and literature classes at Israel's Ben-Gurion University, Eyali's linguistic interest is fueled by her desire to explore her Eastern European heritage: Her grandparents made aliya from Poland and Austria before the Holocaust.
It's been just two years since BGU opened its Center for Yiddish Studies to maintain the legacy of Yiddish culture, as well as to encourage the study of its literature and language. The center's goal is to become the organized anchor of Yiddish studies, where academic development, research and discussion on a global scale can flourish for future generations of scholars. The carpeted, fully furnished Hadar Idish (Yiddish Room) serves as a combination classroom and research library of 2,500 volumes in Yiddish, Hebrew and English. Wall hangings with Yiddish phrases—Mame loshn (mother tongue), Ikh bin a Yid (I am a Jew) and Iberlebn (to survive)—were created by BGU professor and artist Haim Maor (they are on extended loan).
"We're building something from scratch," says David Roskies, a scholar of Yiddish language and literature from the Jewish Theological Seminary in New York, who heads the center and is taught three courses in Yiddish literature in the spring semester. BGU is home to the largest Hebrew literature department in Israel (also of Ladino culture), so the inclusion of Yiddish fits its mission.
"It's important to preserve the language because it's a way to preserve the culture," says Eyali, a 24-year-old undergraduate who grew up on Kibbutz Ein Hanativ in the Galilee and is majoring in art and Yiddish culture and language at BGU. "I want to research and translate documents from the period of the Holocaust."
Though Eyali is currently the only Yiddish-studies major, both undergraduate and graduate students from many other disciplines can take Yiddish courses that may fulfill their humanities requirements. Roskies was floored when enrollment in his "panorama" class on Sholem Aleichem reached 84 in the program's first year and soared to 104 last year (the class was cut this year due to budgetary reasons). "In what other country in the world can you fill a humanities requirement by taking a course in Sholem Aleichem?" he asks. "It's tremendously challenging and exciting when I can teach Yiddish literature to engineering students."
"There has to be a personal drive, since Yiddish is not a conventional area of study," says Hannah Pollin-Galay, BGU's Yiddish-language instructor. "Many students feel they are taking skeletons out of the closet." The Yiddish program taps into Beersheba's large population of students from the former Soviet Union, says Pollin-Galay, noting that several doctoral computer science students from the FSU are in her classes. "They have nothing to gain in terms of grades. They have a complete fascination to learn and to come to events. Yiddish is something their grandparents spoke, and they are curious about that world." But their families don't encourage them to go into the humanities, guiding them instead to more practical professions that will earn them a living. "It's hard for the students to get involved," says Pollin-Galay.
"I don't have any firm reason for studying Yiddish and my family is not enthusiastic about this," says Michael Dymshits, 27, a Russian-born graduate student in electrooptics engineering, specializing in probabilistic models and statistics. "But I found it interesting. Maybe Yiddish studies connect me to some roots and I can feel the atmosphere of my grandparents' life. They passed away before I was born."
"No one in my family speaks Yiddish," says Irena Lavi, a 30-year-old Russian-born graduate student in the Department of Linguistics and Foreign Literature. Lavi's family, originally from Ovruch (Ghitomer), made aliya in 2003. "My mother told me a lot of stories [that my grandmother told her] about Jews and Jewish life before World War II," says Lavi. "My grandfather used to play the violin at Jewish weddings. At some point I decided that I wanted to learn more about Jewish life of that period, and I discovered that Yiddish was an inseparable part of that." In Pollin-Galay's class, she has gained knowledge of Yiddish literature, movies and songs; her 6-year-old son, Daniel, already loves to sing "Az Der Rebbe Tanzt" (when the rebbe dances).
The Israeli attitude toward Yiddish has evolved, says Roskies. During the period of nation-building, Hebrew was in fierce competition with Yiddish. The Six-Day and Yom Kippur wars were "messianic and catastrophic events that shook everything up and provoked the attitude that maybe being Israeli doesn't inoculate against the past," he explains. "Israelis began to look at their lost heritage in anguish and longing. Yiddish theater and comedy began coming into vogue. People began looking for their roots, their severed Ashkenazic past." The younger generation, he says, approaches Yiddish with a clean slate. "Yiddish is exotic. They catch the Yiddish bug and want to learn about their undiscovered past." But Israeli students have had to go to Yiddish programs abroad to study—to New York, Berkeley, Michigan, Paris, Strasbourg, Vilnius. "We would like to harness some of that energy and bring it to Israel."
"Yiddish culture is a treasure with intrinsic value; it's essential for understanding our past and important for understanding Israeli and Jewish culture today," says Moshe Justman, dean of the Faculty of Humanities and Social Sciences. "For Yiddish, it's the eleventh hour. Every year we postpone preserving this culture, we lose something."
Training a native-born generation of Yiddish speakers to replace the older generation of scholars is critical, says Roskies. A new joint masters program in Yiddish literature between BGU, Tel-Aviv University and  Hebrew University of Jerusalem might hasten that development. A $2-million grant from Yad Hanadiv (the Rothschild foundation), is allowing the universities to pool their resources, draw international students and support endangered languages, beginning with African studies. The Yiddish program begins next year. "Yad Hanadiv is creating a solution to the implosion of the humanities in Israel in the past 20 years," says Roskies. "All the money has gone into the sciences. Language programs and humanities departments all over the country have merged and closed down. It's a state of crisis." Hebrew University's Yiddish department has been reconstituted because of the grant. "This is a way of leveraging a little money to go a long way."
Pollin-Galay has just two hours a week to convince her students that Yiddish is a worthwhile area of study. The sampler class, "Yiddish Language and Culture for Beginners," offers a taste of the language, an invitation that piques interest without requiring a commitment to long-term study. Students in a recent class explored the Israeli media's attitude toward Yiddish by dissecting a commercial for flavored pretzels that uses Yiddish and Yiddish-inflected Hebrew. Set in a Polish bakery in 1880, it pokes fun at the idea of traditional Ashkenazic food having any spice. "They dug deep and asked, 'Why do we want this in Israel today? Is this right? What's the future of Yiddish?' They showed an investment in the language," says Pollin-Galay. Public events—one each semester—have included two Yiddish film evenings and an event featuring Ghil'ad Zukerman, an Israeli-born linguist who examines the connection between modern Hebrew and Yiddish.
Pollin-Galay, who grew up in Massachusetts, majored in Yiddish studies at Columbia University in New York and is currently working toward her doctorate in history using Yiddish sources, says that she herself began studying Yiddish without knowing it would become her focus. She acknowledges that "it's a long road ahead to make Yiddish into a respected academic subject…but it can happen here."
"We would like to send the message that Israel is where Yiddish studies are taken seriously," says Roskies. "There are amazing resources here."