Brief Reviews: Horrors, on Screen and in Life
FILMS
The Other Son
French director Lorraine Lévy's movie may contain heartache, as two sets of parents—one Jewish, the other Palestinian—learn that their sons were switched soon after birth. It is also optimistic and humorous, leaving us wondering if the Palestinian-Israeli struggle might not be better solved by two well-bred 18-year-olds struggling to forge new relationships. We cheer for Joseph and Yassin as they try to figure out their identity in a divided society. Cohen Media Group (https://cohenmedia.net). —Zelda Shluker
The Possession
Coproduced by horrormeister Sam Raimi, the film is based on a 2004 news story about a mysterious box whose owners are beset by calamities. The latest victim is a young gentile girl, and it takes all the strength of a Hasidic rabbi (reggae singer Matisyahu) to exorcise the dybbuk. Not as graphic as The Exorcist, but it is still not recommended for impressionable viewers of all ages. Lionsgate/Ghosthouse Pictures (www.lionsgatepublicity.com). —Tom Tugend
The Farhud
This historical documentary details the brutal anti-Jewish riots in Baghdad in 1941, when the grand mufti of Jerusalem was tying pan-Arab nationalism to Nazism and Iraqis were sending squads of youngsters to Germany to study with the Hitler Youth. The film combines a mini-Israeli history lesson with still footage and interviews with survivors to tell a chilling tale of hate gone wild while the British and Iraqi police stood by and watched. Babylonian Jewry Heritage Center (www.babylonianjewry.org.il). —Judith Gelman Myers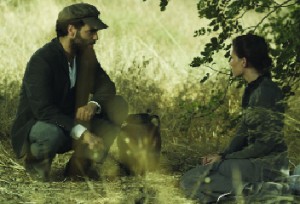 Gei Oni
In different hands, a film about Eastern European Jews immigrating to Palestine at the end of the 19th century to build a Jewish nation could have ended up as the kind of aren't-we-terrific Zionist film the industry made in the '50s. But Dan Wolman's consummate skill as a director of personal stories, as well as a breathtaking performance by newcomer Tamar Alkan as the young immigrant mother, transforms Gei Oni (Valley of Strength) into a heart-stopping, award-winning love story (right; www.geioni.com).  —J.G.M.
It Is No Dream: The Life of Theodor Herzl
This documentary hits every high and low point and everything in between in the epic struggle of the assimilated Jew, lawyer, playwright and journalist who becomes the unlikely father of modern Zionism. Directed and cowritten by Richard Trank (with Rabbi Marvin Hier), the film is marked by meticulous research. Moriah Films (www.moriahfilms.com). —T.T.

EXHIBITS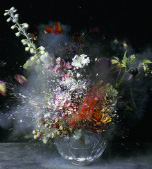 Ori Gersht: History Repeating
The Israeli-born photographer's first comprehensive retrospective uses the latest technology to illuminate history and memory. His poetic and painterly photographs are visually and emotionally compelling. A dual-channel video, Will You Dance for Me, tells the story of Auschwitz survivor Yehudith Aron, a modern dancer. The Forest, a tranquil landscape, recalls Kosov, Poland, in 1940, where 2,000 Jews were murdered and buried in a mass grave. Olive trees, which thrive for centuries, and cypress trees, symbolizing endurance and commemorate fallen Israeli soldiers, are recurring themes. Through January 6, 2013, at Museum of Fine Arts, Boston (www.mfa.org). —Shirley B. Moskow
Microcosms: Ruth Abrams
Ruth Abrams, scion of the largely male Abstract Expressionist movement, gets the recognition she lacked during her lifetime in this retrospective. In Memory of My Mother (1947), a giant swirl of colors gives way to the details of a face; more conceptual pieces tug at the tension between Abstraction and Figuration, juxtaposing Abstract elements with conventional feminine shapes. The controversial hallmark of her career was "Microcosms": Comprised of 2-by-3-inch pieces of canvas, the series plays on the idea of human perspective in an immense universe. Through January 6 at Yeshiva University Museum in New York (www.yumuseum.org). —Ray Katz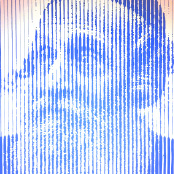 No Paint, No Ink, Only Paper: The Papercut Art of Craig Tinsky
Craig Tinsky uses archival paper of different weights, hand-cut with a surgical blade and the occasional use of glue, to make papercuts that are so realistic they can be mistaken for photographs. The show features 50 pieces of varying sizes, grouped thematically: portraits—one of a rabbi—geometric designs and nature in the form of birds, insects and flowers. From October 21 through November 18 at the Jewish Community Center of Greater Washington, D.C. (www.jccgw.org). —Barbara Pash
Crossing Borders: Manuscripts From the Bodleian Libraries
Hebrew prayer books, the Tanakh—we think of these as solely in the province of Jewish culture. The more than 60 manuscripts, both Christian and Jewish, taken from a medieval treasure trove at Oxford University's Bodleian Libraries, overturn that assumption.
The exhibit highlights the structure and illustrations of the manuscripts, many of them never before seen in the United States, pointing out the cross-fertilization of Jewish, Christian and Muslim cultures. Even the codex—or book form—of many Jewish texts, a change from the scroll, was eventually adopted from Christianity.
The illuminations and illustrations are eye-opening. For example, a page from the halakhic text Even ha-Ezer from Italy includes the Tuscan Hills in the background and God rendered as a man—and was likely the work of a Christian artist. Christian and Muslim motifs decorate the magnificent Kennicott Bible, the most lavishly illustrated Bible to survive medieval Spain. Considered one of the great masterpieces of the era, it alone is worth the visit. Through February 3 at The Jewish Museum in New York (www.thejewishmuseum.org). —Leah F. Finkelshteyn
RECORDING

Eternal Echoes: Songs & Dances for the Soul

Ten tracks by world-class violinist Itzhak Perlman and Cantor Yitzchak Meir Helgot distill music that is heartfelt, inspiring and spiritual. There is holiday liturgy ("T'filas Tal" and "Kol Nidrei"), niggun ("Shoyfer Shel Moshiakh") and joy ("Sheyibone Bays Hamikdosh"). Produced by David Lai and Hankus Netsky (www.sonymasterworks.com). —Z.S.
Web Sighting
While Jewish film festivals bring periodic showings of Israeli movies to American Jews, one site caters to those who crave a year-round film fix. The JCC in Manhattan's Israel Film Center, www.israelfilmcenter.org, is more than an Israel-focused IMDb, showing clips, summaries and other information from a vast database. The site has added a fee-based streaming service, at www.israelfilmcenterstream.org, with over 40 Israeli films (more are constantly added) from classics such as Sallah Shabati to award-winners like Time of Favor by Joseph Cedar. —L.F.F.