Family Matters: The Art of Being Jewish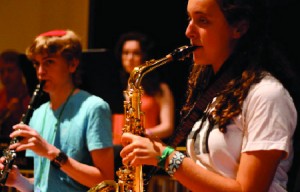 From the age of 4 through high school, Kayleigh Renard attended St. Mary's Episcopal School in Memphis, Tennessee. A passionate trumpet player, she blew breath into Christmas tunes at holiday concerts. "I sang in shul," says Renard, "but I never felt music and Judaism were connected."
Her two worlds suddenly intersected as an instrumental music major in 2008 at BIMA, an immersive summer arts program at Brandeis University in Boston. "We had discussions about how we were Jewish artists and musicians, and not just Jews who play music," says Renard, 21, whose family slowly became observant, joining an Orthodox synagogue by her bat mitzva. Renard stayed at St. Mary's for its familiarity and high level of education. "BIMA helped me see the crossover between two things that had never come into contact with each other," she says. Being empowered to mesh the separate strands of her identity in a community of 100 like-minded Jewish teens, Renard says, strengthened her love for Judaism as well as her art. A sociology major today, she is active in the Brandeis Orthodox Organization (a branch of Hillel) and still plays trumpet in a wind ensemble.
Arts programs across the country are engaging adolescents and teenagers in music, dance, theater, writing and visual arts set within a Jewish framework. The symbiotic relationship they create between the arts and Judaism allows art to enrich www.avodaarts.orgJudaism and Judaism to inspire art. Programs can last from several weeks to years and a number are based in open-minded Jewish communities. Others explore Judaism through a hands-on project in a more time-limited context.
"This is the age teens are discovering who they are," says Rachel Happel, BIMA director. "The arts are a great outlet for them to find their voices, so we focus on creating original works."
"To teenagers—and everybody else—there are things that are inaccessible, that seem alien, foreign or irrelevant," says Noah Greenberg, an artist, educator and founder of the Kesher-Tefillin project, www.kesher-tefillin.com, in which he guides adolescents to craft their own tefilin. "An artistic approach can often provide access physically, spiritually or mentally."
"When students engage with the arts, they feel inspired, they feel competent and they tap into their imaginative Jewish selves," says Debbie Krivoy, director of Avoda Arts, www.avodaarts.org, an organization that offers a creative understanding of Judaism. The nurturing and challenging aspects of the arts "yield deep learning" and help teens express themselves, she says. Founded in 1999, Avoda has grown into a nationally recognized source for educational consulting services, professional development resources and curriculum materials.
A study of Jewish teens in 2000 by the Cohen Center for Modern Jewish Studies at Brandeis confirmed that Jewish involvement declines steadily after age 13. It stressed the importance of finding entry points into teens' social networks, providing a sense of personal reward and creating "possibilities for treating adolescents more like adults." The arts do all those, says Krivoy, citing an additional study from 2003 by Harris Interactive showing that 79 percent of students between the ages of 8 to 18 said their favorite activities involved the arts, and 7 in 10 said that art, music, dance and theater make the world a better place to live.
It is tricky to measure changes in identity, especially in a program as young as the nine-year-old BIMA, www.brandeis.edu/highschool. Alumni may still be in high school; if they are in college or recent graduates, they often major in their art specialty and are active in Jewish life on campus. "Identity growth is subtle," says Happel. "It's not like they come doing nothing Jewishly and leave celebrating Shabbat. But they begin to think about why they do what they do. Those less affiliated leave with more interest. Those more connected from camp, day school or home meet people who live Jewish lives different than theirs."
BIMA participants spend 25 hours a week in their major—music, dance, visual or performing arts, creative writing—examine Jewish themes in an experiential setting and create a Shabbat together. "This may be the first time they are involved in shaping a community," says Happel. "They ask, 'Who do I want to be in that context?'"
"Meeting other Jewish teens from diverse backgrounds forced me to question where my Jewish identity is strong or weak," says Amram Altzman, a BIMA creative writing major last year and now a senior at Ramaz, an Orthodox day school in New York. "Seeing how others related to Judaism strengthened [my beliefs]."
HaZamir, a transdenominational international Jewish high school choir with 21 chapters in the United States and Israel, has been fostering the connection between music and Judaism for 19 years. From biblical texts set to music by Italian Renaissance composer Salamone Rossi to Israeli pioneer songs and prayers for healing, the music forges profound bonds. "We have differences," says Matthew Kritz, 17, who sang in Baltimore HaZamir, "but when we focus on the same notes and the same ideas and the things that matter to us in our Jewish lives, we become unified."
For Zoe Grossman, 18, a Hazamir Bergen County alumna, music is "a gateway to connecting to God. We take ancient texts and make them spiritual. When we sing Tefilah Lishlom Medinat Yisrael [Prayer for the State of Israel] we are praying for the safety of our friends in HaZamir Israel. They are going into the Army." Grossman comes from a musical family (her grandfather is a cantor) and has a Conservative background: She graduated from Abraham Joshua Heschel High School in New York and spent this past year in Israel before going on to Brandeis.
"Without Jewish music and Jewish choral music I don't know who I would be," says Aryeh Nussbaum Cohen, 18, who sang in HaZamir New York for five years. "With it, I'm a singer, a Jew, a spiritual person." Nussbaum Cohen wrote a college application essay on what music and HaZamir mean to him. He is now a sophomore at Princeton and envisions a cantorial, rabbinic or political career. Nussbaum Cohen says he had an "epiphany" before his bar mitzva that caused him to start wearing kippa and tzitzit, "much because of what I saw in Jewish music as being essential to the core of who I am."
In fact, the HaZamir Web site, www.zamirfdn.org, states exactly that—participating in the program "helps reach an emotional core in young people" and "lays an important foundation for continuing Jewish values later in life." According to a recent study commissioned by the Zamir Choral Foundation, its parent organization, many alumni return to their chapters as volunteers, go on to form a capella groups, sing in adult choirs, make lifelong friendships, assume leadership roles in college Hillels as well as other Jewish communal organizations.
Lara Torgovnik, who conducted HaZamir Westchester for three years, identifies strongly with the experiences of her singers. "When I was young I had to choose between being a musician or an active Jew," says Torgovnik, 23, who grew up in Forest Hills, New York. "I went to music school where classes took place on Saturday. I couldn't have my bat mitzva at our local synagogue because I would have had to quit music school to fulfill the Junior Congregation attendance." As a freshman voice major at New York University, she was required to sing Requiem Masses. It was not until she joined Zamir, the adult choir, that she learned that music did not preclude Judaism; in fact, music could express it.
The conductors, instructors and founders of arts programs serve as role models. Whether they are young and hip like Torgovnik, or older, masterful musicians like jazz saxophonist, rabbi and BIMA instructor Greg Wall, all dispel the stereotype of Jewish arts as dull or uninspired. "The kids realize that their conductors are a further evolution of who they are starting to be," says HaZamir director Vivian Lazar.
Kesher-Tefillin's Greenberg, an Orthodox transplant from California who now lives and works in Israel in the artist colony of Safed, creates an instant rapport with audiences when he introduces his masterpiece—the Tree of Life Shtender, a prayer and study lectern that opens to reveal Jewish ritual objects that span the year; he spent 18 years crafting it with artist David Moss. At Jewish camps, schools and synagogues that he visits across the United States and in Israel, Greenberg spends 15 hours with students (usually bar- and bat-mitzva age), guiding them through the rabbinically approved, innovative, origami-like technique he invented for making tefilin. The project addresses values like responsibility, devotion, holiness, continuity and identity. "They walk away not only with something tangibly precious—the tefilin itself—but also the ownership of this mitzva," says Greenberg, noting that the commitment of time and effort contrasts with the instant gratification of the digital world in which teens are immersed.
Greenberg calls the bond he creates with teens the "genuinity" factor. "I live what I teach," he says. While they are crafting their tefilin, Greenberg entertains and discusses a vast spectrum of issues that pertain to every aspect of Jewish life. "Because their hands are busy and they are really challenged, their guards are down and we can talk about anything," says Greenberg. Each step in the process of making the tefilin is meticulously prescribed. Participants do not really need artistic talent, but, he says, the creativity is in "how the kids are digesting what we are presenting to them. Creativity can be how you put the paint on the canvas or what's going on in your mind."
Annie Cannon, 13, is contemplating using the tefilin she made at Camp Ramah. "The fact that I was able to make my own tefilin made me think how special it would be if I was able to wear them," says Cannon, a recent bat mitzva who had previously decided against using them. "It was amazing to actually touch the parts you have to put together to make something as holy as tefilin. I put my own work into it and made it with my own hands. It's by far one of the coolest things I've ever done." In sharing the same difficulties with her peers, "it felt like we had a community. We were all there for the same reason: It meant something to us."
"Visual language is one of most powerful ways to learn," agrees artist Tobi Kahn, Avoda's cofounder. "When people make their own ceremonial objects they use them more. It's transformational." Objects of the Spirit, one of Avoda's programs, grew out of Kahn's traveling exhibition of ceremonial art, and engages students in investigating Jewish practice as they create their own ceremonial objects and discuss the role of ritual in their lives.
Many of the founders of these programs have themselves been inspired by the arts. Lorraine Arcus is a dance educator and founder of Tzamarot, the Israeli dance high school troupe hosted by Temple Israel of Albany, New York. She notes how important Israeli dance had been to her in her teen years, and she "wanted to keep it going for the next generations." Now, every religious school in the region has an Israeli dance program. "Kids from all over the community—secular to Orthodox—meet each other through Israeli dance," says Arcus, who recently retired after 36 years (the dance program will continue). The performances, which have taken place at dance festivals from New York to Boston, are polished, embellished by fabulous costumes.
Arcus has trained a cadre of teens to lead Israeli dance programs for younger children, and hosts an Israeli folk dance in education workshop created by dance educator Ruth Goodman. A level playing field is crucial, she says. "I don't have tryouts and I work with whatever skills the kids have. Every Jewish child should be exposed to Israeli dance…. It brings kids together in a healthy, constructive activity." Often, she says, "this is the only Jewish thing some kids do." Many alumni travel to Israel and even choose colleges based on their access to dance.
The impact of the arts can be both dramatic and gradual. Erica Goldman, 35, was not raised in a religious home, but Israeli dancing was a cultural activity she shared with her father. "It was a special bond between us," she says. "I did not really think about it in Jewish terms." At Brandeis, she joined the Israeli dance community and Beyachad, the Brandeis Israeli dance performing group, but did not find meaning in Jewish observance.
In 2004, Goldman, who was working at a software company in Boston, joined the staff at Camp Alonim, formerly the Brandeis-Bardin Institute, established by Shlomo Bardin in 1953 for teens to explore Judaism through the arts. (Alonim is now part of the American Jewish University, a merger of the University of Judaism and Brandeis-Bardin). "Shlomo Bardin said, 'First we touch, then we teach,'" says Goldman. Of all the arts at the 3,000-acre camp in Simi Valley, California, Israeli dance is the most popular. "It's the glue of the camp," he notes. "On Friday nights, after big, raucous song sessions, everyone dances together for hours." Six years ago, Goldman began teaching dance at the New Community Jewish High School in West Hills, California. In its 11th year, NCJHS translates Bardin's philosophy into a year-round academic curriculum.
"From a hobby and a cultural and physical way of connecting," Goldman notes, "my Jewish identity has become focused in a way I did not know before."
Though she still struggles with some religious beliefs, she says, "I love the learning and the value system and the other cultural parts of Judaism." Dance still draws her in more intensely than any other Jewish venue: "[Choreographer] Dani Dassa used to say he was doing Judaism through his metatarsals. For me, dance is not a means to an end. It's an end in itself." But, she concludes, "I see myself as more Jewish than I ever did. It's what I do. It's what I love. It's my life."
Rahel Musleah's Web site is www.rahelsjewishindia.com.