Art as Life in the Making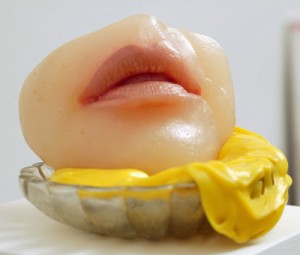 A provocative, audacious artist, a feminist before the word was widely known, a Holocaust survivor of three concentration camps, Alina Szapocznikow is the subject of her first major international show, "Alina Szapocznikow: Sculpture Undone, 1955–1972"—at the Museum of Modern Art in New York, no less, the citadel of the avant-garde, through January. 28, 2013. And her restless work, little known in the West, is as diverse, original and challenging as that of any top-ranked artist.
The Polish-born Szapocznikow (pronounced Chah-POCH-nik-off) died almost 40 years ago, at the age of 47, after enduring tuberculosis at 23 that left her infertile and breast cancer, to which she eventually succumbed. Her illnesses led her to make the human body the main subject of her art, as the body was for her the source of "all joy, pain and truth."
Based on her personal experiences of war and many years battling cancer, she created a visual language to reflect the changes going on in the human body. She introduced new materials like polyester to cast parts of her face and body and incorporated them into sometimes grotesque or sexually charged sculptures.
"My gesture is aimed at the human body," she wrote, "with its undefined and ephemeral feelings—celebrating its impermanence in the recesses of our body, in the traces of our steps taken on this earth. Through casts of a human body, I attempt to preserve in translucent polystyrene the ephemeral moments of life, its paradoxes and its absurdity."
Born to a Jewish intellectual family in Kalisz, Poland, she was only 12 when her father died of tuberculosis. She spent the years 1940-1942 with her mother in the Pabianice ghetto, from which they were transferred to the Lodz ghetto and then, via Auschwitz, to the camps in Bergen-Belsen and Theresienstadt. She survived thanks to her mother's work as a doctor; she served as her assistant.
After the war, she decided to study sculpture in Prague and then in Paris at the prestigious Ecole des Beaux Arts. The traumatic memory of war and the fragility of life permeated her thoughts and her art. Summoned by the Polish government and suffering from tuberculosis, she returned to Poland in 1951, where interest in her work grew rapidly. In 1962 she was selected with two others as Poland's representatives at the Venice Biennale. The next year she left for Paris, where she became part of an intellectual coterie of artists, writers and essayists. She also began exploring experimental material, such as polyurethane foam (an expandable material resembling lava that can be poured to create liquid forms) and casting parts of her body, incorporating the forms into her sculpture. Her tinted polyester resin casts of body parts, often transformed into everyday objects like ashtrays or lamps and her elaborately constructed sculptures, which used photographs, clothing or car parts, remain as resonant today as they did during their creation.
In a discussion of her work, shown in a film at the Museum of Modern Art, she appears self-effacing and modest. But she was emphatic when asked about the Holocaust. "I don't want to talk about it," she said. "I am embarrassed to belong to the same race as those who started the camps."
Some early work, like "Monument to a Burnt City," evoke the horrors of the Holocaust, and her 1957 sculpture, "Hand, Monument to the Heroes of the Warsaw Ghetto," is a fitting tribute. In "Souvenir I" from 1971, which features photographs embedded in waxy polyester resin, an image of the artist as a smiling young girl is juxtaposed with one of a concentration camp victim. Perhaps the most dramatic is "Exhumed," a truncated body with a haunting posture that evoke corpses recovered from mass graves.
Cornelia Butler, who organized the exhibition for the museum, called her work "intense and intimate," emphasizing the artist's "transformation and combination of tension and discontinuity that makes you think of what she was trying to do."
While there are some nude figures and explicit male and female organs in her work, nothing is salacious. The artist could also be witty. Breasts with shiny red and pink nipples are served as "Desserts" and fruit bowls. Her life was her art.