Commentary: Guess Who's Coming to Dinner
In the 1980s, in my late twenties, I was studying in a yeshiva for young women who had no religious education. Newly arrived in Israel, I was often invited to various homes for Shabbat meals.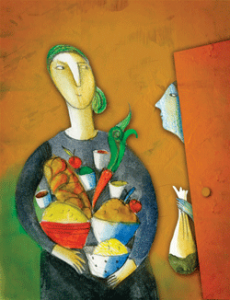 I was the same age as many of my hosts—even though they already had four or five children. They knew how to cook and serve and be gracious. I would eat an enormous quantity of food and just when I thought dessert would be served, they would bring out another course. Why were they being so nice?
In my parents' home, we had guests twice a year. Sally and David and their son, Tommy, would join us for Passover and Thanksgiving: For both holidays, my mother threw an enormous turkey in the oven and my grandmother made chicken soup. Sally brought a salad with bottled dressing.
To my surprise, in Israel I soon got engaged to a yeshiva student and was becoming religiously observant. Today, after 25 years of experience, I can host 20 people without flinching. I make soup stock and grill eggplant and roast peppers and garlic. I can prepare Moroccan fish and pesto and salsa verde and Chicken Marbella and homemade lime sorbet.
Yet I have not learned to be gracious. For example, one Shabbat last July, we had vegetarian guests. No big deal; I made extra side dishes.
A young blond woman wearing a flowing skirt arrived for dinner and handed me a package of sprouts. "They were going bad," she said. Her bald husband handed me a halla. It was so heavy—not to mention ugly and misshapen—it almost fell from my hands. "She's allergic to eggs," he explained.
As I seethed, my husband, good soul that he is, made a hamotzi on the rock-hard offering and passed it around to the 18 guests at the table.
Next, the woman pulled a small bowl out of her hemp bag: It was dark green and wormy looking. "This is so healthy for you," she said. I passed it around after sampling the bitter mix.
After the meal, we retired to the living room. The blond said, "I can't sit in this room. I can't sit in air conditioning."
"Is it too cold for you? I can bring you a wrap," I offered.
"No, it's not that," she said. "I don't believe in air conditioning."
Israel was going through a sharav, a desert heat wave, and she didn't believe in air conditioning.
"It makes a hole in the ozone layer."
The next day, when the couple came for lunch proffering another loaf of halla, I said, "We are not using that for the motzi."
This is my confession, but also an admonition. A host has a job, but so does the guest: not to ask for more than the host can provide. I would like to be more environmentally responsible, too, but I am thrilled to have air conditioning after living without it in the Israeli desert for 12 years.
I thought back to forefather Abraham, who invited three travelers to stop at his tent. He says, "And I will fetch a morsel of bread and sate your heart…"(Genesis 18:5), but makes a huge meal for them despite having just undergone a brit mila at age 99. Sarah helps cook the meal, but I can see her fuming: Why why why?
And yet, after that meal the 90-year-old Sarah is told that she will be blessed with a miracle—a baby boy.
I lost my patience because I had worked hard to prepare a beautiful meal and my guest did not appreciate it. Still, she gave me the opportunity to become like Abraham, to give without expectation of receiving.
Thanks for that, blondie. Next time, I won't let a guest unsettle me. I will be courteous (even when she is clueless). I will appreciate that she may be heaven sent.