Cut & Post: Being a (Cool) Jewish Woman
Fifty Shades of Grey (Vintage), the saucy smash hit romance novel by E.L. James, has taken hold of women's imaginations in Israel, too.
Labeled by some as "mom porn," the Hebrew version of the book—Hamishim Gvanim Shel Afor—was released early September and quickly sold out its 100,000 copies in its first month. It currently tops all the country's bestseller lists, which are based on sales by individual booksellers.
Already in its fifth reprint, publisher Yediot Books said the novel has sold well in all sectors of Israeli society and that it was not changed or adapted in any way to suit the local audience.
Interestingly, the main character's name in Hebrew is still "Christian Grey" and not Afor (grey)—so the double meaning in the English title no longer exists.
Dov Eichenwald, director of Yediot Books, said in a recent television interview that he is not surprised by the book's success in Israel. "I only remember this kind of reception for one other book, " he said. Harry Potter.
The second and third books in the trilogy will be published by 2013. —Ruth Eglash
Israeli Scientists Save Sushi
Ecologically aware sushi-lovers can go on eating bluefin tuna, knowing that Israeli scientists are helping to save this endangered species. But gourmets are hardly the main beneficiaries of the research.
Twelve years ago, Hillel Gordin, the founder of the Eilat-based National Center for Mariculture, realized that the bluefin tuna, with its rapid growth rate and high ratio of usable protein, could help solve world hunger. But overfishing had reduced the bluefin tuna population by 80 percent, and even with effective regulation, another solution was needed.
Gordin proposed domesticating the species, which could also reduce the mercury content—a problem in the wild.
Hanna Rosenfeld, current director of the mariculture center, is working with a seven-country team of scientists to fulfill Gordin's dream.
"We've succeeded in getting captive bluefin to spawn in cages and in growing their larvae," Rosenfeld said. "We're at an advanced stage, but we still have a long way to go."—Esther Hecht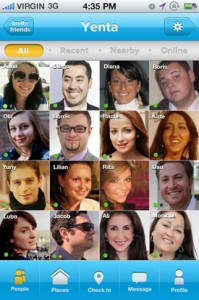 Matchmaker, Matchmaker Find Me An App
"Who is a Jew?" is not a question that is easily answered. But "Who is a single Jew within a six-block radius?" is now a question that can be answered by iPhone and iPad users.
The new Yenta app from Findr Interactive allows users to suss out nearby Jewish singles. Like Grindr, the location-based app gay men use to connect with each other, Yenta is a new way for single Jews to meet beyond social networking and Internet dating.
Membership is free, and profiles ask cheeky questions such as "What's your shtick?" and "What will impress your mother?" as well as "How Jewish are you?" (there's a sliding scale from "Just Jewish" to "Super Jewish"). You can also specify that you are seeking a male, female or both.
"The way we envision it is Jews using it for the immediate—like dating," says Luba Tolkachyov, cofounder of Findr Interactive, "but also seeing where the community lives, who is part of their community and making the community that much stronger." —Amy Klein
Be a Hot Mamalah
What transforms an iPhone into an "OY-phone," a smorgasbord into a way of life, and life itself into a vivacious, hot pink, Jewcy extravaganza?
Lisa Alcalay-Klug does in her new book, Hot Mamalah: The Ultimate Guide for Every Woman of the Tribe
 (Andrews McMeel Publishing).
Alcalay-Klug, whose first book was Cool Jew: The Ultimate Guide for Every Member of the Tribe
 kitschily explores the strengths and challenges of being a Jewish woman. In this collection of short illustrated vignettes and pithy sayings, she irreverently examines everything from cocktails to tushes. Purim is Jewish for "24-hour cocktail party"; "neurotic" is way preferable to "boring."
Despite its subtitle's claim, the book is not for every woman of the tribe: If your handbag is not necessarily an extension of your soul, if you're not crazy about Jewish stereotypes, Mamalah might be just a little too hot for you. —Orli Santo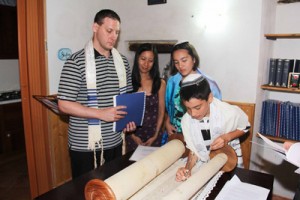 Mazal Tov—in Italy
Parents seeking an off-the-beaten-path bar or bat mitzva experience for their child might want to consider the village of Serrastretta in Calabria, Italy, where Rabbi Barbara Aiello officiates at Sinagoga Ner Tamid del Sud. Inside Calabria's first active synagogue in 500 years, they can watch their child read from the Torah (relatives unable to make it to the ceremony can witness the event via Skype).
The brainchild of Aiello, a Reform rabbi of Italian descent, and Massachusetts-based travel agent Ellen Paderson, this latest spin on the destination bar or bat mitzva offers a combined family vacation, European Jewish history lesson and crash course in 21st-century technology.
Before the trip, Aiello offers Skype tutorials for the young folks while Paderson, the founder of Bar Mitzvah Vacations (www.barmitzvahvacations.com), helps families plan 10-to-12-day itineraries that include Jewish history tours of Calabria and other Italian locales. "Italy is the next best thing to having your bar or bat mitzva in Israel because it's so rich with Jewish history," Paderson says.
Paderson adds that most synagogues in Europe do not allow foreigners to hold the Jewish ceremonies, which "makes Rabbi Barbara's synagogue unique." —Susan Josephs

Teen Tikkun Olam
Zak Kukoff founded Autism Ambassadors, a national nonprofit that teaches students how to relate to their autistic peers. Daniel Rosenthal's Magic Is Medicine matches volunteer magicians with people in hospitals, rehabilitation and assisted living centers. These teenagers with big ideas about how to change the world were two of the five 2012 recipients of the San Francisco-based Helen Diller Family Foundation's Teen Tikkun Olam Award—receiving $36,000 to further their philanthropic work or education (www.jewishfed.org/teenawards/process). "The emotional validation reminds you that your work is important; that people around you notice and care," says Kukoff. Over the past 6 years, the project has allocated over $1 million to 30 California teens.
This year (with the help of Jewish Federations of North America), the 2013 awards are being expanded to include 10 teens, 5 from California and 5 from around the country. Candidates must be United States residents ages 13 to 19, and can be nominated by anyone except a family member.
Last year, 142 nominations were received. The deadline for nominations is January 6. "Other teens can see what's possible and be inspired to test the limits," says program manager Rachel Bloom. —Rahel Musleah