Film Review: Mighty Fine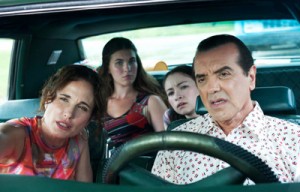 When I was a youngster, one of my favorite desserts was a sweet chocolate pudding with the brand name My-T-Fine. Now we have a movie, Mighty Fine, and there the comparison ends.
Based semiautobiographically on the childhood experiences of the filmmaker, Debbie Goodstein, the film, set in 1974, bludgeons the viewer with the rantings of the well-meaning Joe Fine, the patriarch of a loving Jewish family from Brooklyn, as his life—and his mind—begin to unravel. It is not a pleasant sight, and in Chazz Palminteri, in real life a product of the Bronx, we get an explosive but non-nuanced performance of a schmatta king on the way down, and not because he has moved his business and his family to New Orleans. Joe's Holocaust-survivor wife, played implausibly by Andie MacDowell with a mock Polish accent, has her hands full as she tries to control her husband and keep the family together. Their two teenage daughters, Maddie and Natalie, portrayed by the stunning Rainey Qualley, MacDowell's real-life daughter acting in her first film role, and Jodelle Ferland, already a screen veteran, absorb the mental abuse their father heaps on the family.
Maddie's good looks make her a star attraction in the high-school dating game but her father is incapable of understanding her growing-up aspirations and embarrasses her too often. Natalie, a budding writer, is encouraged to enter a poetry contest, which she wins with a poem about her father and his bombastic but inexplicable fulminations. Janeane Garofalo provides the unseen voice that narrates the story from Natalie's perspective, and she almost steals the film with her professionalism.
Mental illness has no well-defined borders, and medical science doesn't have the answers for a cure. As Joe Fine breaks down, he cuts out his best friend and business partner, turns to questionable high-interest loan sharks to try to save his business and humiliates Maddie in front of her new friends. Maddie finally convinces her mother that Joe needs professional help, and that's where the story goes.
Filmmaker Goodstein, who wrote the screenplay and is also the director, has provided some wry touches: The moving company that takes the family to New Orleans is called Exodus Moving; Maddie's boyfriend wears a giant crucifix around his neck that almost reaches to his belly button; and Andie MacDowell's character is named Stella, evocative of another Stella in New Orleans.
Even though the portrait of a well-meaning businessman succumbing to the dissolution of his life can be difficult to watch, the film has some redeeming qualities. Children can't escape their parents, but they are often resilient and capable of forging meaningful careers. One hopes that this portrayal of the filmmaker's father (but not of her alcoholic mother) will provide some understanding of how to deal with stressful family situations.