The Arts: Bezalel on the World Stage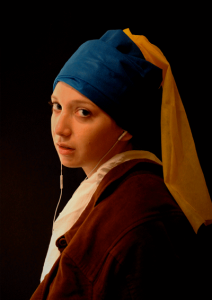 Aniam Dery blushes fiercely when asked to explain the philosophy behind her recent art installation, The Tomb.
A third-year fine-arts student at Jerusalem's Bezalel Academy of Arts and Design, Dery admits that she still struggles to explain the creative thought process that goes into her intricate designs but welcomes the practice because that is one of the more demanding aspects of Israel's oldest arts institution.
"There is a lot of pressure, we have to stand before the heads of department, the faculty and other students and explain in great detail what we are doing and why," says the soft-spoken student.
Dery took advantage of the latest multimedia techniques and the region's history to explore the spiritual significance of Judaism's prophets and the universality of burial rites. She built an ancient-looking gravestone and accompanying crypt, where viewers are encased in a soundproof room. "It is a room where you can only hear yourself thinking," she says. "I wanted to evaluate death in an artistic way and to look at how graves provide us with a pathway from this world to a new world."
We are sitting together in Bezalel's student administration wing. Dery, a made-in-Israel combination of a Moroccan immigrant father and Danish immigrant mother, notes that the concept of death is something that "crosses cultural boundaries and, for me personally, reflects my mixed heritage.
"I also believe it represents the diverse mix of people here in Israel," states the 27-year-old, who grew up in an ultrareligious household and continues to adjust to her new world at the socially progressive arts school.
"Bezalel was a huge culture shock for me, given my religious background," she says. "It has challenged everything I believe, but it has also taught me how to draw on my religious identity to strengthen my artistic identity." She adds that it is the eclectic mix of religion, geography, history, modernity, technology, politics and conflict emanating from Jerusalem that makes Bezalel "an art school unlike anywhere else in the world."
Indeed, on the surface the myriad students with paint-splattered overalls and ink-covered hands; the smell of wet clay, recently carved wood and soldered metal; the open exhibition spaces with strategically placed sculptures and leftover art debris make Bezalel appear like any other art school in the world. Yet, what sets it apart is its place in the undisputed spiritual capital of the world and its proximity to the Jewish heart.
Pair Jerusalem's spirituality with the Israeli affinity for all things high-tech, throw in an intensive teaching curriculum, and those studying at Bezalel ultimately have no choice but to push the boundaries of modern art and innovative design.
While Bezalel (www.bezalel.ac.il) already holds a powerful place on the local arts scene, the creations coming from the school—whose departments include fine arts, photography, visual communications, ceramics and glass, industrial design, architecture, jewelry and fashion and screen-based arts—are increasingly recognized on a global level, too.
Last year, Forbes magazine featured the school in its "Names You Need to Know" column, written by Caroline Howard, and lauded the academy for its attention to "high-tech décor."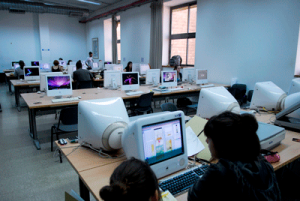 "The work doesn't just stop at design," said British independent curator Janice Blackburn, in the article. "It improves the quality of our lives."
In just the last few years alone, the school's work and that of its graduates have seen success in several high-level international art and design forums. In 2011, at the Milan Furniture Fair, students' work Ultra Gamma: Design with Unseen Waves, an installation of long columns lit by multicolored, ultraviolet beams, was a noted runner-up.
Despite its reputation for producing sleek industrial-design pieces, the school has also seen success in a variety of fields, particularly screen and fine arts. (For example, graduate Sigalit Landau, an installation and video artist, has had shows in New York's MoMA and twice represented Israel in the Venice Biennale). Most critics accept that Bezalel—reflecting the Israeli art scene around it—is as multifaceted as it is eclectic.
Among the many international accolades students have achieved was third place at the 2010 Intelligent Hands DesignBoom international design competition, for graduate Yoav Avinoam's 'Shavings' Stools and Coffee Table, made from leftover sawdust pressed together with resin.
And although Israeli artists in general have seen growing success worldwide in recent years, it is the practical yet creative designs coming out of Bezalel that have gained recognition far beyond the standard.
In the Forbes article, Howard claims that it is the old-meets-new—or the blurring of state-of-the-art with traditional craft—that sets the academy apart. However, Bezalel president Eva Illouz believes that the school's success stems more from a willingness to push art, in all its disciplines, beyond the traditional boundaries. "All heads of department and lecturers are practicing artists, designers or architects," comments Illouz, who became the school's first female president last October. "Not only are all teachers practitioners in their field but they and their students are constantly experimenting with new materials and techniques."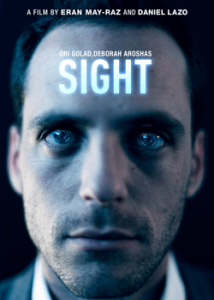 The school, she explains, promotes a hands-on approach, encouraging collaborations with local industry.
Adi Stern, head of the school's visual communications department, also notes Bezalel's location—sweeping views of the desert on one side and overlooking the breathtaking golden dome of the Al-Aksa Mosque and the modern Jewish city beyond—that provides students with an unparalleled mix of inspirational forces.
However, Stern says, it is not just the geography: "There is also a rich history and deep traditions here with an intensive learning program that pushes students forward to explore what is happening around them and on the international stage."
He has seen several student and graduate projects already touted for breaking new ground in the field of art and technology.
Among the most talked about pieces to emerge from Bezalel recently is Windows of Opportunity, created in cooperation with General Motors. Using smart-window technology, master's degree students at Bezalel Labs, the academy's commercial arm, livened up the passenger's riding experience with an interactive touchscreen and specialized apps set in a car's rear-seat window. Windows was unveiled in January 2012.
Another department project, completed last summer, is the video short Sight, created by Daniel Lazo and Eran May-raz as part of their graduation work. The film explores a future where information today confined to smartphone apps and tablet software is implanted into human eyes—creating a disturbing world of augmented reality. The short, which follows one man as he plays games, prepares food and goes on a date with the help of apps only he can see, has drawn more than a million and a half views on YouTube.
The school is also known for contemporary jewelry designs, and several young graduates have already made a name for themselves worldwide: Attai Chen; Itay Noy, known for his trendy timepieces; Shirley Bar-Amotz, recipient of the 2012 Andrea Bronfman prize; and Dana Hakim have all been invited to display their work at the prestigious Schmuck contemporary jewelry show in Munich, Germany, this March.
Other Bezalel items drawing interest include Limor Betzalel's modern take on Dutch painter Johannes Vermeer's masterpiece Girl with the Pearl Earring; industrial-design graduate Ori Yekutiel's LightStone, a lightweight yet solid-looking material created from volcanic powder; Solskin Peels, a set of biodegradable citrus rind tableware made with microwave technology by Ori Sonnenschein; and Arthur Brutter's ProtecTable, a classroom desk that doubles as an earthquake or bomb shelter.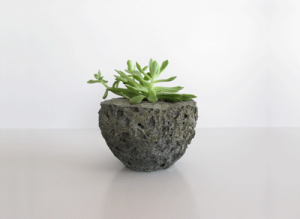 In addition, Bezalel Labs has close ties with Hadassah–Hebrew University Medical Center to encourage students to develop medical and paramedical products. Among the projects already in progress are a surgical curtain that moves with the doctors, innovative hospital waiting chairs and an enhanced patient shower.
The original Bezalel school of Arts and Crafts was founded in 1906 by early Zionist thinker and friend of Theodor Herzl, artist Boris Schatz. The name is derived from the biblical Bezalel, who oversaw the design and construction of the Tabernacle and its implements. He is considered by many to be the first Jewish artist.
During its inaugural years, the school worked hard to establish a style, drawing on Jewish, Middle Eastern and European traditions. As the school developed, it also began featuring biblical and Zionist subjects.
Even though the school nurtured some of prestate Israel's leading artists, it fell on financial hard times and even closed for a period in the 1930s.
It reopened in 1935, attracting teachers and students from Germany's Bauhaus school. Later, after the State of Israel's establishment, Bezalel was recognized for its important work, winning the Israel Prize for painting and sculpture in 1958 and becoming a state-supported institution in 1969.
Moving from its city center location in 1990, Bezalel currently resides on the campus of the Hebrew University of Jerusalem on Mount Scopus. Today, it has some 2,000 students in its various departments and offers both bachelor's and master's degrees. It has two satellite buildings, one, which houses its architecture department at its former downtown site, and another in Tel Aviv. The school also runs two galleries, Yaffo 23 in Jerusalem's city center and Bezalel Academy Gallery in Tel Aviv, to allow both students and graduates to showcase their work.
Although the school is gaining increased international notoriety, it has long produced some of Israel's most revered artists, including Yaacov Agam, the only Israeli mentioned in H.H. Arnason's History of Modern Art; award-winning installation artist and industrial designer Ron Arad; and pioneer modernist painter Yehezkel Streichman.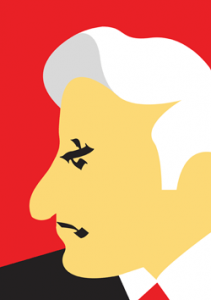 "Bezalel is not just an art school, it is a school of life and for life," comments Gideon Amichay, an award-winning communications artist and cartoonist and a Bezalel graduate in visual communication. "It is not just that the teachers are a very high level but there is also a type of healthy competition between the students that pushes all of us."
Amichay, who today shuttles between Israel and New York, is recognized internationally for his contributions in the field of marketing and design. An independent consultant, Amichay was the impetus behind several successful advertising campaigns, including one for top Israeli food retailer Strauss; the SDIA project (AIDS Task Force in Israel); and for Israel's largest humanitarian aid agency, Latet. In addition, his cartoons have appeared in The New Yorker magazine.
"Israeli creativity, not just its art, is received well throughout the world," says Amichay, who recently spoke at the first Jerusalem-based TEDx inspirational lectures series. "I know that Israel is seen by many people as a hub of innovative designs…. It is one area that Israel really invests in."
Bezalel is looking to make some investments of its own. Over the past few months, the school has experienced several key changes, including the recent appointment of Illouz as president and Tal Ben Zvi as deputy president for academic affairs.
There are plans to move the academy from the outskirts of Jerusalem back to the city center; the school has already purchased land in the area known as the Russian Compound, not far from the Jerusalem Municipality and the Old City.
"While one of my goals is to reinforce the sense that Bezalel is part of the global conversation, I also have the opposite ambition as well," Illouz says. "I would like to connect Bezalel more firmly to other Israeli institutions and to engage the faculty and students to think more deeply about their immediate society."
While the community surrounding the school certainly contributes to its success, Ben Zvi acknowledges, it is essential that students be a part of their neighborhood, too. She notes a wide range of programs, including Stop Motion, which sends animation students to play with sick children at the Hadassah Hospital on Mount Scopus. Bezalel recently won Israel's Council for Higher Education Shosh Berlinsky-Sheinfeld Award for Social Involvement, given to institutions that have made a special contribution to their community. "We do not see these projects as some kind of external internship," Ben Zvi says, "where the students volunteer separate from their studies. They are an integral part of the learning process."
Greater local involvement is one of the goals behind moving back to the city center, says Liv Sperber, Bezalel's director of international relations and development. "We hope the new building will house an exhibition center, an art gallery and will act as a cultural center in Jerusalem," she says, describing how the planned campus will allow the student body to expand to 3,000. Bezalel also expects to purchase other downtown buildings to create a "sprawling campus."
Japanese firm SANAA, winner of the 2010 Pritzker Architecture Prize, has been selected to design the state-of-the-art campus in collaboration with Tel Aviv-based Nir Kutz Architects. The new design will blend in with Jerusalem's Old World charm, says Sperber. The building is likely to be completed within the next four years.
"We are a school of art," notes Ben Zvi, "but we are also an integral part of Israeli society."
The dynamic nature of Jerusalem—indeed the multiple forces at work in Israel, she adds, make Bezazel a very good place for producing art.
Ruth Eglash is a writer living in Israel. Her work has appeared in USA Today and The Washington Post.
Arts + Crafts: Bezalel Exhibitions

Bezalel on Tour
Brown University/Rhode Island School of Design Hillel
Providence, Rhode Island
www.brownrisdhillel.org; February 27-March 13
Curated by Muli Ben Sasson, the head of the Bezalel Academy of Arts and Design's ceramics and glass design department, the exhibition celebrates the 106th anniversary of the school's opening. Works on display are from both graduate and undergraduate students and alumni.
Schmuck 2013
Munich, Germany
March 6-12
Considered one of the most important annual jewelry fairs in the world, this year's show will feature recent Bezalel graduates, including works by Shirley Bar- Amotz, Dana Hakim, Attai Chen and Itay Noy.
Bezalel End of Year Exhibition
Bezalel Academy of Arts and Design, Jerusalem
www.bezalel.ac.il; July
The yearly exhibit attracts over 25,000 visitors annually and provides students from all departments the opportunity to show their work. In addition, Bezalel's community-focused social projects will be on display.