Brief Reviews: Balancing Religion and Art
FILMS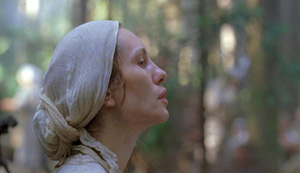 White Tiger
Russia's bid for the foreign-language Oscar starts as a World War II film (above) on the epic tank battles between the Red Army and the Wehrmacht. Gradually, director Karen Shakhnazarov shifts toward questioning whether man's appetite for deadly wars and the extermination of others—such as Jews—is permanently imprinted on our genes. The director is unsparing in depicting the slaughter of battle, but more disturbing is his view, mouthed by an aging Hitler, on mankind's inherent blood lust. Mosfilm Cinema Concern (https://whitetiger-en.mosfilm.ru). —Tom Tugend
The Third Half
Starting with a simple plot—a scruffy, non-Jewish soccer player falls for the aristocratic daughter of a rich Jewish banker—Macedonia's Oscar entry lays bare the occupation by Axis partner Bulgaria of the Yugoslav region. Some 97 percent of Macedonia's 12,000 Jews were turned over to the Germans (and later perished), but resistance coalesces around a Macedonian soccer team as a symbol of national identity. Director Danko Mitrevski based his movie on actual events and mixes humor, romance and terror to resurrect a little-known part of World War II. Kino Oko (www.thethirdhalf-movie.com). —T.T.
5 Broken Cameras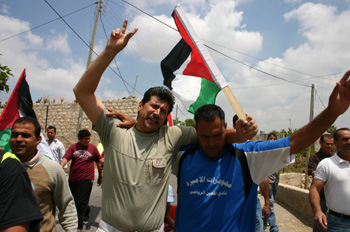 In 2005, Emad Burnat got a camera to film his newborn son, Gibreel, in their village of Bil'in, west of Ramallah and inside the Green Line. Soon after, Israeli soldiers began to erect a fence that would deny the villagers, most of them farmers, more than 50 percent of their land. The villagers began protesting, and Burnat swung his camera their way. The protests (below) drew international and Israeli demonstrators, including Indie media activist Guy Davidi, who teamed up with Burnat to direct this remarkable Oscar-nominated film of family life under extreme pressure and commitment to nonviolent protests . Kino Lorber (www.kinolorber.com). —Judith Gelman Myers

Lore
This curious German-language film, directed by Australian Cate Shortland, follows the 14-year-old title character as she leads her four younger siblings across war-ravaged Germany. Her father, a high-ranking SS officer, and her mother have been imprisoned by the Allies and the only help the Nazi-indoctrinated Lore receives is from a young man who appears to be a Jewish concentration camp survivor. The film is exceedingly slow-paced and alternately brutal and touching. Music Box Films (www.musicboxfilms.com). —T.T.
WEB SIGHTING
An heirloom samovar; a family reunion in Sao Paolo; German Jews who escaped the Nazis to witness apartheid in South Africa: These tidbits of German Jewish history are part of a project by German international broadcaster Deutsche Welle, Traces of German-Jewish Heritage, www.dw.de (search under Traces). Funded in part by the German Foreign Office, Traces explores the panorama of German Jewish culture in 10 countries. Through photography, film and audio interviews, DW reporters construct a series of community portraits, documenting the German Jewish influence on host countries and the struggle to adjust to new homes and lives. —Leah F. Finkelshteyn

THEATER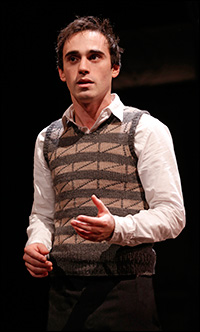 My Name Is Asher Lev
This powerful drama adapted by Aaron Posner is based on Chaim Potok's book of the same name. It follows a young boy, Asher Lev (Ari Brand), who is consumed with the desire to draw, despite it being condemned by his Hasidic father. Still, Asher Lev's wise rebbe gives this "prodigy in payes" permission to study art with an ex-Hasid, which leads, unsurprisingly, to the boy's struggle to maintain tradition even as he follows the artistic imperative and crosses the boundaries of religious propriety. Brand is outstanding as the impassioned youth. Through May 26 at the Westside Theatre, Off Broadway (www.asherlevtheplay.com).
The Jewish Ensemble Theatre Company is presenting its own production in West Bloomfield, Michigan, May 1 to 19 (www.jettheatre.com). —S.A.

DVD
Inventing Our Life: The Kibbutz Experiment
To understand today's Israel, it is important to understand how the kibbutz movement fulfilled the ideals of those East European immigrants who sought safety from pogroms and freedom from anti-Semitism. The idealistic, socialist kibbutz established the future state's infrastructure, and in the 1967 war supplied half its soldiers. After a decline, kibbutzim have been revitalized through privatized, nonagricultural enterprises. Producer-writer-director Toby Perl Freilich includes interviews with kibbutzniks and academics as well as archival footage to take us inside this once radical Israeli experience. First Run Features (www.firstrunfeatures.com). —Susan Adler

CD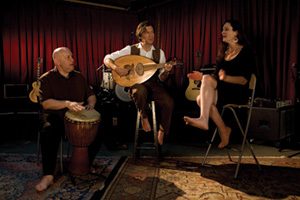 Judeo
The liner notes alone will make you want to listen to this album, evocative of ancient energy with a contemporary New Age sensibility. Composed and performed by Hillel Tigay, cantor at IKAR in Los Angeles, the chant-like, prayerful melodies layered with repeating polyrhythmic and harmonic canons can be hypnotic. Backed by vocalists, Western (guitar, cello) and Middle Eastern instruments (ney, duduk, santur and qanun), Tigay engages familiar texts like "Hallelujah" and "Shema" and lesser-known poems like the Sefardic "Suri Goali Yah" (www.judeomusic.com). —Rahel Musleah