Commentary: Friends & Enemies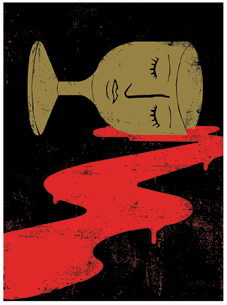 "It is the obligation of each person," the Talmud tells us of Purim, "to be so drunk as not to be able to tell the difference between 'Blessed be Mordecai' and 'Cursed be Haman.'"
In that frivolous spirit, we twirl groggers and wear costumes and chomp down on hamantaschen as if Purim were our Mardi Gras, our Halloween.
At its heart, however, Purim is not about being so insensate as to forget the distinction between friend and foe. This holy day actually demands that we recognize our enemy. It insists that we view the presence of existential adversaries as a permanent feature of Jewish life.
The Torah portion that we read on the Shabbat before Purim, and the Haftara assigned for the holiday itself, both link Haman to Amalek, the archetypal enemy of the Jewish people. When we raise a jolly racket at the mention of Haman during the reading of the Megilla, we are following an instruction—Yimah shmo, may his name be erased—that is virtually identical to the mortally serious statement in Deuteronomy 25 to blot out the name of Amalek.
Haman's order in ancient Persia eerily evokes the Final Solution: "to destroy, massacre and exterminate all the Jews, young and old, children and women." Mordecai chastises Queen Esther, who has hidden her Jewish identity, in words that could be meant for every Jew who ever thought assimilation meant safety: "Do not imagine you, of all the Jews, will escape with your life by being in the king's palace."
The question this Purim, at least to me, is how we as contemporary Jews apply the text's lessons. In divergent but equally troubling ways, the recent months have seen us mistaking who is an enemy, and what an enemy is.
During the presidential campaign in the United States, you might have thought that Barack Obama was being perceived as the latest version of Agag, the Amalekite king. For the 30 percent of American Jews who voted for Mitt Romney, and for the 85 percent of Israeli Jews who told pollsters they favored the Republican, Obama was not simply the candidate they opposed. He was the purported betrayer of Israel, the ally of Islamists, the quisling too weak to challenge Iran. "Love Israel?" went one emblematic billboard. "Fire Obama!" The vilification of him opened up the widest chasm I have seen in my 57-year lifetime between factions of American Jewry, and between American Jews and Israeli Jews.
When Hamas began raining missiles onto Israel soon after Obama's reelection, it became apparent that, calumnies to the contrary, he was not going to "throw Israel under the bus." Rather, the Iron Dome anti-missile system that was largely paid for by his administration saved untold Israelis. In the United Nations, the United States voted almost alone in the world against a Palestinian resolution for standing as an observer state. These were hardly the actions of a 21st-century Haman.
Hamas's missiles, though, reminded us that a real Amalek, an adversary bent on genocide, continues to exist. And if it was conspiratorial to see Obama as an enemy of Jews and Israel, then it has been hopelessly naïve to see Hamas as anything but. Some prominent liberal rabbis and peace-camp activists clung to moral equivalency in reacting to the recent Israel-Hamas violence; for years now, some Middle East analysts have been claiming that there is a moderate wing in Hamas. They should all simply listen to what Hamas leader Khaled Meshal said in Gaza in late 2012: "no concession on any inch of the land." Not to take him at his word is to drink too deeply of illusion, which should not be the cocktail of choice for Purim.
Samuel G. Freedman is a religion columnist for The New York Times.