Israeli Life: A Civil Way Forward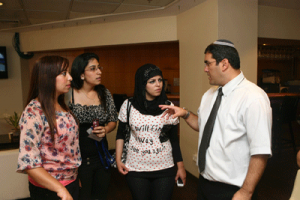 Gallal Aovad Babai volunteers at the fire station in Karmiel, a city in northern Israel, for about 40 hours a week. An Israeli Arab from the Galilee town of Tamra, Babai works at the fire station as part of the National Civil Service.
"Firefighting is a respectable profession," says the spirited 18-year-old, who hopes his experience will land him a job as a firefighter. "I had a half-year training and now I am training others. When I finish two years of volunteer work, I will receive a grant that will help me get established."
Babai is one of the 2,400 post-high school Arab young men and women in National Civil Service, volunteering for one year, sometimes two, in sectors from education to health care and tourism throughout the country.
Originally called Sheirut Le'umi, National Service, it was designed to address the placement of religious women in alternatives to the Israel Defense Forces. Over the years, the program expanded to include religious men as well as new immigrants. Upon completion, volunteers are entitled to the same benefits as those who serve in a noncombat unit of the IDF, including a one-time grant to be used toward higher education, housing or a business.
These are committed young people," says Reuven Gal, former head of the National Civil Service Authority and chief psychologist in the IDF's military psychology unit. "Many organizations could not exist without these volunteers."
In 2007, Israeli Arabs became eligible to join the service. However, for these volunteers, helping various sectors of Israeli society highlights a dilemma—the constant tension between Israeli citizenship and Arab identity, fueled by the ongoing Israeli-Palestinian conflict.
"The two sides of our identity are fighting each other," says Babai. "I have friends from my village who call me a traitor. They claim I am working for Israel against the Arabs. I asked them to explain why a firefighter who saves both Arabs and Jews is a traitor. The work has nothing to do with the Army. But they have no answers.
"I have no lands," he explains. "There is no one to help me financially. But I will have a career and some money, and it will give me a future. These guys who call me a traitor—I really just think that they are jealous of me. They would like to join but their parents are afraid of what people will say."
Indeed, only five percent of Israeli Arab youth volunteer—a small fraction of those eligible and a number that, perhaps, reflects the disapproval of Israeli Arab leadership. Many groups, including the nationalist Higher Arab Monitoring Committee, an independent organization that coordinates the political actions of various Israeli Arab bodies, oppose the service for Arabs. Arab politician Jamal Zahalka called those who participate "lepers." And a task force was created to dissuade young people from joining the National Civil Service, claiming it is the first step toward an Israeli Arab draft.
Volunteers may even face violence. "An Arab girl who was voted 'outstanding volunteer' at the rehabilitation center at [Loewenstein Hospital] in Raanana had her car windows smashed," reports Sar Shalom Jerbi, director-general of the authority.
The real reason they oppose service is that there is a debate within the Israeli Arab population," Gal says. "There are those who seek Israelization. They want to be part of Israeli society and reap its benefits. The others emphasize Palestinization, calling for identification with their Palestinian brothers in opposition to the Israelis, who they see as conquerors.
"But each year there is an increase in numbers," he notes. "Young people are beginning to vote with their feet."
"We do not want to undermine their culture," says Adi Luria, spokesperson for the National Civil Service Volunteers Organization, one of the largest nonprofit groups supervising volunteers for the service. "We are just an educational volunteer framework that helps them answer their own needs."
Lare Awadalleh, from the village of Ein Nekubah in the Judean Hills, has long, dark hair and a sparkle in her eyes. She finished her National Civil Service last summer, volunteering in the cardiology department of Hadassah–Hebrew University Medical Center in Ein Kerem. "My job [was] to make sure that everything is available for the patient undergoing an angiogram," she explains. "It can be very pressured. As soon as one patient finishes, things have to be prepared for the next. Often, I helped translate from Arabic to Hebrew for people who don't know Hebrew."
Growing up, Awadalleh belonged to the youth movement of Noar HaOved V'lomed (the Federation of Working and Studying Youth), which encourages volunteering. "My mother is a dental assistant and my father has an aluminum business, and they have a lot of interaction with Israeli Jews," says Awadalleh. "But I identify as an Arab. I wouldn't do anything against my people.
"The hospital was an amazing experience," she adds. "I learned a lot about life and different kinds of people. At first, if a doctor yelled at me, I just went out and cried. Later, I got used to the way different people talk. I came to be very close to the staff, and they took me out for a farewell dinner at a restaurant the week before I finished my service."
Jerbi became director-general of the entire National Civil Service Authority in 2009. Today, he notes, there are 15,000 volunteers, 90 percent of whom are girls. There are also 1,000 ultra-Orthodox men in the service. "The goal is to make the society more equitable, to bridge the gap between different sectors of the population," Jerbi says.
His predecessor, Gal, has studied Israelis who enter Army service or opt for volunteerism. "What was surprising," he says, "is that 50 percent of the Israeli Arab youth I surveyed during the '80s also expressed a desire to volunteer for National Service."
National Service began in 1953, the result of a coalition agreement initiated by the National Religious Party, allowing young women who declared themselves observant to avoid the draft. Many, however, wanted to contribute to Israeli society, and nonprofit groups arose to organize volunteer work for them in schools and hospitals.
In 2007, the Israeli government created an authority to regulate the nonprofit organizations administering the service. "At the same time," says Gal, "National Service was extended to other groups who were not obliged by law to serve in the IDF. This included Israeli Arabs as well as disabled youth and youth at risk."
The name changed, emphasizing its civic aspect, and Gal was asked to head the authority. "There were 200 to 300 Israeli Arabs volunteering at the time," he recalls. "In less than a year, the number rose to 1,000. Now, there are more than 2,000 at any given time."
The difficulties that Israeli Arab leaders have with participation may stem from the service often being part of the same discourse as compulsory military service for ultra-Orthodox Jews. This gives the impression that military service can eventually be imposed on Arabs. However, most Israeli politicians, aware of Arab sensitivities, believe civic service should not be compulsory nor should it lead to military service.
Also, points out Amnon Be'eri-Sulitzeanu, codirector of the coexistence-focused Abraham Fund, Arab leadership took exception because National Civil Service was structured without their consultation.
We believe that the civic service mechanism must be decided by consensus," says Be'eri-Sulitzeanu. "It must be separated from the military establishment, but the authority was conceived within the framework of the Council of National Defense, a military context."
He notes that many Israeli Arabs engage in volunteerism and there are a number of groups organized by and for the Arab community that do not get funding from the Israeli government. "We would like to convince Israeli policymakers to talk to the Arab community," he adds, "not impose things from above. Service should be determined by the needs and organization of local government, and funneled through them."
Jerbi, who is connected to the religious, right-wing Bayit Yehudi Party, emphasizes that "National Civil Service is entirely based on volunteering. It is not mandatory." The authority has tried to lower the military profile of the service. For example, the grant envelope sent at the end of service comes from the authority, not, as was done previously, through the defense department.
"I have tried to arrange meetings with the Higher Arab Monitoring Committee and some of the mayors," says Jerbi. "They have never answered my requests. They are all afraid of each other."
"It is a very complex situation," says Elad Shamir, director of the Arab section of the Volunteers Organization. "We have to build a network of relations from the beginning. Arabs have to realize we do not have a political agenda but, rather, are trying to create a system that is equal for both Arabs and Jews."
Shamir notes that his organization does not confer with local governments in either the Jewish or the Arab sectors. Local leadership defines the needs of the schools and welfare institutions. However, volunteer positions are assigned through the Ministry of Education and the Ministry of Welfare, to assure that the jobs are appropriated only on the basis of merit. And Arab supervisors from the ministries oversee volunteers and ensure that they help professionals implement their goals.
"These supervisors are often from the village, know the families of the volunteers," says Itamar Schwartz, assistant director of the Arab section of the Volunteers Organization. "They must be able to sit with the parents of potential volunteers to discuss the service. Building trust is important. They try to fit the job to the volunteer. If a volunteer is interested in medicine, they try to find him a job in medicine. If someone wants to stay in their village, they do important work within [their] community."
Currently, there are a number of fields nationwide that are the focus of the service. Firefighting is one, and many Arab men are being directed to local fire stations. There is also a national program that fights violence in schools; volunteers act as counselors who channel children's energies into positive directions.
"Most of all," says Schwartz, "[the volunteers] must feel they are being respected.
"Their leaders originally opposed National Civil Service," he says, "but the influence of their leaders is diminishing. Today, we have more demand for volunteer jobs in the Arab community than there are jobs to go around. A study by Dr. Momi Dahan [of the Israel Democracy Institute] and Professor Zvi Eckstein [dean of the Federmann School of Public Policy and Government at Hebrew University] indicated that 40 percent of Arabs between 18 and 22 are neither studying nor working. Volunteer work is a good way to get them started in the work force."
In addition, there are certain common dilemmas that both Jews and Arabs face in the post-high school period, says Luria. They are asking, What should I do with my life? How do I find my place in society?
"The questions are the same in both communities," he adds, "though the answers are different. National Civil Service helps them find their own answers."