Brief Reviews: Securing Israel, Taking New York
FILMS

War of the Buttons

It is 1944 in occupied France, and Jews are being dragged off by the French police. But for the young boys of two villages, war means the ongoing conflict between competing gangs. That is, until the leader of one of the gangs finds out that the pretty new girl in town he has a crush on is secretly Jewish. Based on the 1912 antiwar novel by Louis Pergaud, Christophe Barratier's adaptation is sweet but not entirely credible. The Weinstein Company. —Renata Polt
The Gatekeepers
There's a great furor over this documentary in which Dror Moreh interviews the six living former heads of Shin Bet, Israel's agency for internal security. These men, who have devoted their lives to protecting Israel, agree that the occupation of the West Bank and Gaza is damaging Israel from within. "We've become cruel," observes Avraham Shalom, agency head from 1980 to 1986. Sony Pictures. —Judith Gelman Myers

Koch
Throughout his 12-year tenure as New York mayor, Ed Koch, who died in January, made one thing clear: The city was his. Extraordinary archival footage from the 1970s, '80s and '90s detail the rise and fall of a man whose drive, moral compass and personality engendered as many detractors as devotees. The film makes Koch's achievements—delivering the city from bankruptcy, remaking Times Square and a revitalizing housing plan—happen before your eyes. Zeitgeist Film. —J.G.M.
All In
This witty romantic comedy from award-winning director Daniel Burman uses the backdrop of Jewish Buenos Aires to tell the story of a newly divorced man, Uriel, whose life is changed by a chance meeting with an old flame. Singer-composer Jorge Drexler stars as a modern-day Don Juan. BD Cine. —J.G.M.

Wagner & Me

The title's "Me" is British actor and writer Stephen Fry, who fell in love with Richard Wagner's operas as a child. Fry is also a Jew who lost relatives in the Holocaust. Trying to reconcile his passion for the music with loathing for the anti-Semite and Hitler favorite, Fry travels to the Wagner festival in Bayreuth; to Switzerland, where Wagner resided for a time; and to Nuremberg, where Nazi rallies were preceded by performances of Die Meistersinger in Hitler's presence. Patrick McGrady's documentary is best described by a German music critic who says: "Just because Wagner was a nasty little man doesn't mean that his music wasn't superb." BBC and Wavelength Films (www.firstrunfeatures.com).
—Tom Tugend

Blinky & Me
This spirited documentary—titled after an Australian cartoon series created by Yoram Gross, a Holocaust survivor—provides an exceptional example of how to teach the Shoah to the third generation. The film's success lies in director Tomasz Magierski's vision and Gross's message of hope and the triumph of good over evil, evident in his cartoons and on a trip to Krakow that he takes with his grandchildren (https://tomaszmagierski.com). —J.G.M.
TELEVISION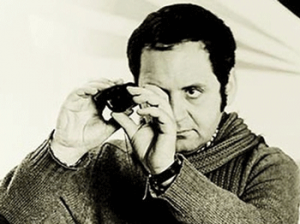 Never Forget to Lie
Emmy Award-winning filmmaker Marian Marzynski tells the story of his stolen childhood as well as the experiences of other child survivors. Smuggled out of the Warsaw Ghetto when he was 5, Marzynski survived the war hidden by Christians. Produced by Frontline, this gripping work, filmed in Poland, will be screened at the Museum of Jewish Heritage in New York on April 21, then broadcast on PBS on April 30 (www.pbs.org/frontline/never-forget-to-lie). —Penny Schwartz
EXHIBIT
It's a Thin Line: The Eruv and Jewish Community in New York and Beyond
Various eruvs—strings and polls that border a city—enclose this exhibit, which follows the eruv's interesting history, especially New York City's controversial and complex one. Constantly debated and redefined, the eruv now determines whether observant Jews can carry on Sabbath according to Jewish law. Maps, letters, photographs, early Hebrew books, video clips and 130 artifacts spanning five centuries are among the items on display. Through June 30 Yeshiva University Museum, New York. —Sara Trappler Spielman

CD
Finding Forever
Fourteen original piano solos with titles like "Star Catcher," "Hidden Valleys" and "Up Towards Heaven" stir emotions and conjure up beautiful images. Composed by Sarah Dukes and performed by pianist Yaron Gershovsky on acoustic piano, these melodic arrangements are poignant and soulful—and a rarity in Jewish music (www.sarahdukesmusic.com). —S.T.S.
WEB SITING
"The world doesn't like disability," writes Beth Steinberg. "The world likes ability and uniformity…. That's what we're asked to do, and what we're asked to produce when we parent." Steinberg, who has a son with special needs, heads the Shutaf Inclusion Program in Jerusalem. Her angry post, on the expectation to fit "into a box," even in the world of special needs, ran on the New York Jewish Week's blog The New Normal, www.thejewishweek.com/blogs/new-normal. The blog, which launched in February, is a forum for debates, advice and news on disabilities and ways to create a more inclusive Jewish community from parents, grandparents, rabbis and professionals. Posts have included a call to action by Ari Ne'eman, president of the Autistic Self Advocacy Network; a frank discussion of autism and online dating; and posts from disabled athletes. —Leah F. Finkelshteyn
DVD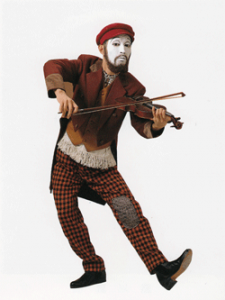 Broadway Musicals: A Jewish Legacy
Filmmaker Michael Kantor's notable documentary traces the extraordinary impact of Jewish composers and lyricists on modern American musical theater. Giving voice to minority groups and ethnicities, the Broadway stage became a place of acceptance with hits such as Fiddler on the Roof (right, a Japanese version), West Side Story and Cabaret, featuring Jewish compositions popularized by mainstream culture. Narrated by Joel Grey, entertaining footage includes Broadway clips, star performances and interviews with composers and writers. These include Betty Comden and Adolph Green, Danny Kaye and Barbra Streisand. DVD available May 7. B'way Films LLC and THIRTEEN for PBS (www.pbs.org/gperf). —S.T.S.