Inside Hadassah: Building a Better World Through Medicine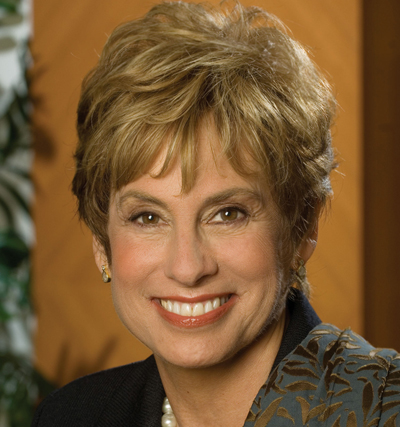 Since sending two American nurses to prestate Israel in 1913 to perform a health care needs assessment, Hadassah has stood at the forefront of health care in the Jewish state. Today, the Hadassah Medical Organization continues its record of pacesetting progress and its care of patients of all faiths and all nationalities in its ongoing belief that medicine is above borders and politics.
In this issue, we share the latest advancements from Hadassah physicians and scientists, including an oral insulin pill and the development of a blood test for BRCA mutations; a moving story of a Hadassah doctor who traveled deep into the Palestinian territories to transfer a sick patient to Hadassah Hospital at Ein Kerem for treatment; and news that the Henrietta Szold Hadassah–Hebrew University School of Nursing has its first-ever professor of nursing.
HMO's commitment to excellence and to act as a bridge to peace ensures that Hadassah remains at the pinnacle of health care in Israel, with an impact felt around the world. —Nancy Falchuk

Medicine at Hadassah: An Airlift to Peace
Palestinians have always been a part of Hadassah Hospital's patient population. In February, Hadassah welcomed its first Palestinian patient brought from a Palestinian hospital by a Hadassah physician.
Hilmi Hasan was badly shot in mid-February during clashes between Palestinians, settlers and the Israeli Army and was taken to a hospital in nearby Nablus. But his doctors determined that he needed a more advanced medical facility and contacted Hadassah. Because the Nablus hospital did not have the necessary equipment for the travel—Hasan was anesthetized and on a respirator—Hadassah had to send a physician to prepare the patient and monitor him during the trip to Jerusalem.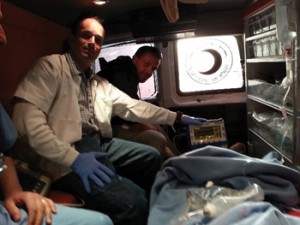 Dr. Micha Shamir, a senior Hadassah anesthesiologist, handled the transfer. (He had previously escorted seriously wounded individuals to Hadassah as well as accompanied Jessa Perrin, a young Cincinnati woman, from Israel to New York for a liver transplantation after she became ill during a summer stay in Israel.) Dr. Shamir, a paramedic and the Israeli Civil Administration health coordinator were taken to the Nablus hospital by a Palestinian car escorted by Palestinian security officers. Dr. Shamir prepped the patient, who was then put in a Palestinian Red Crescent ambulance. They drove, heavily escorted by Palestinian police, to a checkpoint outside Nablus, where an Israeli Air Force helicopter waited to fly them to Hadassah.
"When we exited the hospital and headed to the ambulance, there was already a small crowd and people started shouting at us," says Dr. Shamir. "It was a bit unpleasant but at no time were we under any real threat. We were guarded by so many policemen and security people—the convoy was much longer than the prime minister's."
Meet the Veep: Sherry Altura
National Board Member and Vice President Sherry Altura was born and raised in the small town of Everett, Washington. The 65 Jews who lived there were committed to maintaining rich Jewish lives. Hadassah was the glue in the Jewish world of Everett; the chapter became the sisterhood, Hebrew school and the center of Jewish social life. As president of Everett Hadassah, Altura's mother enlisted her daughter to work at Hadassah luncheons. Ask Altura today and she will tell you what was on the menus.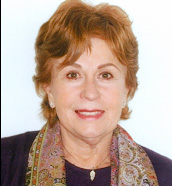 When she met and married Paul Altura, she discovered that his mother had been president of a Hadassah group in Los Angeles. Their honeymoon to Israel included a visit to Hadassah Hospital at Ein Kerem, where a nurses station had been named in his mother's memory. Altura recalls that seeing the building and meeting the people who worked there had a profound impact on her. When she returned to Los Angeles, she sought out a Hadassah group, chaired many portfolios and eventually became governing cabinet chair of Hadassah Southern California.
Altura became chair of Hadassah International in 2011, and she now brings the lifesaving work of Hadassah to those around the world looking to strengthen their connection to Israel in a meaningful way. Altura remains committed to the continuity of the Jewish people. Both her husband and their son, Jack, share this passion. —Sandra King

Hadassah Foundation's Annual Grant Recipients
The Hadassah Foundation, which has since 2000 given over $6.5 million to groups dedicated to improving the status and health of women in Israel and the United States, has released its list of grants for the year—$200,500 to be dispersed to over 20 organizations. New this year, the foundation has created sustaining grants, which will support general operating costs at five longtime Israeli grantees known for supporting the economic empowerment of women.
In Israel, the foundation awarded grants to the Ruth and Emanuel Rackman Center at Bar-Ilan University (sustaining grant); Center for Women's Justice (sustaining grant); Itach-Maaki–Women Lawyers for Social Justice (sustaining grant); Tmura–The Israel Discrimination Center; Yedid; Jewish Women's Collaborative International Fund; New Israel Fund, Shatil; Rabbis for Human Rights; the Center for the Advancement of Women in the Public Sphere at the Van Leer Jerusalem Institute; Adva Center; Economic Empowerment for Women (sustaining grant); Supportive Community (sustaining grant); Sidreh; Jerusalem Intercultural Center; Olim Beyahad; and Women's Spirit.
The foundation gave grant money to American groups including the Jewish Orthodox Feminist Alliance; Keshet; Moving Traditions; Shalom Bayit; and AVODAH: The Jewish Service Corps.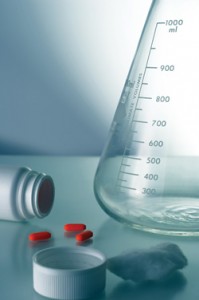 Oral Insulin in a Pill
There are currently over 350 million people with diabetes in the world—most of them diagnosed with Type 2 diabetes. Until now, the only insulin available was through injection, but that may be about to change. Israeli pharmaceutical company Oramed was founded in 2006 with the mission of bringing to market an oral insulin pill, an innovation based on 30 years of diabetes research done at Hadassah Medical Center. Much of the research was overseen by Dr. Miriam Kidron. Dr. Kidron teamed up with her son, Nadav, a businessman and entrepreneur, to found Oramed; Nadav serves as the company's CEO. Oramed just started phase 2 clinical trials in the United States.
Oramed's technology would not solely benefit diabetics: The science underlining the design of the pill could lead to ingestible vaccinations and other medications that are now only available through injection.
Ace Test Makers
Israeli researchers led by Dr. Asher Salmon, former senior oncologist at the Hadassah–Hebrew University Medical Center at Ein Kerem, have developed a blood test that detects the presence of the harmful BRCA1 and BRCA2 mutations using the technology of gene expression profiling.
Women with a mutation in the BRCA genes have a greater risk for developing breast or ovarian cancer.
Previously, the only other BRCA test available was full-gene sequencing, which is expensive, time consuming and does not always deliver results that are easy to interpret.
Hadasit, Hadassah's technology transfer arm, patented the test—which is 95 percent accurate—and is working on rolling out a diagnostic kit with Biogene, a daughter company of Micromedic Technologies.
The Israeli research team reported its findings in Cancer Prevention Research, a journal of the American Association for Cancer Research.
Ranking Achievement
In Israel, one of the most esteemed titles a person can earn is professor. It is a great honor, then, that the Henrietta Szold Hadassah–Hebrew University School of Nursing can now boast its very first professor. The title was recently conferred on Freda DeKeyser Ganz, Ph.D., longtime member of the faculty at the school.
"Professor DeKeyser's achievement is a very significant milestone to our school as well to nursing education in general," says Miri Rom, dean of the school of nursing. "Professorship is a senior academic ranking that one personally receives from a university, in our case the Hebrew University of Jerusalem, recognizing her scientific and professional achievements.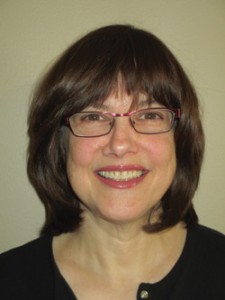 DeKeyser Ganz, a native New Yorker, trained as a nurse in the United States before making aliya with her family. She holds a Ph.D. from the University of Maryland, where she was on the faculty, teaching both undergraduate and graduate students. She also did postdoctoral work at Johns Hopkins University in Baltimore.
"First of all," says DeKeyser Ganz about her new title, "it is a great honor. Our school has a long history of excellence and innovation and I am proud to be a part of that." DeKeyser Ganz has been at the Hadassah nursing school since she moved to Israel. She began as a faculty member while also working as a staff nurse at the hospice at Hadassah Hospital on Mount Scopus. She then served as the coordinator of nursing research for several years before being appointed head of the master's degree program.
"Being the first to do anything is a great challenge and I certainly met with many challenges along the way," she notes. "I could not have moved forward without the great support that I received from the deans of the school of nursing and the faculty of medicine and my colleagues at Hadassah and the nursing school."
Rom explains the impact of this appointment in the context of the field of nursing. "A profession differs from a vocation by, among other characteristics, the requirement for higher education," she says. "Nursing is one of the last health disciplines which shifted from a vocation to a profession, internationally."
Each year, the Henrietta Szold Hadassah–Hebrew University School of Nursing grants about 160 bachelor of science degrees in nursing and approximately 10 master's degrees in nursing. The school also has a program for second-career nurses. It is among the foremost nursing schools in the region.
The road to creating academic roles at the nursing school has been a long one. Academics need to earn a Ph.D., but there were no such programs in Israel for nurses. To solve this, the late Dr. Muriel and Phillip Berman and then their daughter and son-in-law, Nancy Berman and Alan Bloch, provided scholarships for Hadassah nurses to earn doctorates in the United States. However, after earning a Ph.D., faculty members are generally required to become active in research and publication, but there were no mentors, research hubs or grants in Israel. Hadassah again stepped up and arranged for visiting professors to support new academicians. In particular, Hadassah Nurses' Councils have worked for over 20 years as advocates and fundraisers for the advancement of professional tracks at the nursing school; DeKeyser Ganz now hopes to further that advocacy in her professorship.
"We are in the process of developing a cutting-edge doctoral program that may be approved soon," she says. "I also hope that we continue to incorporate [new clinical tracks for the master's program and post-master's programs] and new modes of instruction, such as intraprofessional education, computerized learning and simulations." And she will work to address the country's nursing shortage.