The Slovak Jewish Heritage Route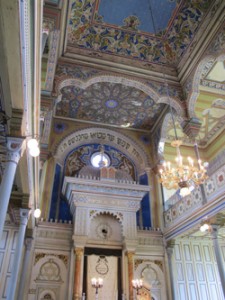 How to preserve, manage and promote Jewish historic sites is a pressing issue for reviving post-communist Jewish communities across Central and Eastern Europe. Many of these properties are huge.
Many synagogues, once glorious examples of architecture and faith, are sadly dilapidated. Jewish cemeteries are neglected and overgrown.
Though a number of these sites are now listed as cultural landmarks, most stand in towns where few if any Jews live. Even basic care and maintenance can stretch already strapped financial and professional resources.
Slovakia is a case in point. More than 100 synagogue buildings and nearly 700 Jewish cemeteries remain scattered in a country only twice the size of New Hampshire. The total Jewish population, however, is just 3,000—and dwindling.
A far-reaching project now aims to safeguard key sites of Slovak Jewish heritage while using them as tools to integrate Jewish history and memory into local tourism, culture and education.
This is the Slovak Jewish Heritage Route (www.slovak-jewish-heritage.org), a tourist and educational trail that links two dozen key sites in all eight regions of the country—synagogues and Jewish cemeteries, but also Jewish museums and Holocaust memorials.
Formally launched in 2007, the route is the brainchild of Maros Borsky, Slovakia's foremost Jewish scholar, who convinced communal leaders to focus scarce resources on a few significant places to ensure their long-term survival.
"The only way to preserve these buildings is to find a different use for them, predominantly and preferably for cultural purposes," Borsky says. "And what is very important is to generate an audience for them. There is no point in putting money into restoring these buildings if no one will use them."
Borsky, 39, is also the vice president of the Bratislava Jewish community. He began developing the route as an outgrowth of his research on Slovak Jewish heritage.
Over the past decade, he has been a curator at Bratislava's state-run Museum of Jewish Culture and also founded an independent Jewish heritage research center. He carried out a detailed documentation of synagogues and Jewish cemeteries all over the country and did his Ph.D. on Slovak synagogue architecture. In 2007, he published a book based on his doctoral dissertation. At the end of 2011, he published an illustrated guidebook, in Slovak and English, to Jewish heritage sites in western Slovakia. And last year he founded the Jewish community's own museum, located in Bratislava's synagogue.
In conceiving the Jewish Heritage Route, Borsky also drew on his extensive experience in the tourism sector as a partner in a travel company, Enjoy Slovakia, which he helped found in 2003.
Each site was chosen for its historic or architectural significance, but also for its sustainability. To be part of the route, sites must partner with a local body, such as a municipality, school, local Jewish community or another organization that will work to make sure that the site is maintained and also used for educational purposes.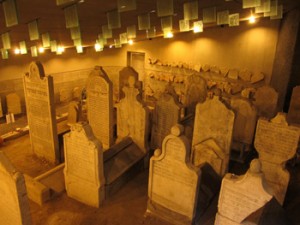 Putting the sites onto Slovakia's overall tourist map was a priority, Borsky said, but the educational aspect is crucial. "We organize local seminars for these sites, where we invite people representing other, neighboring sites in the region so it becomes a forum for sharing ideas among each of these site owners," he says.
Highlights of the Slovak Jewish Heritage Route
The sites on the route range from synagogues, Jewish museums and permanent exhibits to Holocaust memorials and Jewish cemeteries, including the unique, subterranean burial complex in Bratislava where the Orthodox sage Rabbi Moshe Schreiber, known as the Chatam Sofer, is interred.
Borsky chose sites in all parts of the country, so following the route, or sections of it, makes a good way to structure a general trip that also takes in the dramatic Slovak landscape and its wealth of castles, fortresses, historic towns and other attractions. "You don't have to be a nobleman to visit a castle, and you don't have to be Jewish to visit a synagogue," he says. "This is the concept. Restoring Jewish heritage sites adds an important dimension to the quality of life of residents and to the complexity of the tourism product in Slovakia."
Most of the sites can be reached by train, but I find driving the best way to get around, especially because I love impromptu side trips and unscheduled stops.
Also, Slovakia is a small country—you can drive from one end to the other in six hours or less—so many sites make good day trips from bases in cities or mountain resorts. Much of the landscape is hilly or mountainous, but roads are generally good, and there is a wide range of hotels and restaurants.
Bratislava, The Slovak Capital
Three of the Jewish Heritage Route's sites are located in Bratislava, the main seat of Jewish life in Slovakia and home to the only really viable Jewish community in the country.
The Jewish Community Museum and Heydukova St. Synagogue (Heydukova 11-13; 011-42-1-2-5441-6949; www.synagogue.sk) opened last year in the former women's gallery of the only surviving synagogue in the city. The exhibition includes Judaica and other items recounting the history of Jewish life in Bratislava. The synagogue, still used for worship, was built in the 1920s, and its simple décor includes striking Cubist and Art Deco elements.
The Chatam Sofer lived from 1762 to 1839 and was an extremely influential rabbi and scholar. The Chatam Sofer Memorial (www.chatamsofer.sk) stands in the remains of Bratislava's Old Jewish Cemetery, destroyed during World War II. The memorial lies where he and 22 others were buried. The tombs are preserved in a striking underground chamber that is still a place of pilgrimage. The Chatam Sofer has been recognized by Bratislava authorities as a key figure in local history.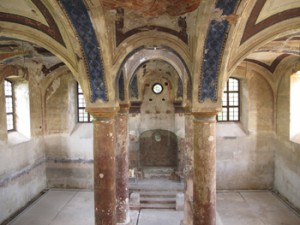 The Museum of Jewish Culture, a branch of the Slovak National Museum (www.snm.sk), is located in the Zsigray Mansion (Zidovska 17), one of the only buildings remaining in Bratislava's historic Jewish quarter, which was destroyed when the communist regime built a bridge and crosstown highway in the late 1960s. It includes a collection of Judaica and other artifacts and artwork.
WESTERN SLOVAKIA
Most of these sites can be visited on day trips from Bratislava. Borsky's guidebook to Jewish monuments in western Slovakia includes many other Jewish sites in the region.
Malacky
The Moorish-style synagogue with its domed towers and cream and orange horizontal stripes is the most distinctive building in this little town north of Bratislava and is promoted by local officials as a leading local attraction—the tourist office has even produced mugs and magnets with the synagogue's image on them. Built in 1900, the building was designed by the important synagogue architect Wilhelm Stiassny and is now used as an art school. The sanctuary was cut in half, but much of the decoration is intact, including the Ark and the colorful wooden ceiling. Today, it stands next to a supermarket at Nabrehu 2.
Stupava
Slovakia's oldest synagogue stands just off the main road near the center of this small town north of Bratislava. Built in 1803, it is one of only two synagogues in the country built in the nine-bay style around a central bima that supports a vaulted ceiling. A Bratislava Jewish businessman, Tomas Stern, bought the synagogue for a nominal sum in 2006, when it was a ruin, and since then he has spent his spare time—and money—in slowly restoring it for use as a culture center. In 2011, he celebrated his wedding in the partially restored sanctuary.
Trnava
Trnava's two former synagogues have both been turned into art galleries. They stand across from each other on a picturesque narrow street, Haulikova, in the town center. The Status Quo synagogue, built in the 1890s, is slightly churchlike with its two dome-topped towers. In converting the building, restorers retained and incorporated evidence of the devastation it suffered during and after World War II. The synagogue thus also serves as a striking memorial to the more than 2,000 local Jews murdered in the Holocaust. A Holocaust memorial stands outside. The smaller Orthodox synagogue across the street was recently beautifully restored for use as a privately run modern art and photography gallery (www.maxgallery.sk).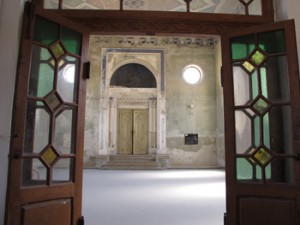 Samorin
The small synagogue in Samorin, near Bratislava on the Danube River, was rescued in the 1990s by Csaba Kiss and his Canadian-born wife, Susanne, who restored it as the hub of a contemporary arts complex known as the At Home Gallery (www.athomegallery.org). The complex, at Mliecnanska 6, also includes the former Jewish school and various communal buildings. As in Trnava, the transformation of the building retained evidence of the damage it suffered during and after World War II. Exhibits, concerts and other events take place in the one-time sanctuary, and other buildings in the complex host artists in residence and guests from around the world—including, once, the Dalai Lama.
Trencin
The imposing domed synagogue in Trencin, a striking mix of Art Nouveau and Byzantine styles, is a city landmark just off the main square and now serves as a municipal art gallery. Some of the interior decoration, including stained-glass windows and the painted cupola, remain intact. Built in 1913, the building includes a restored small prayer room, still used by the handful of Jews in the town. There is a Holocaust memorial plaque on an outer wall.
Nitra
The ornate synagogue here was designed by the Hungarian Jew Lipot Baumhorn, Europe's most prolific synagogue architect of that time. Built in 1911, it features a mix of Art Nouveau-, Byzantine- and Moorish-style architecture. Centered on a domed sanctuary, it has been restored for use as a concert and exhibition hall. The second-floor women's gallery houses Slovakia's national Holocaust Memorial, called the Fate of Slovak Jews, a combination of museum and art installation. The building stands at Pri Synagoge 3, a quaint narrow street in the town center.
Komarno
The Jewish community in this town on the Danube River numbers fewer than 100 members, but it maintains a high level of local and regional engagement. Jewish life centers around the Menhaz complex, a former Jewish old age home that still has an active synagogue, community center and a small Jewish museum (www.menhaz.sk). The entire complex, located at Eotvosa 15, is on the Jewish Heritage Route. A soaring bridge over the Danube links Komarno with Komorom in Hungary, and Jewish community activists foster transborder outreach and cooperation on both sides of the river.
Other Jewish Heritage Route sites in western Slovakia range from the Jewish cemetery in the town of Sered to the synagogue building in Surany (now a cultural center) and the active synagogue in Nove Zamky. Sered is the site of a World War II labor-concentration-transit camp, and there are plans to build a Holocaust museum and education center in the city.
CENTRAL SLOVAKIA
Zvolen
A strikingly modern memorial called the Park of Generous Souls was unveiled outside the walls of the Jewish cemetery in 2010. It honors Slovaks who helped save Jews during the Holocaust and also commemorates the victims. The monument comprises several sculptural installations. The centerpiece is a 16-foot-high glass obelisk by Slovakian artist Palo Macho. A second installation by the artist Peter Kalmus incorporates pebbles tangled in wire covering a deep trench through which visitors can walk. The memorial is located on T.G. Masaryka Street, near the campus of Zvolen's technical university.
Liptovsky Mikulas
Liptovsky Mikulas is a gateway to the spectacular Tatra Mountains. The graceful neoclassical synagogue on central Holleho Street is now used for occasional concerts and other cultural events and is one of the stand-out architectural attractions of the town. It has only partially been restored, however, and its interior—which features wall paintings and a stained-glass inner cupola designed by Baumhorn—bears the scars of past devastation.
Sahy
Built in 1852, the synagogue that served the Orthodox Jewish community here is located on Bela Bartok Square near the center of this town on the Slovak-Hungarian border. Long used for storage, it was bought by a Sahy-born psychologist, Peter Huncik, and fully restored as a contemporary arts center run by a local foundation. It hosts concerts, exhibitions, festivals and other cultural events. There are plans to restore a second synagogue as a cultural space, too. Elsewhere in town, there are two Jewish cemeteries. A plaque on the local history museum lists the names of more than 900 local Holocaust victims.
Other heritage route sites in central Slovakia include the Jewish cemetery in Banska Stiavnica and the still active Orthodox synagogue in Zilina, on Hurbanova Street, which has a display of Judaica and other objects. The former Neolog synagogue in Zilina, designed by the noted German architect Peter Behrens and built in 1931, was long used as a cinema and is now being transformed into an arts center.

Kosice
Slovakia's second-largest city and the unofficial capital of eastern Slovakia, Kosice is the 2013 European Capital of Culture. It is also home to the country's second-largest Jewish community. The Jewish Heritage Route includes the Jewish community compound, with a large synagogue (currently undergoing restoration after being used for decades as a book repository), an active prayer room, a mikve and communal offices grouped around a courtyard on Zvonarska Street not far from the city's main square. There is also a large Orthodox synagogue as well as a Jewish cemetery and other Jewish sites. As part of its role as cultural capital, the city tourism board (www.visitkosice .eu) has organized a Jewish walking itinerary that takes in all these places.
Presov
The Jewish community compound in this town near Kosice is anchored by a magnificent synagogue (www.synagoga-presov.sk), built for the Orthodox community in 1897-1898. Its interior features strikingly elaborate ornamentation on walls and vaulted ceiling, and a valuable collection of Judaica and other items is displayed in the women's gallery. There is a Holocaust memorial in the courtyard. Only a few dozen Jews live in Presov now, and the community offices are also located in the courtyard.
Bardejov
This beautiful little town (www.bardejov.org) north of Presov, near the border with Poland, has some of Slovakia's most important Jewish heritage sites. The entire town center, including the medieval market square and old Jewish compound on Mlynska Street, is on Unesco's roster of world heritage sites. The Jewish compound comprises the massive Old Synagogue, built in 1836 and now undergoing restoration, a beit midrash and a mikve. Near the market square, on Klastorska Street, stands the simple Bikur Cholim synagogue, whose interior furnishings are fully intact, though no Jews now live in the town.
Spisske Podhradie
Few towns are as dramatically located as Spisske Podhradie, which lies in the shadow of the majestic hilltop ruins of Spis Castle. The entire town and castle complex, which also includes a large monastery, are included on Unesco's roster of world heritage sites. The simple synagogue building at Stefánikova 78 is a typical example of late-19th-century provincial synagogue architecture. A painstaking restoration of its interior is nearing completion, and the plan is for the building to be used as a cultural center with an exhibition of Judaica in the women's gallery.
Spisske Nova Ves
Located on Kollarova Street, alongside a row of garages and railway tracks at the eastern outskirts of town, the nondescript and partially ruined Jewish cemetery here is likely not on any tourist's itinerary. But it has been included on the route because of its importance for the town. This is thanks to Ruzena Kormosova, a local high school teacher who, for much of the past decade, has made maintaining the cemetery and researching the town's Jewish past a key part of the school's curriculum. The students contacted local Jewish Holocaust survivors, fenced and cleaned up the cemetery, erected an information panel, produced books and pamphlets on local Jewish history and placed a memorial plaque at the school for the children who studied there and were killed in the Shoah.
Ruth Ellen Gruber's Web site is www.ruthellengruber.com.