Germany, Again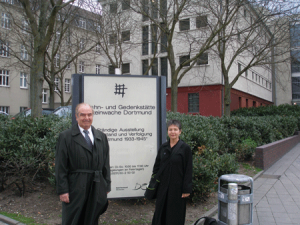 The murder of children horrifies and shocks us beyond measure. Whether it's news of a single death or twenty, we react with visceral anguish, and the resultant trauma—even if the nightmare happens to someone else's child—sears its way across a nation, a world. We recognize our common vulnerability among the bereaved parents; we grieve the lost innocence of the surviving children. In this way, the tragedy in Newtown, Connecticut, brought home to me a new reckoning with the lifelong trauma haunting my father, and with the ghosts of 1.5 million Jewish children who were lost to us all.
In April 2012, just after my father's 83rd birthday, we made our third shared visit to Germany, his native country. He has lived in exile from this place since 1945, the year he was liberated from Buchenwald concentration camp as a 16 year old, lucky enough to get out alive. I've been carrying his stories for most of my life.
During our two previous trips, I sensed dramatic emotional shifts occurring inside him, palpable enough to register outwardly in the form of illness and pain. But this time, we were given an extraordinary chance to speak to hundreds of German students close to the same age my father was at the end of the war. The result was an alchemical transformation of the lost places of his childhood—and perhaps a reconciliation with innocence as well.
Born in Hamburg in 1929 as the first of three boys, my father was only 7 when his parents divorced, leaving his mother with no means of support. With her dry-goods store lost to the Nuremberg laws, she was left with no choice but to place her sons in an orphanage. Eventually she smuggled herself to Sweden to stay close to her youngest, who had been sent there on a Kindertransport. My father and the middle child remained in the orphanage in Hamburg, waiting.
All too soon, the entire orphanage was deported to Treblinka except, miraculously, my father and his brother. Temporarily spared for being considered Romanian citizens, they ended up in Buchenwald. After a year of imprisonment, starvation, and near-death, they were liberated by American troops just a few years older than they were. They boarded a train to Stockholm, where their mother and youngest brother were still living. Everyone else they had known in Hamburg was dead.
My father's first return to Germany took place somewhere during the 1970s. I remember him coming home from a business trip to Europe and telling the family during our Shabbat meal that although he had tried to spend a couple of days visiting the city of his birth, he had felt assaulted by so many painful memories that he checked out of his hotel mere hours after checking in. "I just couldn't stay," he said.
Years later, while in graduate school, I began writing about what it felt like to inherit my parents' experiences as Holocaust survivors. My mother had been in the Vilna Ghetto with her parents; they managed to find refuge with a Polish peasant family who hid them until the Russians drove out the Nazis. She always seemed to find it excruciating to share her stories, whereas my father appeared more able to speak about his, at least in fragments. Terrified to go to Germany alone, yet feeling the need to do research there, I asked him to travel with me in the summer of 1983. The country was still divided, and although we started out in Hamburg, we made our way through Checkpoint Charlie in Berlin so that we could travel to Weimar, and from there to see what was left of Buchenwald.
While we were in Hamburg, my father passed a kidney stone. When I wrote about it afterwards, I concluded that his body was "speaking grief in its own language." Days later, standing side-by-side on the vast site of the camp, now desolate and seemingly abandoned, we both heard mournful notes in the wind. "Does it sound to you like people screaming?" my father asked. I'd been thinking exactly the same thing.
In the years after the trip, he became convinced it was time to return with the whole family—my two siblings and my mother. In the spring of 1995, we all traveled together to a reunified Germany, for a celebration on April11th, the 50th anniversary of the liberation of Buchenwald. Arranged under an enormous tent, a banquet was served to a bizarre gathering of former prisoners, most of whom came from Poland and Russia. In the midst of the ironic, extravagant meal, one of my father's front teeth fell out. Suddenly he looked to me like someone who had never really recovered from his imprisonment all those decades ago. Outside, snow began falling, like ashes.
Fast forward to the year 2012. My mother is no longer alive. I've had two novels published, one of which, The Speed of Light
, was translated into nine foreign languages, including German. A professor of American Studies at the University of Dortmund has been teaching it to his graduate students. The novel, the winner of the Ribalow Prize in 2002, is about family silences, the inheritance of grief, and the healing power of storytelling. Two of its main characters are a brother and sister whose father was in the Sonderkommando in Auschwitz, a traumatized man who never discussed his experiences. My father often makes a point of explaining that he is not the father in the book.
In collaboration with several cosponsors, Professor Walter Gruenzweig reached across an ocean and a continent—that is, he sent me an e-mail!—inviting me to visit with his students. When the University of Hamburg became part of the itinerary, I asked if my father would like to come along. After more than a year of planning, here we are.
Our first event is to take place at the Amerikazentrum, located in the newest part of modern Hamburg, an area called Harbor City. As a welcome gift from the mayor's office, we spend the day on a harbor boat tour as well as a bus tour. For hours we watch the city through bus windows and boat windows, storm clouds scudding across the patchy blue sky. Unlike his discomfort during our previous visits, my father is smiling and relaxed, as though allowing himself to enjoy the sights and even the sounds of his birthplace. "It's really a beautiful city, isn't it?" he says.
The students who attend our presentations are grandchildren of the generation that became Nazis. My father agrees to sit on the platform while I read from my work in English alongside a German actress reading from the translation. From the corner of my eye, I see my father wiping away tears. In addition to wanting to know about patterns of water and windows and light in my novel, about fragmented narratives, audience members bravely address my father directly.
"How do we ask questions when the grandparents don't want to answer?" they say. My father says, "You keep asking."
Our trip lasted 10 days and included visits to Køln, Duesseldorf and Dortmund. By its end, we were both exhausted and yet somehow exhilarated by our encounters, reassured by the existence of so many Germans devoted to ensuring that the Holocaust is not only remembered but consciously and carefully studied. When I asked my father what affected him the most about our journey, he said that he could sense from the young people we met an astonishing quality of empathy and understanding.
"I think maybe it's the first time they're meeting an actual survivor," he said. I realized this might be the first time he was experiencing his own empathy, too. Perhaps just enough time has passed now to crack open true nostalgia for his German childhood and some compassion for what is possible in the future. "Something about hearing my story told by you, not just me telling it, seems to be creating such a powerful impression," he said. "Maybe they genuinely have to do this themselves, these Germans. To make sure the past is never forgotten."
For me, the most profound discovery of the trip was hearing him focus emphatically on the 1.5 million children murdered. "All of my friends were killed," he had said to the students arrayed before us, row upon row of upturned and stunned-looking faces. How to even imagine such a complete extinction?
"Who knows what they might have grown up to become?" my father added, his voice slightly trembling. "What inventions or cures or creations they might have shared with the world?"
I couldn't help thinking about his burden of ghosts, the unfulfilled potential of 1.5 million lives to be carried out in him. In me.
On our final day in Hamburg, despite a hailstorm, we made our way to the Dom, a permanent Carnival located on the edge of the city center. My father wanted to see if he could remember anything of this scene, and I paid special attention to anything that appeared original to the 1930s. Perhaps the carousel? Behind it, almost hidden, was a small stage with a beautifully painted organ. No one seemed to notice it amidst the flashier rides and beckoning food stalls. During a downpour, we paused inside a faded café where my father ate pastries as if compensating for every missing dessert from his abbreviated youth. Marzipan and licorice and chocolate. A feast against the unshakable memory of starvation.
"We only came to the carnival as a special occurrence," my father told me, wiping crumbs from his mouth. When I asked where he got the money, he said, "Before school, in the early mornings, I went to the tennis court and picked up balls for the players."
As ever, I struggled to imagine my father as a boy. "Were you always hungry?" I asked. "I ate whatever they gave me," he said. "But once when I said I was still hungry they told me I could scrape out the pot." He smiled, adding, "There was quite a bit left on the bottom!"
Calliope music floated behind us as we walked away from the Hamburg Dom for perhaps the final time.
During the months in which I reflected on the significance of my German trip with my father, it was in the aftermath of the Newtown tragedy that certain echoes rose into sharp clarity. The erasure of innocence is impossible to calibrate. And it is impossible to console anyone for the murder of a single child.
Elizabeth Rosner's most recent boomost recent novel is Blue Nude: A Novel
. Her Web site is www.elizabethrosner.com.