Commentary: The Loneliness of the Long-Distance Zionist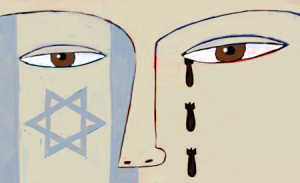 We are at a small dinner party with close friends as rockets rain down on Israel and on Gaza. Everyone at the table is Jewish. Everyone has visited Israel. Bar and bat mitzvas have been celebrated on Masada. Books by Amos Oz and David Grossman have been discussed at their book clubs. On this November evening conversation inevitably turns to the haunting headlines. A pediatrician speaks worriedly and sincerely about the terrible injuries being inflicted on the children of Gaza and the high incidence of death in that innocent population. A psychiatrist nods and speculates about the emotional trauma experienced by civilians who endure the uncertainty of air strikes. Heads nod, wine glasses are refilled. The words "disproportionate" and "unconscionable" are used again and again. Will the world turn against the Jewish state?
Unspoken is the concern that such rejection will rebound and affect American Jews.
"How can Israel condone dropping bombs on schools and homes?" our host asks.
"Babies. Little babies," a woman who has recently given birth moans.
I take a long sip of wine and turn to the psychiatrist who is a compassionate and reasonable man. "What about the traumas the children of Sderot have endured over the past five years with rockets being fired on them from Gaza?" I ask. "Don't you think that Hamas has acted disproportionately and unconscionably?"
An uncomfortable silence ensues. Our hostess laughs nervously. My husband flashes me a warning glance, our acknowledged code that it is both polite and politic to withdraw from dangerous and contentious territory.
"Violence begets violence," a woman who teaches history at a regional university says with great authority. "Israel made a dangerous choice."
"And perhaps an immoral one."
The last speaker is a close friend, a woman with whom I share quotidian intimacies and for whom I have great affection. It wounds me that with that damning word she has violated our relationship. She seems to have forgotten that love and concern for Israel is at the very core of my being, that Zionism has informed my life. I tremble and my husband puts a monitory hand on my shoulder. It is a reminder that silence is the wisest course, that it is time to retreat into what we have come to call, with wry cynicism, the loneliness of the long-distance Zionist.
We leave early and immediately on arriving home I place calls to Israel. I phone a friend whose son has been called up and am told he is in the south. She is calm, certain that there will not be a ground invasion.
"Terrible about the children," I say.
"Atzuv. Sad," she agrees, and it is implicit that we are talking about both the children of Israel and the children of Gaza. "But we had no choice," she adds.
"Of course we didn't," I agree.
My use of the first-person plural is automatic. I am part of Israel and Israel is part of me. My Zionism is visceral. It has been an intrinsic part of my life since my early adolescence when I attended a Hebrew-speaking camp and fell in love with the language and with the dream. I lived in Jerusalem in the '50s as a graduate student at the Hebrew University, and the friendships I developed then have endured and, indeed, deepened through the decades that followed. Our family spent summers in Israel when our children were young and visited during their college years when they each spent semesters in Jerusalem. Our son made aliya, became an officer in Israel's Air Force and lived in Tel Aviv for 10 years. During those years we made annual and occasionally semiannual visits to the country. Our involvement and commitment is, I recognize, atypical and yet I remain confused about attitudes like those I confronted at that dinner table.
It bewilders me that at a time when Israel is in danger, when Gazan rockets flared in Tel Aviv and fell too close for comfort near Jerusalem, that diaspora Jews do not offer unequivocal support. It puzzles me that in late November, as tensions in Gaza intensified, a Jewish columnist for an influential Jewish newspaper published a piece that argued that it is the Palestinians who have no partner for peace. What welcome public relations fodder that must have been for Israel's enemies, all the more potent because the author is a Jew.
I am not of the school that holds that any criticism of Israel is reprehensible. I, too, have voiced concern about troubling issues. I am of many minds about the settlements and I am saddened by the obvious inequities in the treatment of Israeli Arabs and Palestinians. I, too, am a mother and grandmother and it pains me to see Palestinian children crippled by Israeli bombs. But it also pains me that the Jewish children of Sderot and Kibbutz Kfar Azza near the Gaza border live in fear and many of them have seen their classmates maimed in the unceasing rockets launched by Hamas. Moral equivalence is not at play here. Israel does not place weaponry and launching sites in schools and hospitals as Hamas does. Who then is responsible for the deaths of women and children? Whose choice is, in fact, immoral? And why can my friend not see that? I think of the words of Meir Dagan, a former head of the Mossad, who acknowledged that "…to protect civilians the state needs sometimes to do things that are contrary to democratic behavior." Why can't my dinner companions understand that sometimes a "disproportionate response" is necessary for the sheer survival of the Jewish state?"
The resistance of well-meaning, peace-loving Jews to any association, however benign, with Israel's military confounds me. I belong to a wonderful, small Conservative congregation in a suburban community. Our membership is liberal with a capital L, intellectually aware and generous, with great effort expended on behalf of social issues, volunteerism at communal soup kitchens and midnight runs to feed the homeless. Our young rabbi, himself a committed Zionist, has successfully organized trips to Israel and less successfully scheduled programs to celebrate Yom Ha'atzma'ut.
For some years, I chaired modest fundraisers for Israel projects. Without difficulty, one year we raised a significant sum for the Jewish National Fund, and another year we were able to send a generous check to Magen David Adom. There were subsequent collections for a children's village and for a hospital. However, when I proposed that our next project concentrate on the Friends of the Israel Defense Forces, the board of the synagogue objected. I was not at the meeting, but I gather there was resistance to contributing to anything to do with the military. It was useless to explain that the Friends of the IDF simply provides warm clothing and rucksacks to lone soldiers, including assistance for the bar mitzva celebrations of their children. There is also a small expenditure for sewing kits—hardly martial undertakings.
"We don't want to support an army," a member of the board told me.
"But it's your army," I protested, and she looked at me in surprise. That association had not occurred to her.
I am resigned then to recognize that my family and I belong to a proud but lonely minority. In the words of Yehuda Halevi: "Libbi ba-mizrah/ va-ani be-sof ma'arav; My heart is in the East and I am in the distant West." We live at a great distance from the country about which we care so deeply. But that distance does not mute our concern nor should it mute our voices. Our obligation is to persistently engage in unpopular arguments, to persistently speak up for the children of Sderot and Kfar Azza. We must continue sending sewing kits to the soldiers of the IDF and to support Hadassah Hospital, which has had the foresight to build a heliport and underground operating rooms designed to care for battlefield casualties. We will continue to write letters to the editor expressing our solidarity with the people of Israel, although we may despair of ever seeing them in print.
We long-distance Zionists have a role to play, painful and lonely though it may be.