Cut & Post: In the Kitchen With an iPad
A new iPad application by Israeli company Kinetic Art will have you preparing meals by Israeli chef Meir Adoni with professional ease, in a way no other cooking app does.
"Most cooking apps are very functional, just text with headline, instructions, ingredients, nothing more," says Oran Huberman, who created Look&Cook with graphic designer Ronen Mizrahi. "It's a shame to waste a great screen on text alone."
That's why their app is full of photos, videos and graphics, "translating the magic of a cookbook to the iPad world." Beautiful high-definition images showcase the ingredients for recipes like merguez sausage and Swiss chard shakshuka, and videos help the user learn new techniques for preparing each dish. Embedded timers will help keep track of how long to cook sage pasta with lamb ragu and root vegetables, and voice recognition allows users to scroll through the recipe without dirty hands touching the screen. The app is so innovative that Apple used it to promote the iPad Mini in the American, European and Japanese markets.
More Look&Cook cookbooks are in the works including vegetarian recipes, and selections from additional Israeli chefs and peers in America and England. The app, which costs $5 and is available in English and Hebrew, will be available for iPhone, Android and Kindle platforms in the coming months. —Randi Sherman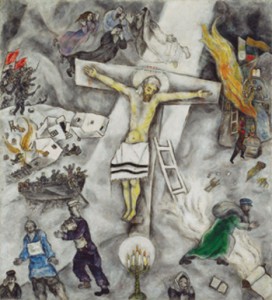 Pope as Jewish Art Connoisseur?
The man who wears a white Catholic yarmulke likes Jewish art. Pope Francis has told biographers that Marc Chagall's 1938 White Crucifixion, owned by the Art Institute of Chicago, is his favorite painting.
Born in Vitebsk—in present-day Belarus—in 1887, Chagall and his eight siblings grew up in what is often described as a devoutly religious home. He subsequently lived and worked in St. Petersburg, Paris, Moscow, Berlin and New York.
The 1938 painting underscores Jesus' Jewish origins by casting him in a talit instead of a loincloth. Around Jesus, a synagogue, a Torah scroll and a shtetl burn, as a mob of men bearing red flags marches over a hill. Several refugees, including a figure identified as the Wandering Jew, flee the scene.
Some say the pope's aesthetic taste should be a source of Jewish pride, but others like School of the Art Institute of Chicago professor James Elkins, are not impressed. "Chagall is a common preference of viewers who are not interested in the art world," he says. —Menachem Wecker
Israel's Population Growth
Israel's population is now over 8 million. The Central Bureau of Statistics (www.cbs.gov.il) released its annual population survey in April, on the eve of Israel's Independence Day, noting the increase of 137,000 people in the country, a 1.8 percent rise. The CBS also reported that:
* About 6 million people—75.3 percent of the population—are Jewish.
* About 1.6 million people—20.7 percent—are Arab.
* The remaining 318,000 people—4 percent—are non-Arab Christians, Israelis claiming other religions and those with no religious affiliation.
* In the last year, approximately 163,000 babies were born in Israel and 41,000 people died. About 19,500 people made aliya.
* At the close of 2011, more than 70 percent of Jews in Israel were Israel-born, and more than half of them were at least second generation.
* At the founding of the state in 1948, the population was 806,000. —Libby Barnea

Teeing Off in Caesarea
When the 2013 Maccabiah Games begin in July, the Caesarea Golf Club (www.caesarea.com), which features Israel's only 18-hole course,will again host the golf competition, this time with two improvements. First, two categories will be added: grand masters, for men 65 and over, and girls' juniors. Of the more than 200 participants expected, "the youngest will probably be 12 or 13 years old and the oldest around 70," said Andy Santos, the club's resident professional.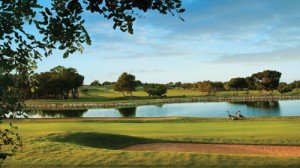 The second advance is that players will be competing on the 7,155-yard course redesigned to international tournament standards in 2009 by the renowned course architect Pete Dye. The course, originally built in 1958, has been the site of Maccabiah golf competitions since 1961.
"The winners of the tournament are good players, shooting under par for four days on a very challenging venue," Santos said.
Robert Belson, a retired teacher from Armonk, New York, played the course in March and commented, "The layout is superb…[and] longer hitters will find it a challenge." —Esther Hecht
Jerusalem Prize to Spanish Author
Every two years, readers, writers, publishers and booksellers convene for the Jerusalem International Book Fair (www.jerusalembookfair.com), where they eagerly await the show's highlight: the awarding of the prestigious Jerusalem Prize to a writer whose work best expresses and promotes the idea of the freedom of the individual in society.
This year's award went to Spanish author Antonio Muñoz Molina, whose writing spans numerous literary forms: novels, essays, memoirs and short stories. His magnificent novel Sepharad (Harvest), a shifting, psychological kaleidoscope depicting the aftermath of the horrors inflicted by both Hitler and Stalin, won the PEN/Book-of-the-Month Club Translation Prize in 2004.
The author, who is not Jewish, grew up under the harsh hand of Franco, and his prose is suffused with a deep, personal recognition of what is lost when brutality reigns. Other Spanish-language winners of the Jerusalem Prize include Jorge Luis Borges, Ernesto Sabato, Octavio Paz and Mario Vargas Llosa. Both Paz and Llosa went on to win the Nobel Prize. —Judith Gelman Myers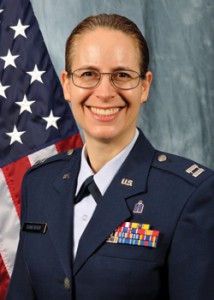 A Rabbi on a Mission
Capt. Sarah Schechter regularly invites the servicemen and women of the different wings at the 11th Wing, Joint Base Andrews in Maryland to her home for a traditional Shabbat dinner. For the past nine years, she has served as the first female Jewish chaplain in the Air Force (there are currently two female Jewish chaplains in the Army and two in the Navy).
Schechter's father, Philip, a rabbi, served as an Air Force chaplain in 1960. She was a rabbinical student at Hebrew Union College–Jewish Institute of Religion in Los Angeles when Sept. 11 changed her life. "The military suddenly stopped being an undefined culture I was vaguely familiar with and their mission became absolutely clear—protection of our country, of our loved ones and of our very lives," explains Schechter. She called the recruiter the next day.
Schechter was deployed for the sixth time this spring to observe Passover and Yom HaShoah with the troops, leaving her husband and 7-year-old daughter. Starting this summer, she will be one of several chaplains at the United States Air Force Academy in Colorado Springs. —Rahel Musleah