Medicine: Drumming, Jumping and Cystic Fibrosis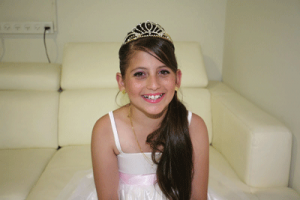 It is a story with more than one starting point.
One possibility is in 1998, when Shuki Shukrun's sister met Tali and told her brother she had found his soulmate. A second has no known date: It was when a gene mutated in the forebears of both Shuki, 38, and Tali, 41, leaving mucus, sweat and digestive fluid production unregulated. (With a second copy of the gene in working order, neither family was aware of the mutation they were inheriting and passing on.)
The starting point we will take, however, is 12 years ago. This was when Israeli-born Tali and Shuki, then living in New Zealand, had their first baby. They named her Shefa, Hebrew for abundance, and unbeknown to them at the time Shefa had cystic fibrosis.
That same year, Dr. Eitan Kerem, a pediatrician specializing in cystic fibrosis, came to the Hadassah–Hebrew University Medical Center at Mount Scopus as head of pediatrics. In 2005, he oversaw the opening of Hadassah's Center for Children with Chronic Disease, introducing a new model of care for children with chronic diseases—which proved vital to the Shukruns and their young daughter.
"Alongside their many medical problems, children with chronic disease and their parents and siblings face a swath of social, scholastic, psychological and family difficulties," he says. "To give them the best care and to mitigate the many complications of chronic illness, their treatment must be both multidisciplinary and comprehensive, with medical and all other services provided in one place."
Twelve years ago, Tali, however, was more than 10,000 miles from Hadassah and its nascent center for children with chronic disease. She had gone to New Zealand in 2000, weeks after her future sister-in-law had put her in touch with Shuki via fax and the Internet. "It was a blind date, but we fell in love," says Tali, smiling.
Dimona-born Shuki fought in Israel's first Lebanon war and had seen nine close friends die in battle. He had moved to New Zealand 16 years earlier with his first wife, trying to put the trauma of the war behind him. The two divorced, but he stayed in the country to be near their daughter, Qesem (today, an Olympic gold medalist in sailing).
A year after Tali and Shuki married, Shefa was born. A month after that, Tali was felled by a massive stroke that has left one side of her body paralyzed. Family and friends rallied round her—failing to notice that Shefa was doing poorly. "She cried and cried," says Tali. "Then she had trouble breathing, and we took her to the hospital."
After seven months of tests, the Shukruns were told their daughter had cystic fibrosis. Progressive and incurable, the disease causes thick, sticky mucus to accumulate constantly in the lungs, clogging airways and creating breathing difficulties and frequent infections. It also causes mucus to block digestive enzymes reaching the small intestine, impairing the ability to absorb nutrients. Shefa would likely die before she was 12, the shocked parents were told.
"We weren't prepared for any of it," says Tali. "Neither Shuki nor I even knew we carried the mutation. I wanted a second opinion, in my own language from someone from home. I found Dr. Kerem through the Cystic Fibrosis Foundation."
So began critical long-distance consultation and support for the Shukruns. "Dr. Kerem opened gates for us," says Tali. "He listened to our hopes and fears. He gave weight to what we saw and sensed about Shefa and, later, Yam. He made us feel we were a team."
After Tali became pregnant a second time, the Shukruns found out that this child had a 25 percent chance of being affected. "I wasn't prepared to terminate with those odds," says Tali. "I was carrying a life, a soul—not a disease." They named their second child Yam, ocean. He, too, has cystic fibrosis. "That doesn't change how I feel," adds Tali, "that I was privileged to carry him and give birth to him."
According to Shuki, both children were spending most of their time in the hospital, their doctors caring for the disease rather than the patient. Yam was a year before he was allowed to have a bris. A lung transplant was recommended for 3-year-old Shefa. On Dr. Kerem's advice, the Shukruns declined.
"As time went on and we spoke more and more to Dr. Kerem, we balanced his philosophy of care against that in New Zealand and knew we should go home," says Tali. "We wanted our children cared for by doctors whose approach is helping them live full lives, despite their illness."
The New Zealand physicians felt that 6-year-old Shefa and 4-year-old Yam were unable to cope with the 21-hour flight to Tel Aviv, so it was Dr. Kerem who signed the medical forms for the airline.
Today, the Shukruns are comfortably settled on Moshav Yinon near Kiryat Malachi, three miles from Be'er Tuvia where Tali grew up. While both youngsters come to Hadassah regularly for consultation, physiotherapy and crises in their illness, they are also both in school. Yam has inherited his father's musical talent, playing drums and keyboard. Shefa is in her third year with the gymnastics team at the local community center.
"From time to time, I need to remind a teacher or youth leader to let my kids participate fully and not label them 'sick,'" says Tali. "But other than that, they're living full lives—in contrast to New Zealand, where their lives were their illness. Dr. Kerem has told me, Shuki and the kids more than once: 'You live your lives and I'll take care of the illness. We're sharing this journey.'"
For dr. kerem, there is no clearer vindication than Shefa and Yam of his vision of a Center for Children with Chronic Disease. "Cystic fibrosis was a first emphasis, and we now have the largest cystic fibrosis center in Israel," he says. "Patients come from all over the world—from Kazakhstan, Ukraine, Greece, Spain. Families have made aliya from Uruguay and Portugal as well as from New Zealand to be treated here."
The center opened with two rooms, a nurse and about 600 patients. Today, it is housed in custom-built premises in Hadassah's Mount Scopus hospital, staffed by 15 physicians, nurses, nutritionists, physiotherapists, child psychologists, social workers and volunteers who field 7,000 patient visits a year.
It is a national center not only for cystic fibrosis, but also for Down's syndrome and Duchenne muscular dystrophy. It has specialist units for feeding disorders in infants, neuromuscular disorders, type 1 diabetes and other endocrinological disorders, rheumatological diseases such as lupus and arthritis, and has most recently opened a tertiary consultation center for diagnosing and managing autism. Its team also actively pursues research.
Last summer, in defiance of her New Zealand doctors, Shefa celebrated her bat mitzva. She wore a long white dress with a little tiara, and Yam played the drums.
Two people, very special to both children, were among the guests. One was Dr. Kerem, a colorful lei hung around his neck, who gave the opening blessings and paid tribute to Shefa's courage. The other was the youngsters' half-sister Qesem—or Jo Aleh, as she is known outside the family. She was fresh in from London where, with sailing partner Olivia Powrie, she won gold in the 2012 Olympics women's 470 regatta. "My medal," she said in an emotional speech after her win, "more properly belongs to my very brave sister and brother, who live full lives despite their relentless illness."
"Qesem is a role model and an inspiration," says Tali. "As for Dr. Kerem, there aren't words to describe what he's given our family. I tell Shefa and Yam they have the best doctor in the world and they're being treated at the best place in the world—and they know it's true. I feel so strongly that their illness didn't just happen and there's a message in it for us all.
"For Shuki and me, our children are a very great blessing."