Profile: Angela Buchdahl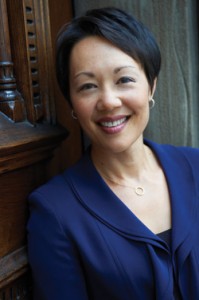 Angela Warnick Buchdahl thinks of herself as a wandering Jew with a sense of direction. The Korean-born daughter of an Ashkenazic father and a Buddhist mother, Buchdahl has traveled from Seoul to Tacoma, Washington, to Westchester and Manhattan in New York. Along the way she has shed her insecurities about being an authentic Jew, reaffirmed her Judaism officially and embraced her religious identity wholeheartedly. She is the first Asian American to be ordained as a cantor or rabbi and the first woman to attain both positions.
For the past seven years, she has not only served as senior cantor of Central Synagogue, a 2,000-family Reform congregation in New York, but also as a poster girl for the face of Jewish diversity in America. Buchdahl, 40, was chosen as one of Newsweek's top 50 rabbis in 2011 and 2012 and, last year, was one of three religious leaders featured in Finding Your Roots, a PBS series hosted by Henry Louis Gates Jr. that explores race, culture and identity through the genealogies and family histories of notable people.
The show uncovered an impressive heritage, tracing Buchdahl's roots to King Taejo, her 20th great-grandfather (1335-1408), the founder of the Chosun Dynasty, which lasted five centuries. Taejo's grandson, King Sejong the Great, was a linguistic, scientific, musical and technological innovator. Buchdahl's Romanian great-grandfather, Srul Soss, came by ship to New York in 1899 and lived a few blocks from Central Synagogue's current location. The information the show revealed, says Buchdahl, caused her to "think really hard about why learning about our ancestry matters and how it shapes us, though this is what I do all the time—I am constantly trying to help people understand the importance of knowing our Jewish past, because I believe it informs our future."
While Buchdahl's "Koreanness" remains vital, it is her Jewish identity that is front and center. She pursued her dream of becoming a rabbi because of the inspirational guidance rabbis offered her throughout her life, and added the cantorate for exactly the opposite reason—she grew up without a model of what a cantor was or could be. But music was essential to her life—she led song sessions by the age of 14, played piano seriously and was a flutist in the Tacoma Youth Symphony. "I longed to bring all the pieces together," she explains.
And she has done just that. Short-haired and petite in a belted gray dress, Buchdahl talks animatedly about her mission to deepen the role of a cantor. She was previously associate rabbi and cantor at Westchester Reform Temple in Scarsdale, New York, and her cantorial role at Central Synagogue includes preaching and "strategic visioning." She has shaped the worship experience to reflect the congregation's "forward-thinking, open, intimate and welcoming" identity, she says.
"While most American synagogues lament sparse attendance…Buchdahl has clearly cracked the code, with 600 attending regularly on Friday nights," Newsweek wrote in 2011, adding that she is "widely viewed as having a voice and approach that transforms worship." Her rich mezzo-soprano was featured in the PBS documentary, 18 Voices Sing Kol Nidrei.
During her tenure, Friday night attendance has doubled, post-bar mitzva retention has tripled and the waiting list for membership has spiked to over 300 (membership is capped at 2,000 families). With a five-person band that she introduced gradually, the services exude an "unabashed sense of joy" and have become "a place where people can bring their pain, their dreams and their Jewish memories."
The clerical team intentionally focuses its efforts and resources on worship. "When you live in New York City there are so many Jewish institutions that bring in speakers and do cultural events. But only a synagogue can really do worship," says Buchdahl. For the past 15 years, the clergy has been tackling a different annual worship project, from Kol Nidrei to Shabbat morning services. The space itself helps: a magnificent Moorish landmark on Lexington Avenue at West 55th Street, dedicated in 1872 and restored in 2001 after a devastating fire.
"It's a rare cantor who manages to take you somewhere without telling you where you should go, who is spiritual without being saccharine," says friend, author and journalist Abigail Pogrebin. Buchdahl has a "rare combination of vitality and serenity, a kind of reassuring, measured aura as well as a spark that energizes those around her."
Buchdahl uses those strengths to amplify the voice of progressive Judaism and to express her conviction that religion is a force for good. Trained by Just Congregations, the Reform movement's congregation-based community organizing effort, she has prioritized social action at Central Synagogue. A listening campaign identified issues of concern, from the affordability of life in the city and school overcrowding to reducing bar mitzva excess and raising children to be mensches.
"We asked people what kept them up at night," Buchdahl explains. The resulting conversations encouraged many families to opt for scaled-down celebrations and spurred a synagogue action to locate space for a new public school on New York's East Side. "If our synagogue has nothing to say about the most important issues in our lives, then we become irrelevant. It was a victory for us that we could help broker it."
For Buchdahl, key Jewish values include "a spirit of genuine inquiry and multiple opinions; our whole method of study and nondogmatic spirit; the dignity of every person and the fact that we are all created in the image of God; the ability to know what it is to be a stranger and to have been a slave—and to force ourselves to embody that understanding in every generation."
She tries to approach everyone with a sense of love. She advocates for gay rights and issues of choice for women, and is on the boards of the Multiracial Jewish Network, the Avodah Service Corps and Auburn Theological Seminary, an interfaith platform to address global issues and build bridges across religious traditions.
"Angela is an extraordinary religious leader," says Rev. Katherine Henderson, Auburn's president. At a gathering for a Presbyterian group last year, Buchdahl "led worship that was completely authentic for her as a Jew and yet completely accessible for this group of Christians," says Henderson. "We were all able to praise God together!"
Much has changed since Buchdahl moved to the United States as a child of 5, when it was unusual to be part of a multiracial family. (The new UJA-Federation of New York population study shows that 12 percent of New York Jewish households are "multiracial or nonwhite.") The close-knit Jewish community of Tacoma embraced the family, but Korean traditions mingled with Jewish ones. One year, Buchdahl's mother put kimchee, a spicy, pickled cabbage condiment, on the Seder plate, a "reasonable substitution" since both kimchee and horseradish elicit a similar sting. Buchdahl now makes her own kimchee as well as bulgogi, a meat dish.
Growing up, she says, "my greatest fear was that I was a fraud, that I wore the cloak of a Jew but somehow deep down inside I wasn't authentic." During a summer in Israel at age 16 where she felt "marginalized and invisible," she called her mother to declare that she no longer wanted to be a Jew. "I did not look Jewish, I did not carry a Jewish name and I no longer wanted the heavy burden of having to explain and prove myself every time I entered a new Jewish community," she writes in the article "Kimchee on the Seder Plate," published in Sh'ma, a Journal of Jewish Responsibility. Her mother responded simply, "Is that possible?"
"It was only at that moment that I realized I could no sooner stop being a Jew than I could stop being Korean, or female, or me," she writes. Buchdahl then decided to officially reaffirm her Jewish legacy.
Except for her appearance, nothing in Buchdahl's office gives away her Korean background. Her home, however, is furnished with antique Korean pieces, books and a 10-panel screen with scenes of a mountainside changing through the seasons—a wedding gift from her grandparents to her parents, who in turn gave it to Buchdahl and her husband, Jacob, an attorney, upon their marriage.
A graduate of Yale University with a B.A. in religious studies, Buchdahl was invested as a cantor in 1999 and ordained as a rabbi in 2001 from Hebrew Union College–Jewish Institute of Religion in New York. At the HUC–JIR commencement exercises last year, Buchdahl noted that she was born a month after Sally Priesand was ordained as the first female rabbi and the same year Debbie Friedman released her first album, Sing Unto God.
Buchdahl's attraction to prayer has old roots. At age 7, she read a children's book from the bookmobile at Sunday school about a little girl who said the Shema every night. She took it on herself to recite it with her sister, Gina, every night, as she does now with her children, Gabriel, 12; Eli, 10; and Rose, 7. "We are all one, as a Jewish people and as humanity," she says. "We are all interconnected in this world, every rock and stone, every creature. God is in all things."
Her parents met in South Korea, where her father, Fred, was stationed with the ROTC as a civil engineer. Her mother, Sulja, a student of English, enrolled in a conversational English class he taught. In 1976, the family moved to America, partly because Jewish life was nonexistent in Korea. Ironically, she says, today Koreans are mining Jewish texts, particularly the Talmud, to learn how to hold onto culture.
Though Buchdahl's mother did not convert, she wanted her children to find a home in the Jewish community. Her father instilled Jewish pride in his children and gave them a Jewish vocabulary, says Buchdahl, but it was her mother who imparted a sense of spiritual yearning and wonder. Her mother's Buddhism informs her Judaism, she says, noting that Jewish and Korean cultures overlap in their approach to life, their emphasis on giving back and their drive to succeed and to be educated.
Buchdahl is also inspired by her mother's persistence and resourcefulness. The first female in a family of intellectuals to go to college, her mother sequestered herself in a Buddhist temple for a year to study for the admissions test; she won a full scholarship. An ESL teacher, she introduced a Korean-language program into the Tacoma school system and founded a Korean women's association that is now the second-largest service network in Washington State with 900 employees.
Though Buchdahl says that she feels "good Jewish and Korean guilt" that her children do not feel more Korean, a trip to Korea with the extended family last year did strengthen their Korean identity. She, too, created her first Jewish memory there as she led the Seder at the Army base where her father had been stationed 50 years earlier. The family visited ancestral burial plots and mastered Hangoul, the scientific and easy-to-learn Korean phonetic alphabet created by King Sejong. When they passed an enormous statue of Sejong, the kids waved and said, "Hi, Grandpa!" When they visited one of Sejong's palaces, they said, "If we had been alive 500 years ago, this is where we would have lived!"
Buchdahl enjoys cooking, swimming and yoga, plays guitar and listens to "coffeehouse" music and indie rockers. Music is a passion in her family: Her sister, Gina Coletti, is a classical viola player in Los Angeles.
After being featured in Finding Your Roots, Buchdahl tried to identify what she would pass down to her children that would last 500 years or more. "I'm still working on the answer," she says, "but we make an impact with every choice."
Rahel Musleah's Web site is www.rahelsjewishindia.com.