The Arts: Contractual Beauty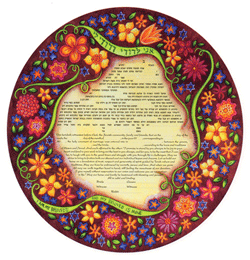 Affairs of the heart do not run smoothly. Whether your moment of wedded bliss took place in 1953 or is scheduled for this year, getting married has always been, and remains, one of life's most challenging experiences. Emotions run high, as do expenses, while many a dearly held family tradition founders on the altar of common ground, especially the kind you hope to establish with your in-laws.
Even so, I have a suspicion that things are far more complicated than ever. Destination weddings, event planners and all the rest of the services that constitute the contemporary multibillion-dollar wedding industry have become de rigueur. Meanwhile, opportunities to select, design, personalize and display a ketuba are thick on the ground and online—and increasingly hard to resist.
Once upon a time, most nuptially inclined Jews not only married other Jews but also wed at home or in their neighborhood synagogue. The odds were also good that the first—and only—time the happy couple laid eyes on their ketuba, that age-old marriage contract between bride and groom, was when they stood together under the huppa.
These days, however, the ketuba shares the limelight with the bride and groom. Differing in form and content, the contemporary ketuba comes in paper and parchment, copper and
lace, photography, digital art and 3-D, and in as many as 15 to 20 different text versions, among them egalitarian, Orthodox, same sex, gender neutral and interfaith. An online search for the word yields advertisements for Not Your Mother's Ketubah and 1-800-Ketubah.com as well as a smorgasbord of ketubot that cost anywhere from a few hundred to several thousand dollars. Museums have also staked out a share of the ketuba territory. The National Museum of American Jewish History (NMAJH) in Philadelphia maintains a Ketubah Gallery, which resides in a room of its own on the museum's ground floor. New York's Jewish Museum recently went into partnership with Ketubah.com, one of the larger online purveyors of Jewish marriage documents. The two are collaborating on a selection of marriage contracts based on historical examples in the museum's collection. The first series includes nine pieces, from a ketuba decorated with a delicate cherry blossom tree and two birds, based on a marriage certificate from Shanghai, to one based on a ketuba from 1614 Venice and covered in floral scrolls and leafy patterns.
Some contracts, styling themselves "ketubahs from nature," are pointedly nontraditional, focusing on flora and fauna rather than the traditional Aramaic text that lies at the heart—quite literally—of the document. For example, photographer Daniel Sroka's modern and minimalist ketubot are close-up shots of calla lilies, ferns and other botanical elements.
Others make a point of retaining the ancient formula, but alter its language to reflect an egalitarian perspective on marriage or else translate it into English. More startling still are the growing numbers of Evangelical Christians who, eager to honor the Jewish roots of their faith, want one, too. As journalist Samuel Freedman reported in 2011 in The New York Times, when Sally and Mark Austin of Texas wed, they added the signing of a ketuba to their churchly nuptials.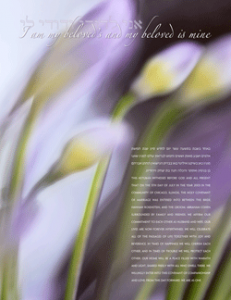 "Embracing this Jewish tradition just brings a richness that we miss out on sometimes as Christians," explained Sally Austin, who, thanks to a Google search, found her ketuba online. In addition, Ketubah.com has launched a site—Artvows .com—to cater to non-Jews looking for an artistic wedding document.
Not surprisingly, the aesthetics of the contemporary ketuba is as varied as the couples who use one—so diverse, in fact, that it is hard to single out one style or format as representative. Some contracts are rectangular and others circular, a reflection, claims one designer, of "the circle of love," or "of the couple's new home, its sides open." Some versions take the form of a print or a watercolor while others place a premium on hand lettering. In a number of instances, the Aramaic text is enclosed within an image of a wedding ring or an arbor. Elsewhere, snippets of text, in English, are implanted within an abstract background rich in saturated color.
The abundance of Jewish marriage contracts reflects a wealth of talent, both professional and amateur. The field of ketuba artists is so crowded these days that an annual award, the Ketubie, is bestowed on the most well-wrought forms of expression and divided among categories that run the gamut, from best traditional to best 3-D. In 2012, for example, design company Love by Leya's Double Wedding Ring, a delicate papercut with a morning glory motif, won for Best Paperie Ketubah while This Is Not a Ketubah company won Best Ketubah of the Year for Loving Embrace with its vibrant colors and vivid kissing couple.
"We are dedicated to awarding only the best out there in style, design, customer service and more!" explains the Web site of the Ketubah Artist Association, https://ketubahaa.org, which sponsors the award, adding that its motivation is "to not just develop, but also honor this cherished tradition."
Looming larger and larger, the ketuba has been made into a highly visible component of the American Jewish wedding. Years ago, it reposed unobtrusively in the rabbi's pocket until the appropriate moment in the proceedings, at which point he would quickly read or summarize its provisions. At the conclusion of the ceremony, the document was customarily retired to a drawer or consigned to a bank vault with other important family papers and, assuming the union was stable and happy, probably never seen again. But these days, perched on an easel throughout the ceremony, the ketuba has become an object of adulation. In some circles, it has been integrated into the wedding procession. Born aloft by two members of the wedding party, it marches down the aisle ahead of the bride and groom.
After the wedding, the ketuba goes on to enjoy pride of place within the couple's bedroom, living room, dining room or foyer. This item is now a "fixture, one of those things you look for when visiting a Jewish home," says Kristen Kreider, director of retail operations at the NMAJH, whose portfolio encompasses the running of its Ketubah Gallery. Most of her clients, she notes, plan on showcasing their marriage contracts.
Many couples go to great lengths to commission one that is in sync with their design sensibilities. As Stacia and Aaron Moser, a San Francisco couple, explained when purchasing a ketuba from Sroka, "we knew we wanted something to hang on the wall of our condo that went with our modern style." Another satisfied customer, happy with the ketuba she purchased years ago from East Village artist Stephanie Caplan, allowed how it had "stood the test of time." Over the years, its owner had moved from an apartment in New York to a historic brick Georgian home in Virginia and into a modern place in Berkeley, California, and in each environment her specially designed ketuba fit right in.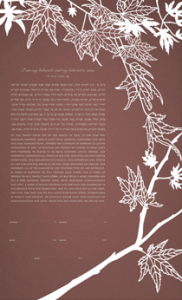 For those of us with a keen sense of history, these developments are nothing short of stunning. For much of its history, the American ketuba was a decidedly modest and traditional bit of business, its use limited to the Conservative and Orthodox Jewish communities. For years, Reform Jews had little truck with the ketuba. The "changes which have taken place in Jewish life and law have divested the document of its ancient meaning and importance," the Central Conference of American Rabbis explained as late as 1955, choosing to do away with it.
Distributed by professional rabbinical associations or for sale in the dusty ritual-article shops that dotted immigrant neighborhoods, the ketuba was more functional than fanciful. Though not without delicate flourishes and sweet touches—here and there a pair of putti, a stylized image of the happy couple or garlands of flowers—most marriage documents were workmanlike and mass produced.
There were exceptions, of course, such as the 1911 ketuba of Anna Brenner and Frank Zimring, part of the NMAJH's Peter Schweitzer Collection. With its collage-like effects and use of fabric to frame a photograph of the handsome couple, it invariably pops up in most accounts as a prime example of American Jewry's imaginativeness. However, the overwhelming majority of Jewish couples were not inclined to make much of a fuss.
Availability had something to do with it. Artistically distinctive ketubot were simply not to be found, unless you made one yourself. When, in the late 1950s, the synagogue gift shop made its debut, expanding its dowdy repertoire of Judaica with new ritual objects from Israel, the situation brightened; little by little, ketubot fashioned by Israeli artists trickled into American homes.
We will never know for sure, but even had the ketuba of yesteryear been more visually compelling, its popularity was nowhere near assured. During the first half of the 20th century, with the exception of the Orthodox community, whose influence and numbers were limited at that time, most American Jews were not terribly invested in their ketuba. Earlier generations were more apt to regard their ketuba as a formality—and a vestigial one, at that.
What, then, accounts for the stunning transformation in the ketuba's valuation as well as in its visual conventions? How did it go from a standardized legal text into an expression of the idiosyncratic? This is no idle question: The metamorphosis of the ketuba constitutes one of the most far-reaching changes in the life history of a Jewish ritual text, surpassed only by the Haggada.
Those who chart the ups and downs of the American Jewish experience attribute the ketuba's popularity to the Jewish counterculture of the 1960s, whose embrace of the sensual and the unmediated inspired young American Jews to revive the Jewish folk arts of calligraphy and papercutting. Before long, they happened upon the ketuba. It aligned history and sociology, binding together age-old forms of aesthetic expression with the contemporary celebration of love and its emphasis on the primacy of the self.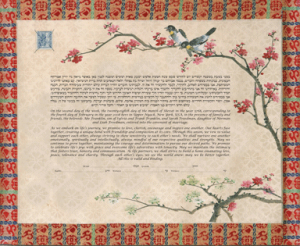 Happily, the ketuba transcended the immediate circumstances of its rediscovery in the 1960s and prospered. While the Jewish counterculture placed the ketuba within American Jewry's sights, the convergence of a number of broad-based changes in modern American life ensured it would stay there.
One of those changes has to do with the nation's increasingly consumerist orientation. Matters of faith and religious practice, once thought immune from the vagaries of the marketplace, find themselves competing for attention: Devotees inhabit the role of consumers while rituals are likened to goods and services. And so it is with the ketuba. Tailored to the couple's specifications, it, too, has become a commodity.
Concomitantly, American Jewry's heightened attentiveness to rituals that place a premium on pleasure rather than obligation also helps to explain the ketuba's hold. Even as it gestures toward the past, this practice does not hang heavy or sink under the weight of too much collective responsibility. Freely chosen, an act of volition rather than compulsion, at least for most couples, the ketuba speaks brightly of the future, of anticipation and of hope.
All of these trends come together at the NMAJH. It sells hundreds of ketubot each year online and at its Ketubah Gallery, a "special space" that Kreider described as "cozy and comfortable." In the gallery, couples leaf through dozens of samples, searching for the one that both strikes their fancy and fits their pocketbook. Often, they bring their parents, transforming a shopping experience into a family affair.
No one seems to be the least bit bemused by the idea of purchasing a ketuba from a museum. On the contrary, a neutral, nonconfrontational presence, museums throughout the country attract a significant number of couples who might otherwise feel uncomfortable within the precincts of a demonstrably Jewish environment. Besides, the venue adds value to the ketuba, tacitly endowing it with the imprimatur of "art."
No matter its source or form, the ketuba exhibits remarkable staying power. At once a reflection of its time as well as a highly private matter, this Jewish ritual artifact turns out to be just as malleable and accommodating as, well, a good marriage.
Jenna Weissman Joselit is the Charles E. Smith Professor of Judaic Studies & Professor of History at The George Washington University in Washington, D.C., where she also directs its Program in Judaic Studies and its newly created M.A. in Jewish Cultural Arts. She blogs at www.fromunderthefigtree.com.