Inside Hadassah: Borderless

Bringing modern health care to the land and the people of Israel has been the mission of Hadassah since our establishment in 1912. Within a year, members had raised enough money to send two American Jewish nurses, Rose Kaplan and Rachel Landy, to Jerusalem to assess the public health needs of prestate Israel. One hundred years later, we celebrate the contribution these nurses made in providing early Hadassah leaders with a roadmap to build the foundation of Israel's health care system.
Today, Hadassah Medical Center is a world-renowned beacon of healing, teaching, research and peace. We treat all people—regardless of race, religion, politics or borders.
This past spring, the Palestinian Authority health minister visited Palestinian patients being treated at our Ein Kerem hospital. And, in 2005, the Hadassah Medical Organization was nominated for the Nobel Peace Prize. I have no doubt the future will bring a Nobel Prize nomination in medicine to HMO. But, this time, we will win it.
We owe a great deal to Kaplan and Landy and to the wisdom of our early Hadassah leaders. Toda Raba! —Nancy Falchuk
A Welcome Visitor
Palestinian Authority Minister of Health Dr. Hani Abdeen visited Hadassah Hospital in Jerusalem last spring. He met with Dr. Yuval Weiss—then acting director-general of the Hadassah Medical Organization and director of Hadassah Hospital at Ein Kerem—in the Pediatric Hematology-Oncology Department, where 30 percent of patients are Palestinian.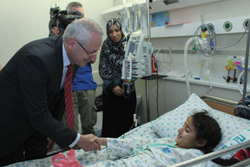 "Hadassah considers cooperation with our Palestinian neighbors a top priority," Dr. Weiss told Dr. Abdeen during the May 5 visit. "Medicine is a bridge to peace. There are no borders when it comes to treating patients."
Dr. Abdeen also met Palestinian physicians training at the hospital. He stressed developing specialties that are lacking in the Palestinian Authority—anesthesiology, interventional radiology, cardiac care and pediatrics.
"I understand that I am the first Palestinian minister of health to visit our patients in an Israeli hospital," he noted. "It's a great pleasure to do so. This is an official visit. I want to hear [patients'] feedback—their moans, groans and gripes as well as their praise for the good treatment they are getting."
Nursing Centennial
This year marks the 100th anniversary of the arrival in Jerusalem of Hadassah nurses Rose Kaplan and Rachel Landy.
In 1913, Kaplan and Landy set up the Hadassah Nurses Settlement, caring for maternity patients and treating 5,000 children with eye disease. Eventually, they saw patients with dysentery, typhoid and malaria and taught midwives proper hand washing and other hygienic practices to lessen the maternal mortality rate, then one out of every two women.
Kaplan and Landy returned to the United States in 1914 after the start of World War I. Kaplan died in Alexandria, Egypt, at age 49, while working on behalf of Hadassah at a refugee camp for Jews expelled from Palestine. Landy entered the U.S. Army Nurse Corps before continuing her career in Cleveland
If you want a job done with creativity and collaboration, talk to Shelley Sherman. Three national presidents of Hadassah chose her to tackle the organization's challenges in the 21st century.
Sherman was born into a family of passionate Zionists; her mother was president of the Springfield, New Jersey, Hadassah chapter.
"I went through a period in my late teens when I questioned the underpinnings of my parents gospel," she recalls. "Israel could do no wrong and its existence was inexorably tied to the existence of the Jewish people. I thought they were alarmists, but boy were they right!" Before starting law school, Sherman went to Israel. She traveled the country, and at Hadassah Hospital in Ein Kerem she joined Hadassah. The pin she was given read, "I joined Hadassah in Israel because I saw." On her return home, the local Penny Saver introduced her to a new young women's group.
After her Great Neck chapter presidency and 11 years on the Nassau Region Executive Board, Sherman chaired the National Young Founders initiative. Take a Stand!, the fundraising and advocacy initiative for young members, was born. Her vision was to engage the heart and loyalty of young women in a project that captures the essence of Hadassah's mission. The team included grassroots fundraising, young women/young leaders, advocacy for stem cell research here and in Israel and a fundraising goal of $360,000 over three years. In one year, $1 million was raised.
At a transition time in Young Judaea's history, Sherman became the national coordinator of Young Judaea, and now sits on the Young Judaea global board. Her children, Daniel and Hannah Diamond, grew up with Young Judaea; Hannah participated in Year Course.
Today, as coordinator of the executive division, she works hand-in-hand with National President Marcie Natan. She was also recently elected to the board of the Hadassah Medical Organization.
Sherman and her late husband, David Diamond, are second-generation Guardians of the Dream and part of a three-generation Founders family. —Sandra King
Prestigious Recognition for HBI
The Hadassah–Brandeis Institute has been given the 2013 Research and Scholarship Award from the National Council for Research on Women. The award is largely in recognition of HBI's outstanding research that has advanced the understanding of the roles and experiences of women and girls in society. The council likewise acknowledged HBI founder and codirector Shulamit Reinharz, the Jacob S. Potofsky Professor of Sociology, for her pioneering research on women.
HBI was founded as an academic center for the study of Jews and gender worldwide by producing and promoting scholarly research, artistic projects and public engagement.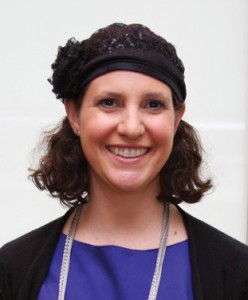 First Class
The Hadassah Foundation honored Rabba Sara Hurwitz, dean of Yeshivat Maharat, with its Bernice S. Tannenbaum Award at a ceremony in New York in June. The prize is given annually to an outstanding young female leader who advances the status of women and girls in Israel or the United States.
"Rabba Sara Hurwitz exemplifies the ideals of the Bernice S. Tannenbaum Prize through her groundbreaking work with Orthodox women," said Donna Gerson, chair of the Hadassah Foundation.
Hurwitz, the first and only Orthodox woman to be ordained as a rabba, has had significant influence on Orthodox religious leadership in the United States. Also in June, Yeshivat Maharat, the first Orthodox institution to train women for religious leadership, graduated its first class of Orthodox women, who will each assume the title maharat.
Named in honor of Tannenbaum's lifetime of service to the Jewish people, Israel and Hadassah, the award connects the recipient to the accomplishments of Tannenbaum, Hadassah national president from 1976 to 1980.
"I am humbled and honored to receive the Hadassah Foundation's Bernice S. Tannenbaum Prize for helping women use their talents to become Jewish religious leaders," Hurwitz said.
Hurwitz is part of the rabbinic staff at the Hebrew Institute of Riverdale in the Bronx, where she fulfills all functions of a rabbi, from teaching and speaking from the pulpit to officiating at life-cycle events and addressing congregants' halakhic questions.

Sisterhood of Shared Values
Janice Weinman, Ph.D., became the executive director of Hadassah in June 2012, but her commitment to Hadassah was firmly established long before then.
"My mother was a life member and she made me a life member at a young age," recalls Weinman. "Hadassah is very much in my family."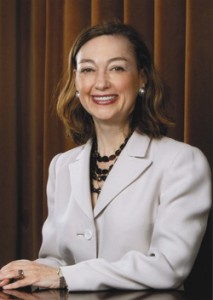 Weinman is honored to now serve Hadassah in a professional capacity. "I feel privileged to be here," she says. "The organization has so much history behind it and so much potential ahead." In essence, she says, "Hadassah is a very strong sisterhood of women with shared values"—and that is its strength.
"To me, it's more a movement than an organization," she explains. "We are 330,000 strong. Many of us are deeply committed to the heritage of Israel and deeply concerned about the welfare of women both in Israel and the United States."
Hadassah women, she adds, are "impassioned about education"—a subject very close to her heart as well. Weinman earned her doctorate from the Harvard Graduate School of Education and has published numerous articles on educational reform. She also served as assistant to the United States secretary of education during the Clinton administration, after holding the position of executive vice president of the College Board.
Because of its large network, Weinman notes that Hadassah has so much to offer at both a national and a local level. She points to the health programs run by chapters and groups, which are in-depth and offer meaningful support; advocacy programs focusing on issues important to women, to Jews and to the general population, bolstered by Hadassah members on the ground in every congressional district in the United States; and training fellowships, grooming current and future leaders in business, development and the Jewish community.
"No other organization is as broad-based and as profound as Hadassah," says Weinman. "The diversity of our members and the way in which they implement programs is truly impressive. They share a deep commitment, but it is expressed most meaningfully and personally."
Weinman arrived at Hadassah with over 40 years of experience in the public sector and with nonprofits. In addition to serving on the inaugural board of the Hadassah Foundation, she held leadership positions—both as a professional and lay leader—in numerous women's and Jewish organizations, including the presidency of the JCRC, American Association of University Women, Women for Women and, most recently, at Kids in Distressed Situations. Weinman also served as corporate vice president of external affairs at Mount Sinai–NYU Medical Center.
Born in England, Weinman considers herself a lifelong New Yorker, though she has lived in other parts of the country. Her husband, Stuart Shorenstein, is a lawyer who is active in politics as well as Jewish causes. They have one daughter and a 1-year-old grandson.
Weinman credits her civic and Jewish involvement to her late parents, Monna and Otto Weinmann, who were Holocaust survivors. "Everything I do is a reflection of their deep commitment to democracy and continuity," she says.
As executive director, Weinman has plans for reinvigorating Hadassah's brand, including creating relevant new initiatives for both younger women and also for empty nesters. She says those two groups, notably, are looking to be engaged in programs that speak to them and their interests and schedules. In addition, Weinman is also overseeing a major marketing and communications thrust, which will include building infrastructure for interaction among Hadassah's 50-state network of women.
Of course, the Hadassah Medical Organization in Israel remains the center of Hadassah's efforts. "Our medical research is truly our contribution to the world," says Weinman. Hadassah, she adds, looks forward to continuing to raise funds for the hospital, supporting HMO's cutting-edge medical research and enabling its physicians and scientists to pioneer new treatments and discover cures.
"Hadassah as an organization," says Weinman, "represents the best of Zionism and the future of Zionism."