Profile: Letty Cottin Pogrebin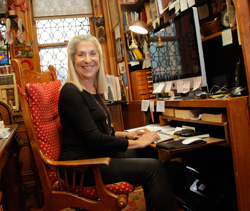 Amidst the veritable museum of objects, art and memorabilia that Letty Cottin Pogrebin collects and treasures, a print called Our Foremothers beckons, boldly etched with names from Eve to Esther. "Letty" is not listed, nor is Yaffa, her Hebrew name, but Pogrebin is a foremother in her own right, a feminist pioneer for our time.
The author of 10 books and a cofounder with Gloria Steinem of Ms. magazine and Ms. Foundation for Women, Pogrebin is a social activist devoted to promoting gender and racial equality, an advocate for Middle East peace and a critical thinker committed to the "sacred causes" of Judaism and feminism. "We have to opt into the struggle to shape our community values," she declares in an interview at the New York apartment where she has lived for 43 years. "We should not be silenced. Judaism is us. All of us."
Pogrebin has never been shy in sharing her outspoken opinions, published widely in national magazine articles and op-ed columns. Yet she has opened her personal life to scrutiny as well. Her nonfiction books fuse memoir with research and reporting. Deborah, Golda, and Me: Being Female and Jewish in America
 (Anchor) reconciles her "feminist head" with her "Jewish heart"; Getting Over Getting Older: An Intimate Journey
 (Little, Brown) offers an introspective look at the aging process. Her new book, How to Be a Friend to a Friend Who's Sick
 (PublicAffairs), is based on her own recent bout with breast cancer. Her other books examine friendship, parenting, family and the workplace. "I feel you have to expose yourself and not be protected or distanced by the journalistic barrier," she says, fulfilling the feminist motto, "The personal is political." Even her novel, Three Daughters
 (Penguin), draws on identifiable aspects of her own life.
Writing How To Be a Friend helped Pogrebin battle her feelings of powerlessness in the face of illness. She was struck by how some of her friends "flailed about," not knowing what to do or say. "I realized I'd been the same way in my dealings with my sick friends," she says, "but when I was on the receiving end of it I suddenly saw how much of what people routinely say is unhelpful and sometimes even hurtful." She interviewed fellow patients in the waiting room at Memorial Sloan-Kettering Cancer Center in New York as well as other veterans of illness, distilled their experiences and combined their stories and advice with her own. The Golden Rule, she says, formulating it in the Hillel construct, is "Do not treat a sick person in a way you would not want to be treated if you were in their place."
At 74, Pogrebin is the epitome of the wise woman who shows you the way, yet she retains her youthfulness. Petite in a black dress, black leggings and stylish, ankle-high boots, she notes that her shoulder-length hairstyle has remained largely unchanged for almost four decades. She still feels 36, she says, and has always felt 36—even at 17, two years after her mother died of ovarian cancer. She acknowledges the Jewishness of the number, reflective of her Jewish core.
Ms. was founded as a place to tell the truths of women's lives, combating the image of the Happy Homemaker promoted by other women's publications. In Makers, a PBS documentary about the birth of the women's movement, she recalls "astonishing" articles on previously unmentionable subjects like violence against women and women's sexual needs. To those who object to the "F word," she says, "I don't care what you call yourself as long as you are working for the freedom, dignity and equality that every woman deserves. Feminism is pro-men, pro-family, pro-child."
Feminism has also been a key to the success of her 50-year marriage. Early on, she and her husband, Bert, a labor and employment lawyer, read works about gender roles together and their marriage evolved on the grounds of simple fairness and mutual accommodation. Their twin daughters, Abigail and Robin, 47, are both writers; son David, 44, is a restaurant manager.
In Jewish feminism, she says, "there is a sense it has all been solved." Because women have been ordained and a few have headed major Jewish organizations, "it looks like feminism is passé until you notice that the largest shuls in America don't hire women rabbis and that female rabbis are more likely to be called by their first names or criticized for what they wear. Delegations to Israel are still overwhelmingly male, and men get honored at testimonial dinners. Women get lunches."
Pogrebin wept when she first saw a female rabbi, cantor and president on the bima at the Stephen Wise Free Synagogue in New York, after Sally Priesand was ordained in 1972. That experience allowed Pogrebin to reclaim the communal links with Judaism she had severed after her father forbade her to recite Kaddish for her mother. With nine men in their home for a shiva minyan, he refused to count her, calling the synagogue to send a 10th man instead. She remained estranged from Judaism for 15 years.
Pogrebin traces her budding feminism in part to that exclusion, though in retrospect she might have had an even earlier epiphany: Her bat mitzva haftara told the story of Deborah—prophet, independent woman and military commander who presided over peace for 40 years. "Deborah embodies everything I care about," Pogrebin says.
Pogrebin has a "deeply Jewish soul and is always working at her Jewishness," says Orthodox Jewish feminist Blu Greenberg, who has known her since 1957. "She has a high and uncompromising moral standard, and is a lesson in how one can be colorful, outgoing and public, yet retain the quality of modesty." Greenberg remembers Pogrebin's 60th birthday celebration, to which Pogrebin invited 60 women friends. "When it came time to speak, instead of talking about herself…she spoke about why each woman present was special and what she had learned from her. Classic Letty."
Though the radical activism of early feminists shocked many, biblical women were also "holy troublemakers"—disobedient women who knew what to do and did it, says Pogrebin: Esther, Miriam, the midwives, even Lot's daughters, who slept with their father to ensure humanity's survival. "Women's rebellion is a large part of our heritage." And though she applauds women who don talitot, Pogrebin does not wear one herself. "Wearing a talit or a kippa is so associated with men that it would be like wearing briefs with an opening in front."
Steinem tops her personal list of contemporary heroes. Pogrebin met Steinem at the founding meeting of the National Women's Political Caucus in 1971. "Gloria was a brilliant, eloquent and inspiring spokesperson who made the feminist revolution understandable and unthreatening to millions," she says. She also lists late Congresswoman Bella Abzug, who was "brave, forthright and demanding…. If Bella wanted something done, it got done."
An optimistic, energetic and organized doer herself, Pogrebin admits her frustration with what remains on her bottomless to-do list. She is currently writing a second novel and has outlined her next nonfiction Jewish book. Her many loves include hiking, theater, concerts, good food, dinner parties and traveling with her grandchildren, two at a time.
"Letty is a chandelier with no dusty or dead bulbs—maximum wattage all the time," says Kathleen Peratis, an attorney and friend for 40 years. "In a single day, she can bang out a magazine column, babysit for a grandchild, speak at a rally and set a gorgeous table at her home for her Palestinian-Jewish women's group meeting."
Pogrebin grew up in an observant and fervently Zionist home in Queens, New York. Her mother, Ceil, emigrated from Hungary at age 7, became a sewing machine operator and worked her way up to become a clothing designer. She was also a Hadassah life member. Pogrebin's father, Jack, was an attorney who headed many Jewish organizations, including the Jamaica Jewish Center.
Despite the outward veneer of stability, the Cottin home was rife with secrets that Pogrebin knew nothing about until a cousin revealed them to her in anger over a lost game of cards. Porgrebin was 12 when she learned that both her parents had been previously married and divorced, and each had brought a child to the marriage. Her sister Betty, 14 years her senior, was her mother's daughter. A year later, she discovered she had another sister, her father's abandoned daughter, Rena, who was introduced to family friends as a cousin. The stigma of divorce in those years caused her parents to fabricate an elaborate ruse.
Then, after her mother died a few years later, her father sold the family home, gave away all the possessions of their former life, remarried and relegated Pogrebin to a daybed in the entry hall of their apartment. "It's pretty clear," she says, "that I save everything and surround myself with lots of objects to compensate for those losses and my uprooted childhood."
Pogrebin does credit her father with her critical thinking, love of learning and politics, her Jewish connection and identity. She credits her mother with everything else and is deeply sentimental about her. "She left me with two legacies—a feeling of confidence and of being special, and her Old World superstitions." She lives with many of the fears her mother bequeathed—a boat might sink, a motor scooter might crash. "I feel the fear and get on the boat anyway," she says.
Pogrebin graduated from Brandeis University with a bachelor's degree in English and American literature, became director of publicity and then vice president of Bernard Geis Associates, which discovered, published and promoted authors like Jacqueline Susann and Helen Gurley Brown. Pogrebin's first book, How to Make It in a Man's World, caught the attention of Ladies Home Journal, whose editor invited her to write a column called "The Working Woman." Ms. soon followed. Pogrebin served as editorial consultant to the Emmy Award-winning Free To Be… You and Me. She has been president of The Authors Guild, chair of the board of Americans for Peace Now and attended a black-Jewish dialogue group for years. She was also outspoken about exposing and fighting anti-Semitism where it existed in the women's movement, noted Greenberg.
Her reentry into Judaism began in 1970 when she started to lead High Holiday services in her Fire Island, New York, summer community. Priesand's ordination, the United Nations' passage of the 1975 Zionism Is Racism resolution and the new feminist rituals Pogrebin helped create with like-minded women motivated her later to reaffiliate with organized Judaism. She is now a member of B'nai Jeshurun.
For the past five years, she has participated in a monthly Palestinian-Jewish discussion group. She considers herself a loving but firm critic of Israel's current policies and defends her right to communicate her criticisms. "If we do not guard that Israel become its best self, who will?" she asks.
Pogrebin lives by many precepts of Jewish wisdom. She recounts the Talmudic adage that each person goes through life with a note in each pocket. "One says 'For me the world was created,' and the other says 'I am but dust,'" she says. "It's when you tip the balance that things go wrong, when you think you are either everything or nothing." Her own legacy to her children, she hopes, would impart "a sense of where they come from, a feeling that all things are possible, that they owe the world something in return for all their blessings and that their history is their most precious inheritance. Zakhor, I say. Remember."
Rahel Musleah's Web site is www.rahelsjewishindia.com.