Q&A with Jodi Picoult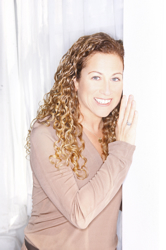 How many writers have 20 consecutive novels on the bestseller list, the last 8 making their debut at No. 1? That's the track record of Jodi Picoult, 47, who has been turning out a book a year for 20 years, recording sales of more than 46 million books in 34 languages in 35 countries. Her most recent book is The Storyteller
 (Atria/Emily Bestler Books), her first book to touch on the Holocaust. In The Storyteller, a young woman, a baker, is asked by an elderly customer for an unusual favor—after he reveals his secret Nazi past to her. What follows is her struggle with the moral implications of her choice.
Picoult (pronounced Pee-KOE, like the tea) bases her fiction on social themes and moral issues, often drawn from the front pages. She was born and raised in Nesconset, Long Island, New York, and studied creative writing at Princeton University. While an undergraduate she had two short stories published in Seventeen magazine. After graduation, she held a number of jobs before entering Harvard to pursue a master's degree in education. Picoult met her husband, Tim Van Leer, at Princeton, and it was while she was pregnant with her first child that she wrote her first novel, Songs of the Humpback Whale (Pocket Books), published in 1992.
Several of her books have been made into movies, including My Sister's Keeper. Salem Falls, The Tenth Circle, The Pact and Plain Truth were made into movies for Lifetime television. She was awarded the New England Bookseller Award for fiction in 2003.
A disciplined writer, Picolt usually gets up at 5:30 A.M. and walks three miles with a friend. She answers e-mails for an hour in the morning and then writes, researches or edits until around 4 P.M.
She and her husband live in Hanover, New Hampshire, with their three teenage children and several dogs, geese, chickens and other farm animals.
The following interview was conducted by e-mail correspondence.
Q. Your books invariably have themes touching on serious social issues. You have said that the Holocaust is a "human rights" issue, not just a Jewish one. Why did it take you 20 books to explore the fallout from the catastrophe of the Holocaust?
A. Because I have a lot of stories I want to tell, and there were others that were pushing to get out first!
Q. You were raised "culturally Jewish" and refer to yourself as an agnostic. It has been said that there are no atheists or agnostics in foxholes. How do you think you would have reacted if you were picked up by the Nazis and deported to Auschwitz?
A. That's a very interesting question. Yet, many religious Jews turned away from their faith in the camps. What seemed to matter for survival, in the cases I heard, were the connections that these men and women had to even just one other person in the camp—someone for whom they felt responsible, someone for whom they needed to stay alive. Which is, in its essence, a very humanist concept. If I were picked up by the Nazis, I think I would have been frantic to get back to my family, since that's what defines my life. Look, I have many friends who are strong in their faith. I don't judge them for that—I think it's wonderful, because it works for them. It's just not who I happen to be.
Q. You grew up in suburbia. Why did you choose farm life in New Hampshire?
A. My husband and I wanted to buy a house in a place that was a great place to raise kids, but that also had a rich cultural life. We made lists of what was important to us—and on mine was a university with a good creative writing program. Dartmouth is in Hanover, and it was the one town that met both our qualifications. It's been really fantastic to live in a place where you don't have to lock your car door when you park it; it has given my children an upbringing few of their peers have. Being able to buy land and raise farm animals also gives them an experience that's pretty unique. Plus, it's downright beautiful. The downside? It takes me three hours to get to an international airport, and most of my shopping is done online.

Q. When you are asked about favorite authors you invariably say Alice Hoffman and virtually all female writers. How come?
A. The reason I talk about female writers is because it has been repeatedly documented that men manage to get more reviews and more press for their writing; it's the female writers whose works are less well-trumpeted. I think having the readership I do, and the number of fans I have, I have been given a pulpit of sorts—and so I'm going to use it to remind the world that there are some really amazing ladies out there writing fiction.
Q. You've said that you would like greater literary recognition. Yet you are one of the most successful authors in the United States. Why do you think literary critics don't rate you highly and to what extent do you resent that?
A. I write commercial fiction—gladly. I love having a wide-ranging appeal, and large print runs and knowing that my audience is widespread. As a result, I will never be considered "serious" enough to be on the shortlist for a major literary award—that's the tradeoff for sales. I don't resent being called a commercial writer. I resent the assumption (often a blind one, by people who've never read my books) that my writing must be crap because it's commercial fiction. There's an interesting Twitter discussion I started the other day about "likable" characters—as part of a response to an article by Jennifer Weiner on Slate: Women tend to be bashed for creating unlikable characters; men are celebrated for that. There's a new trend, too, where women writers who want to be taken seriously are bashing other female authors whose characters are likable. It made me ask, on Twitter, for examples of characters written by women who are truly despicable. Amy from Gone Girl came up the most—and a quick Goodreads search flagged tons of critical responses taking Flynn to task for writing a character the reader did not like. Do you think anyone said the same to Nabokov about Humbert Humbert?
I also resent the notion that if a commercial fiction writer who is female writes about relationships and family, it's chick lit or domestic fiction, while if a man does it, it's groundbreaking; the Great American Novel. I believe that there are distinctions between literary writers, just as there are gradients of quality between commercial writers. The Storyteller is heavily researched, accurate, emotionally intense. Should it be considered as a less important read than a book that bills itself as literary fiction? If so, why, exactly? If you define literary fiction as that which makes a reader think and broadens their horizons and their capacity for human understanding—then is it fair to say NO commercial fiction does the same? I resent the fact that some feel educating a reader and entertaining a reader are mutually exclusive. Although I would never put myself on a parallel with Toni Morrison or Philip Roth, I would like to believe my books have made a difference in the lives of some readers—even if they're "just" commercial fiction.
Q. To write a book a year, including research and promotion, is a staggering accomplishment. Philip Roth says that at 80 he's finished. You're only 47. Do you think you'll ever say, "That's it!" What continues to drive you?
A. The stories to which I don't have answers. The sense that I want to pick apart a character's brain, or speak in her voice. And the hope that when I finish a book and someone reads it and has their opinion questioned, I might leave this world a slightly better place.