The Soul of Broadway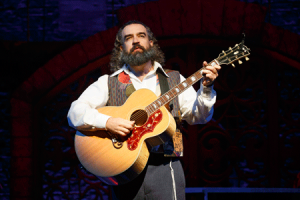 One of the fun facts when it comes to the phenomenon that is Broadway is the variety of raw materials from which a hit may be formed. Successful musicals have been staged around emerald-skinned witches, phantoms, miserable French people, felines large and small, biblical characters and so on. The producers of Soul Doctor, which officially opened on Broadway in mid-August, are banking on enthralling the theater-going public with the life journey of…a rabbi. This does not sound promising. But we have before us one highly unusual Jewish cleric who, born to a prestigious rabbinical European lineage, became a guru for hippies and a change-maker for an entire generation. Bets are on that the core audience—what we might term the hevre, the thousands who knew Rabbi Shlomo Carlebach personally or were touched by his work—will be intrigued enough to come out for the night and even pay Broadway prices (hint: $30 rush tickets are available on the day of the show). But whether the broader public will turn on and tune in, or merely drop out, remains to be seen.
The ambitious goal of the evening is to compress this colorful life, or at least its first half, into a little over two hours. The opening scene, and chronologically the last, is set in Vienna, where Carlbach (played by the energetic Eric Anderson), now in his musical prime, is singing at the invitation of his friend African-American singer Nina Simone—notwithstanding cries of "Traitor!" from his fellow Jews. Subsequently we move back in time to experience the events leading up to this pivotal moment. Starting from Carlbach's childhood in Vienna, son of a prominent rabbi, we move to his encounter with minstrel hippie-hasid Moisheleh who, complete with shtreimel and multicolored robe, demonstrates for him the power of song and love and the words "Good Shabbes" ("But it's Tuesday!" objects the young Shlomo) before being casually shot down by a Nazi. This seminal incident sets the young boy's life on its ultimate course.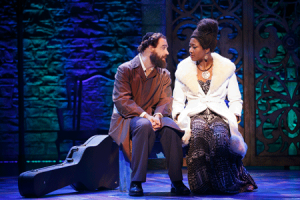 His family then moves to the United States, where Carlbach becomes increasingly despairing of his father's old-time religion, and following significant encounters with the Lubavitcher Rebbe and Simone (and how odd to group those two figures in one breath!), not to mention a churchful of singing and dancing folk, he creates his own unique brand of guitar-playing, foot-stomping, holy-sister-hugging Judaism, gathering up myriad lost hippie souls to his Los Angeles synagogue, The House of Love and Prayer.
As his popularity in the recording studio and on the fringes mounts, he is increasingly shunned by both the mainstream Orthodox community and his father. We witness his pain, yet he must pursue his calling, even at the expense of a romantic relationship. In the grand finale, Carlebach's old friend Simone calls him up: "Shey-lomo," she urges, "come play with me in Vienna tomorrow night!" After a moment of agonizing over a return to that place of darkness and persecution, he assents, insisting to his Jewish critics, "If I had two hearts I could use one for love and one for hate—but I have only one, so I must love." The show ends with not only the entire cast but also many of the audience roaring "Am Yisrael Hai"—and, at least on the evening I attended, a standing ovation.
All this makes for a quirky, fast-paced musical, a peculiar cross between Fiddler on the Roof, Hair and a synagogue service, moving from frenetic dancing to quiet scenes pregnant with emotion. Some sights have likely never before graced a Broadway stage: six yeshiva bochers twirling with gusto around their Talmuds; the Lubavitcher Rebbe speaking, Juliet-like, from a balcony; and a rabbi and a piano-bar singer embracing. The jokes range from amusing—"Look at you, swaying like you was a real black Jazz musician." "Jews are always swaying." "Why's that?" "Ducking bullets!")—to childish, even vulgar. They serve to break the tension and keep things moving, as does the intense musical energy on stage, the vivid costumes and excellent acting. The cast, and in particular Anderson, who is not Jewish, largely mastered the Hebrew pronunciations. However, in "Am Yisrael Hai," hearing the chorus pronounced with the American "Am" instead of the Hebrew "Ahm" reminded us that this is, after all, an act.
The book was written by Daniel S. Wise, with input by Neshama Carlebach, Shlomo's daughter; all the tunes except one (and which precisely will be picked up only by knowledgeable insiders to traditional Jewish music) are Carlebach's, with new lyrics in English by David S. Schechter. The play, which previously ran in a different incarnation in Florida and Off Broadway, has undergone adaptation for Broadway, and was in flux even during the previews. Certain aspects that spoke to a Jewish audience have been removed, though other profound elements of the Jewish narrative have been kept in to powerful effect—for example, the moment when a Nazi shoots Moisheleh, announcing in an authoritarian monotone, "No singing in the streets," an apt metaphor for the silencing of the melodies of European Jewish life. Carlebach's friendship with Nina Simone, of all the relationships in his life, is placed center stage, obviously with the intention to boost the universal appeal of this Broadway show. It works. This striking female character with her mesmerizing voice (played by talented Broadway newcomer Amber Iman) serves to wake Carlbach up to his own feelings. Their connection also provides an interesting sidebar: the relationship between African-Americans and Jews. At one point, Simone and Carlebach seem to be having a competition, reminiscent of Monty Python's Four Yorkshiremen, as to which nation suffered more (the Jews win, of course. We pride ourselves on our suffering!). Carlebach's father is also shown as marching with Martin Luther King and refusing to brook racist language in his synagogue.
Even if we ignore that the storyline is riddled with inaccuracies both historical and anthropological (for example, Carlbach was born in Berlin, not Vienna; and the Lubavitcher Rebbe never wore a white shtreimel—undeniably deliberate choices by the writer and producers—the play suffers from some flaws. The hippie disciples frolicking on stage appear, at times, more like a brightly hued mess than a well-choreographed dance. A few plot elements seem to have been shoved in like a final pair of socks into an already overflowing suitcase, In particular, Carlebach's love interest, Ruth, who after some fleeting appearances, is abruptly granted a grandiose solo piece to express her pain at Carlbach's inability to commit to her over his mission to the world, as if we have been following her development all along.
Allegations made over the years regarding Carlebach's improprieties with women find no place in this fairly hagiographical show. Indeed, most disappointing of all was that the most interesting biographical elements—Carlebach's transition from shy young rabbi to charismatic leader, the tension between his particularistic and universalistic pulls, and full extent of his religious genius—are portrayed in a sometimes fragmented and not wholly satisfying fashion. Though some of his famous lines are quoted, Carlebach's fire does not truly burn on stage. Some reviewers have complained that the show is syrupy, mawkish and preachy. I wonder if this is because his passion and depth, the heart-stirring impact of his talks, his vision of a broken world and its fixing, are superficially represented, such that the audience emerges having experienced the external shell but not the inner blaze of the man.
Then again, perhaps a Broadway show is actually not the right vehicle for profundity and nuance, its purpose being simply to provide a good night out. Did it succeed? Some theatergoers will report this as one of the best shows they have ever seen; others, among the worst. It all depends on your palate.
Yael Unterman is a Jerusalem-based writer, whose latest book is The Hidden of Things: Twelve Stories of Love and Longing (Yotzeret Publications). Her Web site is www.yaelunterman.com.