Inside Hadassah: National Symposium in Baltimore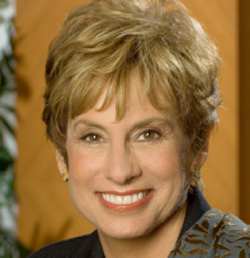 How many of us know that women are 10 times more likely to die of heart disease than breast cancer? And that, each year, more than 9 million women die from the disease, 82 percent of which is preventable? Committed to educating women about heart disease risk factors and preventive measures, Hadassah has launched Every Beat Counts, a program to aid units across the country in hosting heart health events. So encourage your group to join Every Beat Counts—because nothing is more empowering than thousands of women coming together to take care of themselves, as mothers and daughters, sisters and grandmothers.
This year, we celebrate both Thanksgiving and Hanukka on November 28. Hanukka is a commemoration of an incredible miracle for the Jewish people. How miraculous that today we live in a time when women can reclaim their heart wellness. Happy holidays and hag sameah! —Nancy Falchuk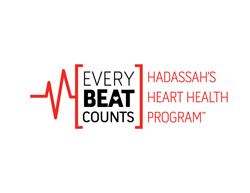 Get a Heart Start
Cardiac disease is the greatest killer of women in the world. In a deliberate effort to keep women heart healthy, we have launched Every Beat Counts: Hadassah's Heart Health Program, a multifaceted new cardiovascular wellness initiative officially rolled out last summer at our National Business Meeting in Baltimore. It is now available to units across the country, to help them plan and execute successful local heart health events. Components of the program include a multimedia presentation, facilitator's guide and several additional resources.
The multimedia presentation explores heart disease risk factors, screenings and symptoms; details research and treatment options at the Hadassah Medical Organization; and introduces members to our new Linda Joy Pollin Cardiovascular Wellness Institute in Israel.
Planning tools, marketing materials and handouts come with the facilitator's guide, as do guidelines for Smart for the Heart, the online cardiovascular health tool available at www.sistertosister.org. And local units will also have access to Hadassah's National Speakers Bureau.
For more information, please e-mail health@hadassah.org.
Awards Update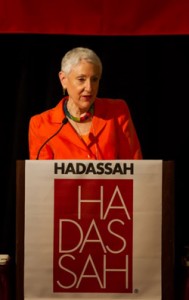 We are proud to share the news that Hadassah Magazine won nine Simon Rockower Awards this year, eight of them first prizes!
The Rockower awards are handed out each year by the American Jewish Press Association. As in many previous years, Hadassah Magazine earned more awards than any other publication and more than all other magazines combined.
Some of our first-place-winning entries include a profile of Israeli author Amos Oz; a feature on the family of slain journalist Daniel Pearl and their efforts to honor him; a woman's initiation into volunteering for her hevra kaddisha; and our special issue devoted to Hadassah's centennial. We earned a second-place finish for our profile of Arab activist Laila Abed Rabho.
National Business Meeting and Symposium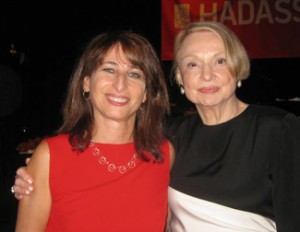 Baltimore, birthplace and home of Henrietta Szold, was a fitting location for the first National Business Meeting and Symposium of Hadassah's second century.
Held at the Sheraton Inner Harbor on July 30 and 31, more than 250 Hadassah delegates, Associates and guests from all over the United States gathered to deliberate, learn together and share ideas that would empower and move Hadassah forward into our next 100 years.
Cochairs Aileen Bormel and Mona Wood and Hadassah National President Marcie Natan welcomed delegates to Baltimore, where Natan, as a young woman, began her own Hadassah journey. She stressed that since our founding, Hadassah has remained true to its initial goals.
"Over our 100-year history," Natan said, "the leadership and membership of Hadassah have been and continue to be committed to creating Jewishly educated American women."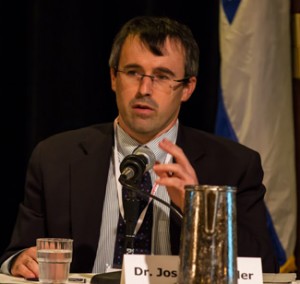 Janice Weinman, marking her first year as executive director and CEO of Hadassah, shared the newest strategic plans and kicked off Hadassah's Choose Where to Make Your Impact campaign. "This allows individuals their personal niche to participate in different activities," she said, "while continuing to contribute to Hadassah through its many facets."
And the Hadassah Associates held their own annual business meeting, voting on the 2014 National Committee of Hadassah Associates Board of Directors. The Associates expressed deep appreciation to outgoing NCHA President Mark Roth, and welcomed with enthusiasm incoming Associates President Jeffrey Richardson.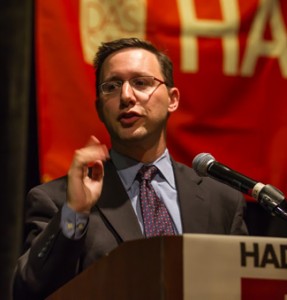 "Bioethics: The Catch-22 in Medicine and Healthcare" was discussed by a panel of three experts who deal with these complex issues in the fields of medicine, science and religion. The panelists were Jeffrey Kahn, Ph.D., Levi Professor of Bioethics and Public Policy, deputy director for policy and administration at the Johns Hopkins Berman Institute of Bioethics; Dr. Josh Schroeder, orthopedic surgeon at Hadassah Hospital and spine fellow at the Hospital for Special Surgery in New York; and Rabbi Avram Reisner, rabbi of Baltimore's Chevrei Tzedek Synagogue and a leading voice on bioethics for the Conservative movement.
Hadassah Medical Organization Chair Joyce Rabin introduced the session "Making an Impact on Medicine Today." Stewart Greenberg, a Florida-based attorney, deeply touched delegates when he shared his own Hadassah journey. Greenberg, diagnosed in 2012 with stage-IV melanoma, was told that there was treatment available. It was then that he heard of the work at HMO. On a mission to Israel with his wife, he was evaluated and accepted to a clinical trial for a personally tailored melanoma vaccine.
"I thank each and every one of you," Greenberg told the audience, "and the people who have made it possible over the last 100-plus years for that medical center in Jerusalem to exist. Please continue the work that you're doing," Greenberg implored with tears in his eyes.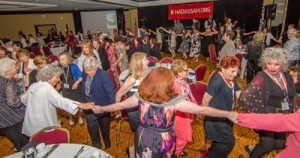 There was a warm and standing-room-only reception for members of the Family of Guardians and the Society of Major Donors, presided over by Helaine Ohayon, coordinator of the development division of Hadassah, and hosted by Natan.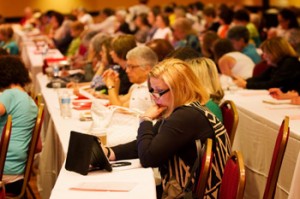 The day culminated in a formal dinner and keynote address, "Hezbollah and the Global Footprint of Terrorism," by Matthew Levitt, Ph.D., senior fellow at the Washington Institute for Near East Policy. Levitt shared his insights and praised Hadassah on its steadfast support of Israel. "Groups like Hadassah are so important," he said, "because what you do is support an Israel that is able to lead the world in so many fields, from medicine on down, but in a context that is so challenging."
And, in true Hadassah style, participants were on their feet dancing the night away to the music of Onyx.
The following day, delegates participated in a session on Israel-United States relations, featuring Eli Groner, Israel's minister for economic affairs to the United States. "Without the support of organizations like Hadassah, Israel would not be the start-up nation it is today," he said. "I have no doubt the best times are yet to come."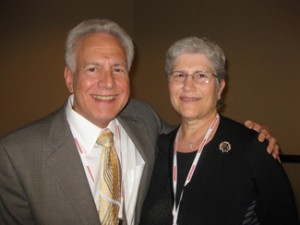 During the national business session, delegates approved the Hadassah, Women's Zionist Organization of America, budget and quotas for the coming year. They also affirmed a new policy statement regarding women's economic equity and security, and reaffirmed statements on medical research and women's health research. And prior to the start of the business meeting, new HMO Director General Avigdor Kaplan addressed the national board about strategic matters pertaining to the medical organization.
As the events concluded, participants were invited to attend the 97th Hadassah National Convention next summer, from July 21 to 24, at the Venetian Resort Hotel Casino in Las Vegas.